Apps & Sites that Make Filing Taxes Easier
Techlicious editors independently review products. To help support our mission, we may earn affiliate commissions from links contained on this page.
It's that time again—tax season is in full swing. If you're the type to put off working on your return until the last second there's really no need to procrastinate this year, at least if you have all your numbers in order. That's because a slew of helpful websites and mobile apps make paying or getting a refund from Uncle Sam easier than ever.
Mobile Apps
TurboTax SnapTax and H&R Block 1040EZ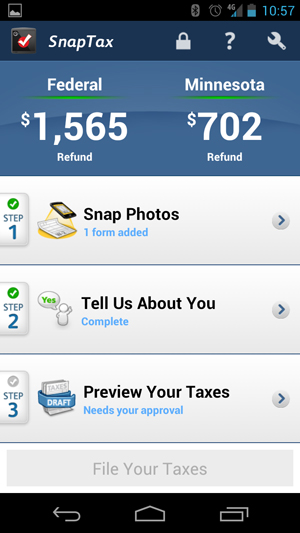 TurboTax SnapTax (Free in iTunes or Google Play) and H&R Block 1040EZ (Free in iTunes or Google Play) provide a slick way for people with uncomplicated tax needs to file a return electronically in a just a few minutes. Both apps automatically read data from your W-2 form when you snap a photo of it then asks you several questions to finish completing your return. With SnapTax, if you own a house, are self-employed or have other special situations you'll be directed to the online version of TurboTax to complete your return. Filing within the app is free for H&R Block's 1040EZ through February 15, 2013 and is $25 for TurboTax SnapTax.
TurboTax for iPad
People who have more complicated financial situations can use this iPad app to file. If you have the newest model iPad you can use its improved camera to snap a photo of your W-2; just like Intuit's SnapTax app, TurboTax for iPad will use Optical Character Recognition to read it, and input your data into the appropriate fields. You can also get live tax advice from experts via phone or chat. The best part is you can try it for free and only pay once you're ready to file. Prices start at $30 for federal tax returns; state returns are more.
Bloomberg BNA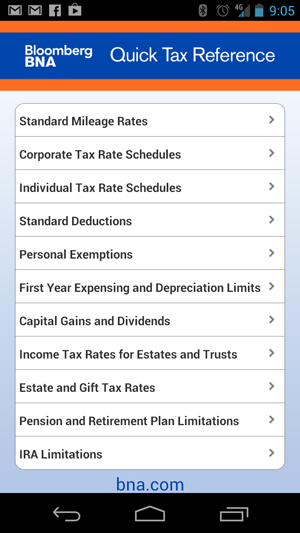 Updated for 2013, this app is a handy quick tax reference guide that will tell you things such as mileage rates, individual tax rates based on income, the rates of standard deductions, capital gains and dividend rates and much more. Not only does Bloomberg BNA include a wealth of useful information, it's organized in a clean and easy-to-understand format and contains tax information for years 2011-2013.
Free at Google Play.
IRS2Go
This IRS app has been downloaded more than 800,000 times and lets you check on the status of your tax return and get helpful tax information. New features include video from the IRS YouTube channel, IRS news you can read to keep current on new programs, legislative updates and relevant tools, as well as the option to request your tax return or account transcript using your smartphone.
Free at the iTunes Store or at Google Play
Websites
Block Live
You can have your taxes prepared for you by an H&R Block tax professional in real time from home with the Block Live service. You choose your tax professional and set an appointment time or select from the pool of people available immediately. Sessions are held via video chat, phone or text chat and you upload all of your documents using your scanner, camera, smartphone app (free on Google Play or iTunes) or fax. Better yet, you can scan and upload your documents throughout the year to your account, so they're ready to go at tax time.
Free for federal 1040EZ through February 15 and $39 for state returns. Regular federal 1040 returns start at $99.99 and $44.99 for state.
Where's My Refund?
According to the IRS you can generally expect it to issue your refund in less than three weeks after it receives your tax return. But if that's not specific enough for you, the IRS offers a tool called "Where's My Refund" that you can use to check its status.
To use it, you input your social security number, the filing status of your return (whether you filed as single, married and filing joint return, etc.) as well as the amount of your refund. The refund tracker shows your refund as it moves through each of three progressive stages: Return received, refund approved and refund sent, with the middle stage sharing the most interesting information—the date it will send the funds to your bank (assuming you opted for direct deposit). The IRS says it updates the data on the site once a day, usually at night.
Free at Where's My Refund.
AARP Foundation Tax-Aide Locator
If you or someone you know is 60 or older and has a low to moderate income, the AARP Foundation will actually provide free tax preparation through its "cadre of trained volunteers" who work at thousands of locations across the United States. To find one near you, just input your address at their site, the number of miles you're willing to travel and indicate if you plan to file electronically.
Free at the AARP Foundation.
TaxTopics.net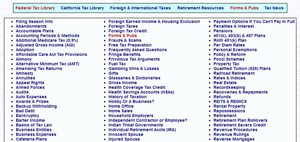 Whether it's gambling winnings and losses, penny trading or worthless securities, this website is an excellent gateway to a ton of tax information resources. Organized by subject area, its curator says the accuracy of the links is verified monthly and each page contains the date they were last checked as well as the date that the page was changed.
In addition to a long list of subject areas, special sections provide links to information regarding federal taxation and links to nearly all published tax guidance from the government, California taxation, taxation of nonresident aliens and US citizens and residents abroad and taxation of retirement income. Many links require a PDF reader.
Free at TaxTopics.net.
IRS.gov
The Internal Revenue Service's own web site, which last year received 340 million visits, is a great resource for tax information and help. Recently redesigned, the site provides links to key forms and important information as well as help with special tax issues and access to tax payer-friendly YouTube videos. In addition to offering online Fillable Forms, if you meet age and income requirements the IRS will even connect you with companies that provide Free File software.
Free at IRS.gov.
We hope these resources help make this time of year less, well, taxing. Have you found a great tax app or website we missed? Let us know in the comments.
Discussion