Apps That Help You Quit Smoking
Techlicious editors independently review products. To help support our mission, we may earn affiliate commissions from links contained on this page.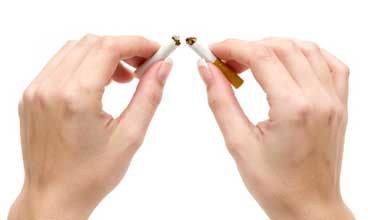 To say my cravings for cigarettes were obsessive the last time I tried quitting smoking would be a monumental understatement. I couldn't keep my mind on anything other than if, when and where I could get my hands on some. I desperately wanted even one little, soft and comforting white cancer stick. My extreme irritability was evidence of the difficulty of kicking my 10-year habit—even though I knew it was ruining my health and very likely would someday kill me.
Although I eventually succeeded quitting in January 2000, it's too bad it had to be so hard (often said to be as difficult as ending a heroin or cocaine habit). Today, there are apps that can help you manage the psychological hurdles of quitting through positive reinforcement and tools to manage the weaning process. I wish these had been around when I was in withdrawal and struggling with my nicotine addiction.
If you're trying to ditch the nasty habit and motivated by money (who isn't?), give this one a spin. There are no fancy bells and whistles, just a big banner that congratulates you for how many days since your last cigarette and how much money you've saved. In my case, it's a whopping $12,618! Price: free on iTunes.
Quit Smoking Pro has a wealth of information and affirmations to help you stay on track, in addition to telling you how much you've saved and how many days since you quit. It also has a medical fact section that educates you on how your health is improving as each day passes without cigarettes. Price: $0.99 on iTunes
One thing I sometimes lament is all the time I wasted smoking. While I like to think smoking in the car counts as multi-tasking, I wonder how much time I spent over 10 years just sitting around inhaling my stinky fix. This app, in addition to communicating how much money you've saved and how long since you quit, tells you how much time you're getting back. Price: free on Android Market
This app lets you decide if you're going to quit immediately or scale back gradually. You can also pick your motivation for quitting, such as family, finances or even cosmetics (because smoking ages you faster than normal). It uses information such as your age, how long you've smoked and your reasons for smoking to create a customized stop-smoking plan that tracks when you smoke or when you're having cravings, and provides motivational messages to either deter you or get you back on track. You can also earn badges and rewards and view charts of your usage history by date and time. Price: free on iTunes
This one is unusual in that it weans you off cigarettes by reminding you when to smoke, with increasing intervals between cigarettes each day. There's a countdown until it's time for your next cigarette and also the option to bank a smoke for later in the day if you miss one. You can also post achievements to Facebook and get support from family and friends. Price: free on Android Market
Whether you want to quit or just cut back, this app can be customized to help you reach your goals and awards gold, bronze or silver stars depending on whether you meet or beat them. It also creates an at-a-glance graph that shows the number of cigarettes you have smoked each day over time. Price: free on Android Market
No Smartphone?
While there are many other apps available, what if you want to quit but don't have a smartphone. I suggest visiting smokefree.gov, which provides information about how to manage cravings, access support groups or get live online or phone help from experts and much more.

Discussion
New Articles on Techlicious