7 Awesomely Nerdy Gadgets
Techlicious editors independently review products. To help support our mission, we may earn affiliate commissions from links contained on this page.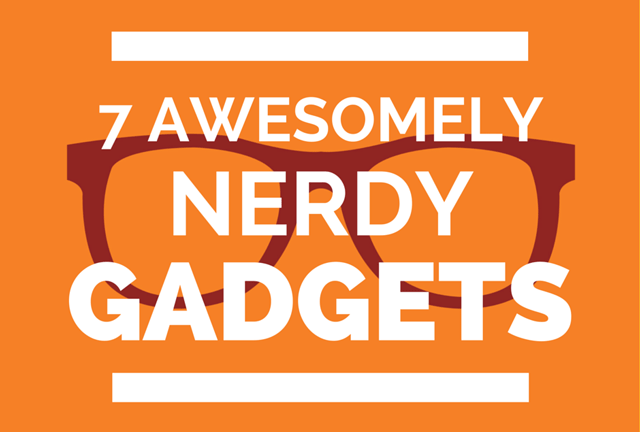 If you've ever waited in line for a special edition video game or dived into a subject head first to learn everything about it, you might just be a nerd. We here at Techlicious think it's pretty cool to nerd out on everything from pop culture or the latest toys to the tech that makes life oh so much easier, so we picked out seven gadgets worthy of getting your geek on.
Star Trek Electronic Door Chime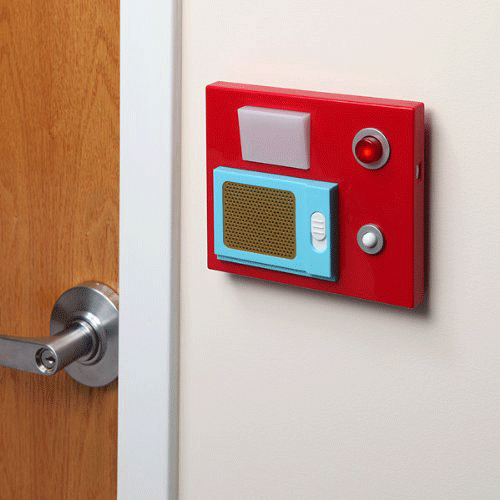 Doorbells are pretty utilitarian devices, but why must they be boring? This "Star Trek" electronic door chime is perfect for letting your know when Romulans enter the Neutral Zone or that nosy coworker barges into your office again. It's modeled after the communicator panels from the original series. Its motion sensor silently keeps watch from the side of your door until someone approaches. Then it sounds either a door opening sound effect or the red alert alarm. You shouldn't have to wait until the 23rd century to get a gadget like this.
Price: $56.67 on Amazon
---
Grillbot Automatic Grill Cleaner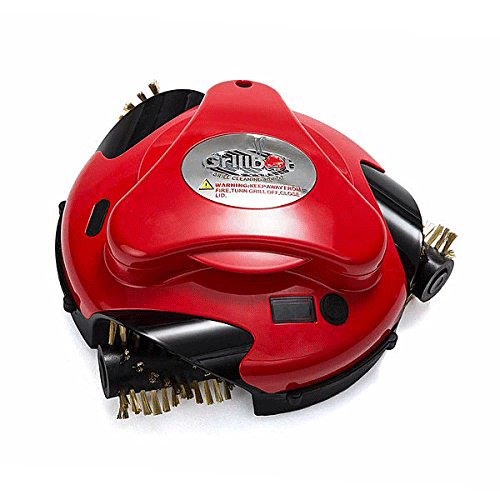 As things start heating up this spring, chances are your grill will be heating up, too. You're going to have to clean it to begin the barbecue season, and that's where the Grillbot comes in. Instead of toiling for hours with a metal brush, just set the Grillbot on the grill and press a button. It does all the work. This little gadget works on any type of grill, and one eight-hour charge powers four hours of cleaning. The Grillbot has an LCD alarm and timer that can be programmed to go off at 10, 20 or 30 minutes (depending how much gunk you've let accumulate). Even better, the replaceable brass brushes are dishwasher safe, so cleaning up the cleaner couldn't be easier. All you nerdy grillmasters out there will love this robot.
Price: $89.19 on Amazon
---
Qwerkywriter Wireless Typewriter Keyboard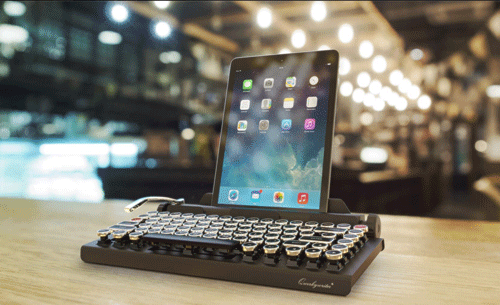 The mechanical switches and vintage key caps of the Qwerkywriter bring an old-fashioned writing experience to the 21st century. This keyboard uses Bluetooth to connect with any laptop, tablet or phone to make typing on your tablet so much easier. Even better, there's a built-in tablet stand. One charge provides three months of battery life. Although it looks heavy, the aluminum Qwerkywriter is sturdy but light at only three pounds. If you're a writer who's looking for inspiration, try the Qwerkywriter bluetooth-connected keyboard. All the old classics were written using typewriters. Why not yours?
Price: $349 on qwerkywriter.com
---
Pantelligent Intelligent Frying Pan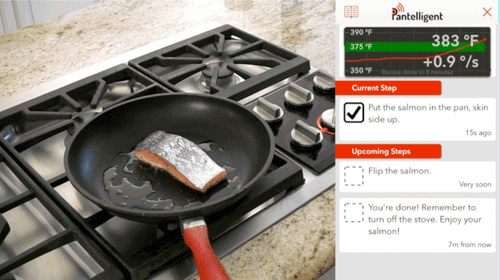 A lot of us want to cook tastier meals but don't know where to start. Cooking meats can be especially daunting, because internal temperatures can mean the difference between a meal that's edible or one that's likely to give you food poisoning. The Pantelligent Intelligent Frying Pan takes the guesswork out of the process by constantly recording the surface temperature of its die-cast aluminum body. It can tell you when to add ingredients or flip your cut of meat, using a real-time temperature graph that constantly monitors your dish's progress. The Pantelligent app connects to the pan via Bluetooth and offers a ton of recipes that guide you step by step. Seasoned chefs and newbies alike will love this nerdy smart product.
Price: $199 on pantelligent.com
---
Star Wars R2-D2 Bluetooth Speakerphone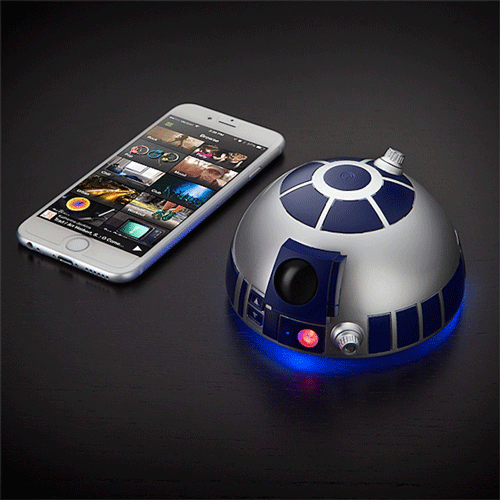 If you want to awaken the Force every time you take a call or play some tunes, get this R2-D2 Bluetooth speakerphone. It's an incredibly true-to-the-movie replica of R2's head, with a working red light and blue underbelly. Every time you turn him on or off or successfully connect your device, this droid plays movie sound clips worthy of a galaxy far, far away. You can connect devices or music players to R2 using Bluetooth or the 3.55 mm audio jack, so there are plenty of ways to get your Cantina jams going. Your favorite Jedi will love it.
Price: $56.67 on Amazon
---
Hapilabs Bluetooth-Enabled Smart HAPIfork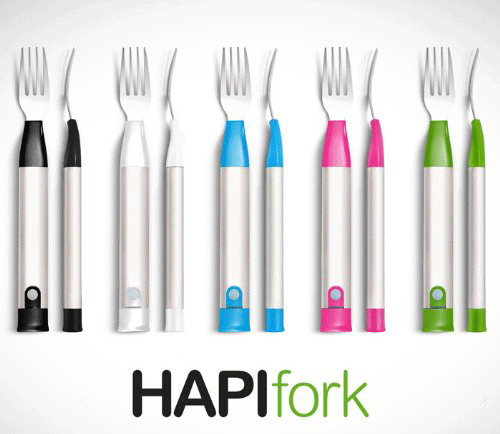 Why eat with a dumb fork when you can eat with a smart fork? Hapilabs' HAPIfork connects to iOS and Android phones via Bluetooth to make your eating habits healthier. While it won't tell you that eating chocolate cake might not be the best choice, it does light up and vibrate when you start eating too fast. Scientific research has shown that it takes 20 minutes for your stomach to signal that you're full, so the longer it takes to eat, the less you'll eat. The HAPIfork app and online dashboard let you see how you're progressing by tracking your number of servings, average serving interval and duration of the meal, and it's easy to upload the data wirelessly or with the included micro-USB cable. For all you health-conscious nerds out there, the HAPIfork could make dieting easier.
Price: $66.35 on Amazon
---
Beam+ Smart Presence System
Designed for big spender nerds, the Beam+ Smart Presence System lets you show up at meetings or gatherings without physically showing up. The Beam+ makes teleconferencing easy with its two-way audio/video system. Four microphones gather high-quality sound, while two HDR cameras create high-quality video. The people you're conferencing with can see you on a 10-inch LCD display. The battery life isn't great — only two hours of use between charges — but for a robot you just connect to Wi-Fi and then to your PC, Mac, or iOS or Android mobile device, its ease of use makes up for it.
Price: $1,995 on Amazon
[Glasses via Jane Kelly/Shutterstock, product images via Amazon, Pantelligent and Qwerkywriter]
Discussion