5 Cases That Do More Than Protect Your iPhone
Techlicious editors independently review products. To help support our mission, we may earn affiliate commissions from links contained on this page.
If you just got your new iPhone XR, iPhone XS or iPhone XS Max, the next step is getting a case to keep it safe. But why settle for a case that's just a case? Cases can charge your battery, serve as your wallet and more. Let's take a look at five cases that will protect your new iPhone —or give your iPhone 6/6s, 7, 8 or X an upgrade—and more. One caveat: Keep in mind that most cases, including those listed below, will interfere with the ability to wirelessly charge the iPhone 8, X, XS, XS Max and XR.
Cases as wallet replacements
The most common wallet-style cases are folios that fold over your phone, typically covering both the front and back. The protection they offer is basic. While they'll protect the front and back of your phone from scuffs and scratches, you won't want to play any games of catch with your phone. Some folio cases include pockets for business cards, credit cards or your ID, and some fold into a kickstand, which can be handy.
In terms of style, folio cases often have a wallet-like appearance and are sometimes made of leather for a luxurious look.
Shieldon Wallet Case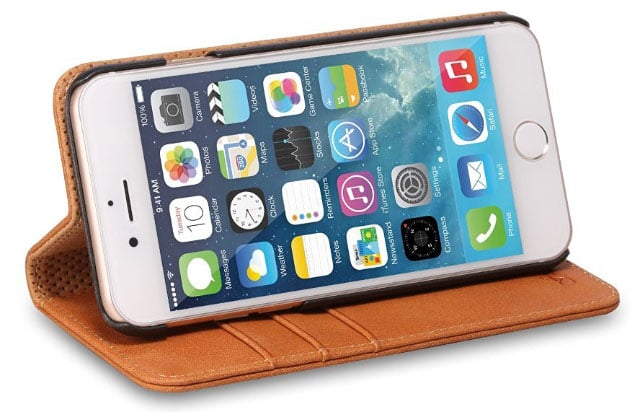 The simple Shieldon Wallet Case consists of a plastic shell that holds your phone, protecting all the corners, attached to a leather folio that folds over the screen. The cover is held closed with either a magnet or a snap. The back can fold into a kickstand with multiple viewing angles — though only in a horizontal position — that makes it good for watching videos. Slots on the left side of the case can hold credit cards or cash.
This case offers basic styling and is available only in black or tan. Assuming one of those colors is what you want, it's a solid case for a reasonable price.
Available for: iPhone XR, iPhone X/XS, iPhone XS Max, iPhone 6/6s/7/8 and iPhone 6/6s7/8 Plus
Price: $40 for iPhone XR, $30 for iPhone X/XS, $37 for iPhone XS Max, $25 for iPhone 7/8 and iPhone 6/6s, $26 for iPhone 7/8 Plus and 6/6s Plus
Burkley Case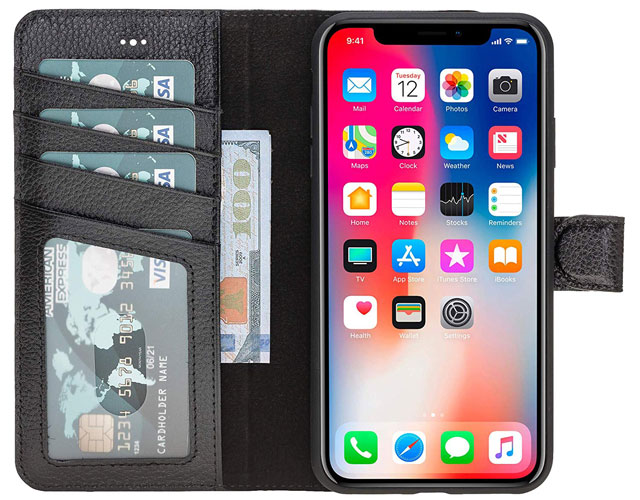 If you're looking for a style upgrade from the Shieldon case, this leather folio from Burkley may be perfect. Instead of a leather folio attached to a plastic shell, the Burkley is an all-leather case that wraps snugly around your phone. It isn't a true folio design; the back cover doesn't fold over the front of the phone, although it does fold back into a kickstand and includes slots for credit cards.
Or, you could opt for Burkley's Detachable Leather Wallet case. The case that attached to your phone provides full protection and the wallet uses magnets to attach. The wallet also serves as a kickstand.
The cases come in camel, coffee, burnished tan, turquoise (iPhone 7/8 snap-on only) and black.
Available for: iPhone X/XS, XS Max, iPhone 7/8 and iPhone 7/8 Plus
Price: $25 for the snap-on case for Phone 7/8, from $68 for the wallet case for iPhone X/XS, iPhone XS Max, iPhone 7/8 and iPhone 7/8 Plus,
Spigen Slim Armor Case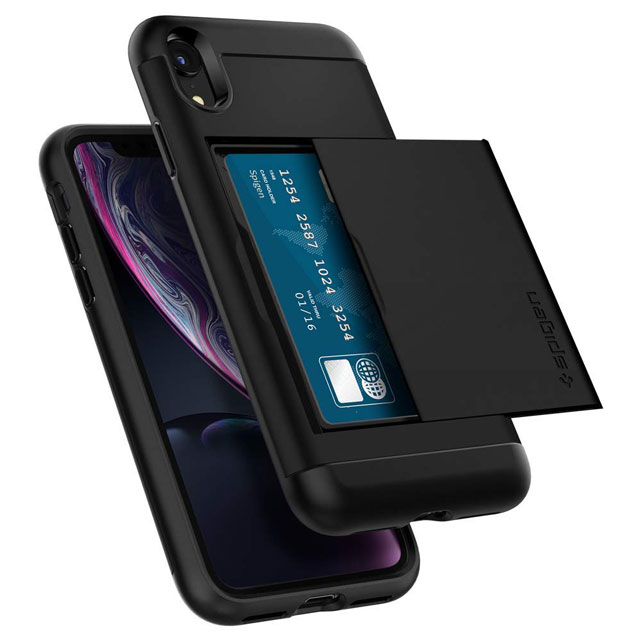 The unusual Spigen Silm Armor Case looks nothing like a wallet. Instead, it looks like an ordinary phone case, except it slides open to reveal space for two cards hidden in the back of the case. The end result? You can carry your phone with no need to worry about a bulky wallet. Unlike most folio cases, this case provides good protection, with air cushion technology to absorb the shock of drops and keep your iPhone safe.
The case looks much like any other iPhone case, but that generic look is exactly what makes it a great place to hide your ID or credit cards. It offers several color options, including black, gunmetal, red, white and rose gold.
Available for: iPhone XR, iPhone X/XS, iPhone 7/8 and iPhone 7/8 Plus
Price: from $17 for iPhone XR, iPhone XS Max, and iPhone 7/8 Plus, from $16 for iPhone X/XS and iPhone 7/8
Wristlet cases for a mini iPhone carryall
Yes, you could just buy a wristlet (or even a small purse) for carrying your phone, but a wristlet designed specifically for your phone is better at keeping it secure and safe. Many wristlet-style phone cases are similar to folio cases, with a cover that fits all the way around the phone and slots for credit cards and other wallet essentials.
Case-Mate Leather Folio Wristlet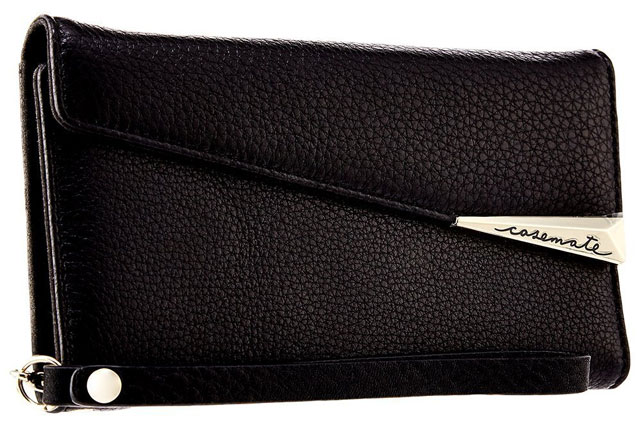 As you might guess from the name, the Case-Mate Leather Folio Wristlet is basically a folio case with a magnetic closure and a wrist strap. It's a leather cover lined with a soft microsuede that's easy on your phone's screen. The case holds four credit cards and has a pocket for cash. A wrist strap for easy carrying completes the case. The case comes in black, iridescent and rose gold leather.
Available for: iPhone X/XS, 7/8 and 7/8 Plus
Price: from $42 for iPhone X/XS, iPhone 7/8 and iPhone 7/8 Plus
Charging cases to keep you powered up
Running out of battery power is a complaint for nearly every phone owner, but you can banish the issue with the right case. The downside to charging battery cases is that they make your phone thicker and heavier, something you won't enjoy if you chose your iPhone for its slender profile. So do you want more battery power or a smaller phone?
Trianium Atomic Pro Battery Case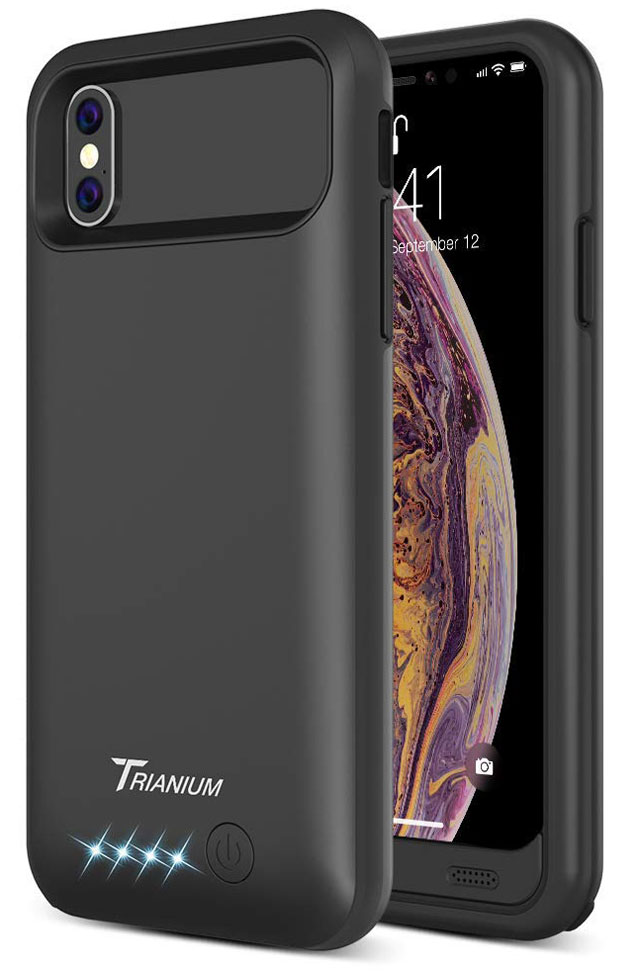 The Trianium Atomic Pro is designed to snugly fit the iPhone X/XS and iPhone 8/7. Check the battery status by pressing a button on the case, so you always know how much power you have left. The iPhone X/XS case has a 4,000mAh battery, which delivers an additional 8 hours of talk time, and the iPhone 8/7 has a 3.200mAh batter, which provides and extra 14 hours of talk time. T0 keep your phone and case charged, plug the case in with the included microUSB cable. The one downside: you'll have to use Bluetooth headphones since there is no access to the Lightning port on the phone. The case comes in black, white/gray and white/aqua.
Available for: iPhone X/XS and iPhone 8/7
Price: iPhone X/XS $99.99 on Trianium.com (check price on Amazon), iPhone 8/7 $99.99 on Trianium.com (check price on Amazon)
Screen protector to avoid scratches and scuffs
Screen protectors are an important part of keeping your phone safe. Putting a protector over your phone screen can help keep it free from scratches, which is especially important if you have a tendency to toss your phone into your purse or slip it into a pocket with your keys.
Maxboost iPhone screen protector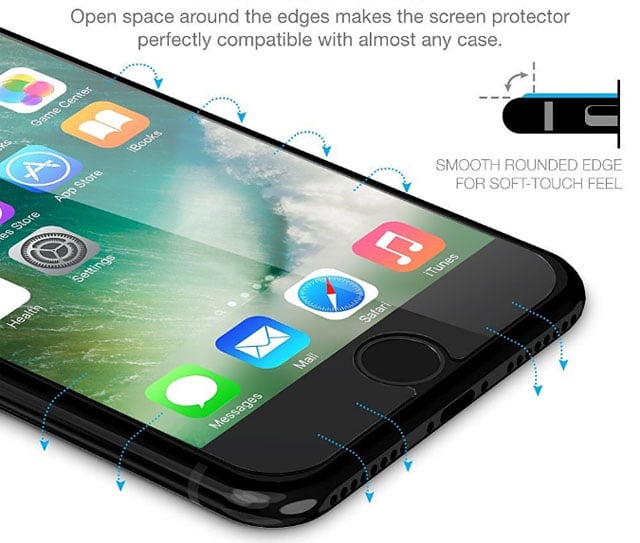 This extra-thin screen protector — it's only 0.25mm thick — is made of tempered glass, which offers the best possible protection for your phone screen. The protector only covers the flat part of the screen, not the iPhone's curved edges. That may seem like a disadvantage, but it actually helps the protector be compatible with more cases that tend to curve around the edges. Best of all, this protector resists fingerprints. Hooray!
Available for: iPhone X/XS, iPhone 8/7/6s/6 Plus, iPhone 8/7/6s/6
Price: $13.95 for iPhone X/XS (3 pack), $13.95 for iPhone XS Max (3 pack), $8 for iPhone 6/6s/7/8 Plus and 6/6s Plus (2 pack), $8 for iPhone 6/6s/7/8
Updated on 10/22/2018 with new cases
[Image credit: Shieldon, Burkley, Spigen, Case-Mate, Trianium, Maxboost]
Discussion