Best Apps for Amazing Smartphone Videos
Techlicious editors independently review products. To help support our mission, we may earn affiliate commissions from links contained on this page.
There are events in your life where you know you're will be recording video on your smartphone. A friend's wedding, your child's soccer game, a backyard birthday party to name a few. But you can do far more with that video than just posting the raw footage on Facebook.
There are two apps that can make your smartphone video shine. The best app for you depends on what type of footage you are recording and what you hope to achieve in your finished piece.
Editing together different scenes: Mixbit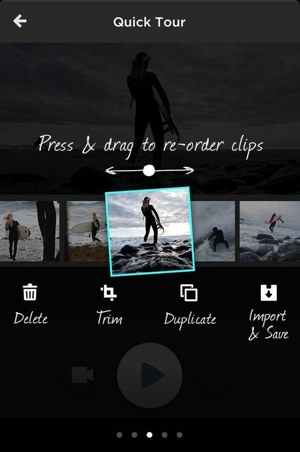 The newest app in the crowd-sourcing universe comes from YouTube's co-founders Chad Hurley and Steve Chen and is ideal for creating simple movie-memories for a lifetime. Mixbit utilizes both an app and a website to allow you to become your own videographer and editor using self-shot video, as well as sourcing content from friends and the general Mixbit community.
I recently attended a wedding where my friends and I used the app to shoot each other dancing throughout the night. Later, we all uploaded our videos to the Mixbit site and were able to check out what the others recorded that evening. Once I saw what everyone had recorded, I knew these clips would be a really fun virtual present for my fiance's upcoming birthday. His friends with the app recorded individual video messages that they uploaded to the Mixbit website. In a matter of minutes, I was able to edit together the mix of video messages and dancing shots to create a fun video package.
In addition, Mixbit allowed me to go through my video and camera reel on my cell phone to throw in older footage and still-shots to incorporate into my edited piece. This allowed me to include clips from concerts we've been to, baby photos, and other significant events.
Should you feel the need to really insert your own personality, you can take "selfie-footage" with the app's reverse camera feature. In addition, if you want to add a little déjà vu fun to your masterpiece, just click on the duplicate feature to copy any clip. Since none of the clips were time-sensitive, and I didn't need a variety of angles shot to tell the story in my finished product, Mixbit served as the perfect app for this compilation. The app was easy and basic enough for me to figure out on my own. It's a dream app for anyone looking to share video without worrying about a second cameraman for backup.
Price: Free on iTunes, coming soon to Google Play
Editing the same scene from different phones: Vyclone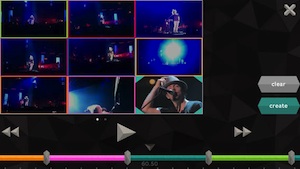 If having a variety of synchronized angles included in your video is important, Vyclone is likely a better app for your video.
For example, if you and your spouse are at opposite ends of the field taping your child's soccer game, or if your friends are standing around a ballroom filming a bride and groom's first dance, you want to make sure you all record at the same time but from different spots, this app will do the editing work for you.
All of your friends who are at the given event must follow each other in the app. Once video is shot, you simply click upload and it will be sent to the Vyclone website. The app will automatically recognize the corresponding time stamps from the collection of videos shot, and remix it into one video, incorporating just the best of everyone's footage in a synchronized order. In addition, once the app has mixed up the shots, you can reedit to remove any shots you don't want to include in your film.
Price: Free on iTunes and Google Play
Now get out there, start shooting videos and sharing. You might not win an Emmy, but you'll definitely have a good time while capturing memories that don't require a video crew beyond your friends and family.
Discussion