The Best Fitness Trackers Under $50
Techlicious editors independently review products. To help support our mission, we may earn affiliate commissions from links contained on this page.
You don't have to pay a lot to get a lot out of a fitness tracker. Those under $50 will keep tabs on all of the basics — steps, calories, distance traveled and sleep quality — and sometimes much more.
As with more expensive devices, a smartphone plays a crucial role, so having a tracker on its own isn't always enough. You can't see what the numbers indicate, or how you're trending, without an app to show you.
So you know what you're likely to get (and miss out on) when going the budget route, here are some things to keep in mind:
How much tracking do you want?
You will get the basics covered, so if you're just looking to track steps, distance and calories, you should be fine with an affordable tracker. Sleep tracking will feel like a bonus feature, under the circumstances. You'll need your phone with you to get the most out of it, but at least you'll have a clear view of how you're doing.
What type of fit or design are you looking for?
Fitness trackers are commonly found as wristbands, though at lower price points, you might find a clip-on design that can attach to clothing or fit in a pocket.
What features might not be included?
More expensive trackers usually have additional sensors, like heart rate monitors (we have an option below) or even GPS for distance. Water-resistance, or waterproofing, tends to be easier to find in more feature-laden — and more expensive — devices (we have options below). There may be a small display, or no display at all, limiting options for viewing progress on the fly. It's unlikely that an affordable tracker will have onboard storage for playing audio files to Bluetooth headphones. It also might not be able to control playback when streaming from a phone to a pair of headphones. If you're looking for a more feature-laden device, check out our story on the best fitness trackers.
Would you need to take your phone with you all the time?
For the most part, yes. Even more expensive fitness trackers require a phone to help track distance, pace and cadence, or a route that you followed. The phone app can also display progress and show you everything you've achieved, which you might not be able to see on the tracker otherwise.
How long will a budget tracker last?
There's no way to know for sure. As with many things that come with a lower price tag, longevity and durability can be hard to measure. It's also relative: Fitness trackers are sometimes exposed to sweat from active users; over a long period, that may affect functionality if the device isn't made to handle it. Battery life depends on the type of battery used. It might be a rechargeable one or a watch battery that could last for up to 12 months.
Manufacturer warranties do cover the first year, but make sure to read the fine print to see if sweat-induced damage is included.
Here's a look at our favorite fitness trackers under $50.
Best for overall fitness tracking: Xiaomi Mi Band 2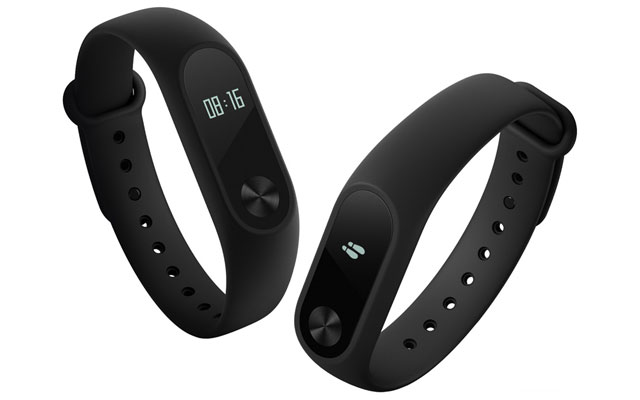 Xiaomi may not be a household name stateside, but the Chinese company is far better known in other markets, especially Asia. Its Mi Band 2 is the most feature-laden of any fitness tracker in this price range, thanks to a 0.42-inch OLED touchscreen to start off with. Its wristband design is in line with most, and, impressively, it offers functionality similar to that of models that are at least triple the cost.
For starters, it has a heart rate monitor capable of tracking beats per minute. It's IP67-rated for water-resistance, meaning it can withstand being submerged down to 3.3 feet for up to 30 minutes. It has Bluetooth built-in to sync data with the dedicated app on an iPhone or Android phone.
The Mi Band 2 will track steps, calories, sleep and heart rate information, covering the main metrics you'd want in a fitness band. Capturing cardio-related data is unusual for trackers at this price point, and this is the only one on our list that does. Along with tracking sleep, you can set an alarm that will awaken gently through staggered vibrations.
Its Bluetooth capabilities extend to vibrating alerts for incoming calls and text messages. It doesn't tell you who's calling or texting, though, and you won't get third-party notifications on the band.
The advantage in not stuffing too many features into the Mi Band 2 is a longer battery life. A single charge is rated to last up to 20 days, though real-world results may be lower.
The band is interchangeable, so you can change colors easily by slipping on a new one. Some vendors even offer bands in leather and metal.
Battery life: Up to 20 days
GPS: No
Colors: Black (separately sold bands of various colors)
Sizes: Band total length: 235 mm; adjustable length: 155 mm–210 mm
Price: $29 on Amazon
Best for a bigger screen: Coffea H7-HR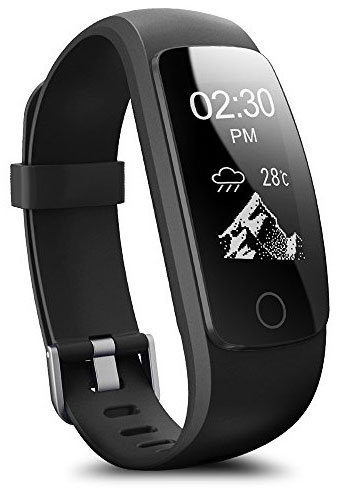 With an OLED touchscreen just shy of one inch wide, the Coffea H7-HR has a larger display to work with. It tracks a number of measurements, including steps, calories, distance and heart rate through the onboard monitor.
Functionality also includes smartphone notifications, inactivity reminders, music control and even the ability to control a smartphone camera remotely. The band will vibrate when incoming calls and texts appear. When paired with a phone, it can latch onto a GPS signal to display current weather and forecasts. An IP67 rating makes the band water-resistant down to one meter for up to 30 minutes, which makes it ok for showering, but probably not for swimming.
There are eight default activity modes, with an additional six on the app. The current list has walking, running, riding, treadmill, hiking, fitness, basketball, badminton, tennis, football, climbing, spinning, yoga and dancing.
"Relax" mode guides users through breathing exercises that can be done anytime or to help cool down after activity.
The band is replaceable in case it's damaged or worn out, stretching out the tracker's longevity.
Battery life: Up to 7 days
GPS: No, only through phone
Colors: Black, navy, purple, red, teal
Price: $40 on Amazon
Best for swimmers: Nokia Go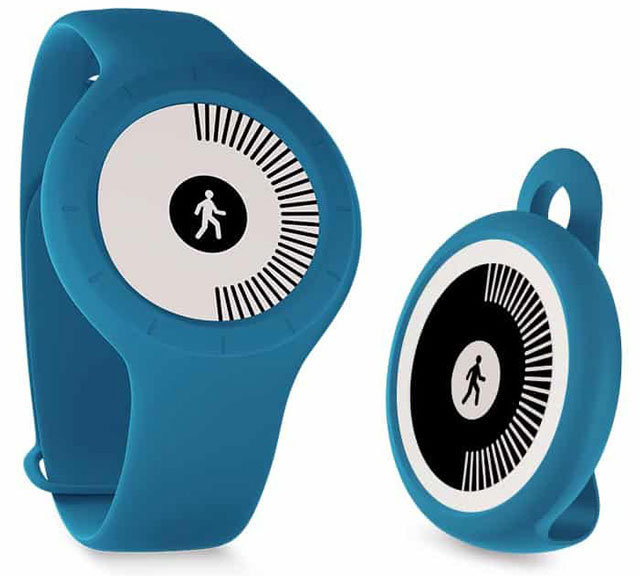 The Nokia Go has the same wristband design many in this category are known for, but you can also clip it onto your body or clothing.
Nokia's not known for making fitness products — after its acquisition of Withings, a French company that started out with health and fitness gadgets, it rebranded existing products and didn't change functionality substantially.
The Go uses an e-ink display, the same as the technology used in e-readers like the Kindle and Kobo. The advantages of going this route are battery life and visibility in bright sunlight. Unlike LCDs or OLEDs, e-ink screens have little glare in bright lights, so you don't have to tilt it much to see what it says. What you lose in the tradeoff is color: This e-ink display is monochrome and features basic graphics.
The Go tracks steps, calories, sleep and exercise such as running, walking and swimming. It recognizes up to 10 different activities, making it fairly varied for an entry-level tracker. The water-resistant body is pretty robust, working to a depth of up to 50 meters. However, it's not designed for saltwater, so dipping in the ocean for a swim or surf with the Go is not a good idea.
Battery life: Up to 8 months
GPS: No, only with phone
Colors: Black, blue, green, red, yellow
Sizes: Fits wrists up to 230 mm
Price: $46 on Amazon.com
Best for Fitbit fans: Fitbit Flex 2

Fitbit's popularity and pedigree in this category make it a go-to for many, especially if you're looking to connect with friends and family for encouragement and competition. While the Flex 2 doesn't quite make our under $50 price point (it's $59.95), it's close and the best option for Fitbit fans.
Being a Fitbit device, the Flex 2 covers a fair amount of ground. It tracks steps, distance, calories, active minutes, hourly activity, sleep and stationary time. It's waterproof down to 100 meters and can withstand saltwater as long as you rinse it with clean water and wipe it dry. SmartTrack is a built-in feature that recognizes certain activities and records tracking data for them in the Fitbit app for iOS or Android. The one feature that isn't included is a heart rate monitor.
The LED display isn't a screen with text, but rather with lights that indicate progress in reaching a daily step goal. With a tap, users can check their progress at any time. The lights also light up for incoming calls, texts and reminders to move after a period of inactivity.
Battery life is rated at up to five days per charge, though real-world results may vary slightly, depending on usage. It takes about two or three hours to fully charge it up.
You can take the tracker out of the band, so it's easy to clean the band with rubbing alcohol after a sweaty workout. And Fitbit sells other bands, including a bangle and pendant to add a little style.
Battery life: Up to 5 days
GPS: No, only with phone
Colors: Black, navy, magenta, lavender
Sizes: Large and small wristbands included
Price: $59.95 on Fitbit.com; $59.95 on Amazon
[Image credit: Nokia, Xiaomi, Coffea, Fitbit]
Discussion