Best Plus-Size Clothing Sites
Techlicious editors independently review products. To help support our mission, we may earn affiliate commissions from links contained on this page.
Considering that two-thirds of American adults are overweight or obese, it's a bit of a head-scratcher as to why the fashion industry seems to cater mostly to people who aren't.
"I know what it's like to feel ignored by the fashion industry," writes plus-size blogger Ashley Robison. "I know what it's like to compromise style and fit for what you can find in your size. I know how it feels to be told fashion isn't for you."
If you can relate with those sentiments, the good news is the tide is changing. Not only are there more and better ways to access plus-size fashion, online influencers are increasingly celebrating the fact that you don't have to be a size 4 to rock the latest styles and look good doing so.
For Younger or Fashion-Forward Shoppers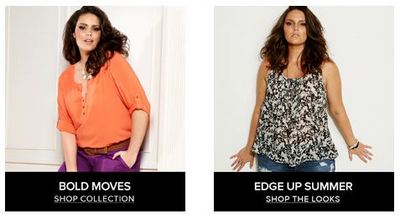 You can find a physical Torrid store in many malls across the nation—although if you live in Montana, Wyoming, Mississippi, Alabama and a handful of other states, you're out of luck. Fortunately, Torrid's online store can provide anyone anywhere with a fashion fix.
Compared with the more ubiquitous Lane Bryant, Torrid has a fresher, younger vibe as well as an online presence that's easier to navigate. What's great about the site is its richness—across all fashion categories you have a wealth of fun and pretty styles to choose from, whether you're looking for sexy skinny jeans, a rhinestone skull tee, a flouncy maxi dress or a black and pink leopard babydoll as well as a generous assortment of trendy swimwear, shoes and accessories.
Offering sizes from 12-28, Torrid charges a flat rate of $6 for shipping within the United States; the cost of international deliveries to more than 150 countries depends on the weight of the order and where it's going.
Torrid's loyalty program, Divastyle, is worth checking out. Once you spend $250 you're considered a "Qualified Member" which gives you 5% off every purchase for a year, a special birthday offer and other special discounts.
Mainstream Shoppers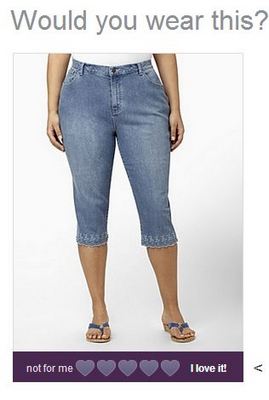 You're likely already familiar with Lane Bryant, Catherines and Sonsi, sister companies that offer classic fashion choices for plus-size shoppers. All charge a flat rate of $7.95 for shipping, although you can opt to have your order sent to a physical store near you for free. International shipping to more than 100 countries is also available.
Familiarity aside, you might not know about some of the online perks these big brands offer. At Catherines you can buy a Perks Card for $25 that you can use to get 10% off every purchase you make in stores or online.
Lane Bryant currently has a Real Women Dollars promotion going on through which you can get a $25 off coupon for every $50 you buy, although they can't be redeemed at Lane Bryant Outlet stores.
Sonsi offers a useful tool called Just For You, which queries you about your personal style then offers up suggestions on which items you might like best. SonsiLiving offers fashion advice and articles about beauty, health, entertaining and more. Lane Bryant has a similar community called InsideCurve.
Extra Large Sizes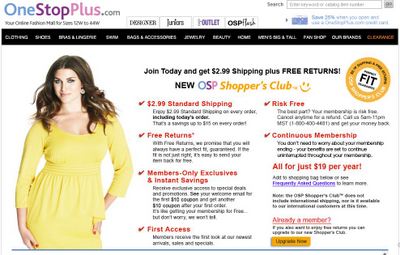 Sites like Torrid and Lane Bryant can't accommodate everyone since they only carry sizes up to 28. OneStopPlus is different because it sells items up to 44W or 6X. This is an immensely popular site—it has nearly 240,000 fans on Facebook. It's not just the larger sizes people like; there's also a Designer section where you can peruse pieces by Yuliya Raquel and Eliza Parker, as well as a Juniors area where you can buy hip and sassy tees, jeans, prom dresses and more.
For $19 a year you can join the OSP Shopper's Club, which gives you shipping for only $2.99 on all orders, free returns and members-only discounts.
OSP's sister brand, Woman Within, offers clothing up to 48W or 7X. It features a bra club that rewards you with a certificate for a bra up to $25 in value after you buy three qualifying bras from any of the OSP group brands within 12 months.
A Marketplace for Plus Size Clothing

AbbeyPost is sort of like eBay, but specifically focused on women's plus-size clothing and lacking the auction element. The marketplace offers some second-hand items and pieces designed by independent plus-size designers as well as a generous selection of "new with tags" clothing, accessories, jewelry and shoes.
It's also a place to connect with like-minded shoppers through a variety of forums and the AbbeyPost blog is loaded with great advice, such as "How to Look Put Together Without Melting in the Summer Heat." You'll need a PayPal account to buy things here, as well as to get paid for items you've sold.
The Best Blogs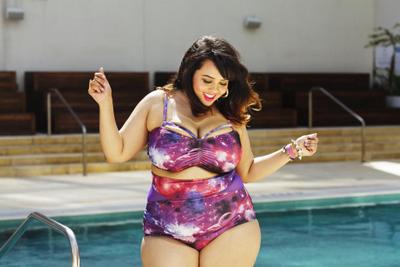 If fashion is your passion, there's no better way to stay on top of the hottest trends than by following the plethora of entertaining and inspiring plus-size blogs available on the Web.
Here's a prime example: One beautifully bodacious fashionista has turned her blog, GabiFresh, into a full-time, profitable gig. Formerly called Young, Fat and Fabulous, the blog currently features a photo shoot of her latest swimwear line, a super-sexy collection that proves big can be beautiful. Find her new high-waisted "Fatkini" line at swimsuitsforall.com.
Want more? Check out the Independent Fashion Bloggers' story "15 Plus Size Bloggers Redefining Fashion Blogging," which calls out some of the most stylish and bright plus-size bloggers dishing out thoughtful online fashion commentary.
Discussion