Essential Desk Accessories to Boost Productivity
Techlicious editors independently review products. To help support our mission, we may earn affiliate commissions from links contained on this page.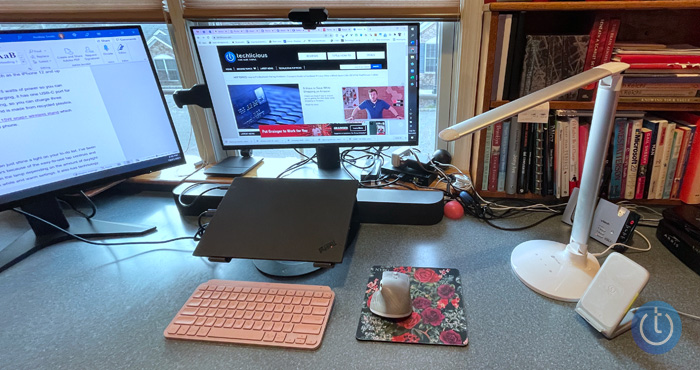 Working from home can be challenging, especially if your desktop space is limited. For the last few years, I worked from home a few days a week, and that changed to full-time when the pandemic started. That's when I fully realized how much the right desktop accessories could make or break my work environment. I replaced those items that weren't helping me get my work done and replaced them with products that were comfortable and easy to use and streamlined my workflow. Here are the desk accessories that make me more productive when working at home.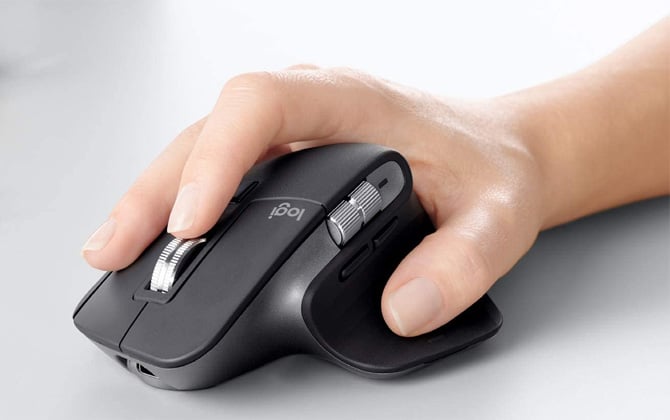 Wireless Mouse: Logitech MX Master 3 Wireless Mouse
The Logitech MX Master 3 Wireless Mouse is the most comfortable mouse I have ever used, cradling the shape of my palm effortlessly. With easy access to programmable side buttons and a hyper-fast scroll wheel, this is the mouse I recommend to friends.
In addition to feeling comfortable in my hand, the most important feature for my dual-screen set-up is the ability to move my cursor seamlessly across two (and sometimes three) screens to transfer text and files with a simple click.
The MX Master 3 wireless mouse uses Logitech's Flow software, enabling it to easily transfer files or copy and paste text and images between two separate systems. This is especially useful for someone working from home who uses both a personal device and a work laptop. This even works with devices running different operating systems like Windows and macOS.
The MX Master 3 connects to three devices via Bluetooth or its unifying USB-A receiver and switches between devices by a touch of the Easy Switch button on the bottom of the mouse. When paired with the Logitech MX Keys Keyboard, you can type on different devices without having to pair and re-pair.
The most useful feature of the mouse is the ability to reassign button functions. Using the Logitech Options software, you can set the buttons to navigate between tabs, switch apps, control volume, and other time-saving functions.
A true lifesaver, the mouse recharges using USB-C quickly when you realize your battery is running low. Mine typically runs down in about 60 days, so I often forget to charge it. That's not an issue, though, because it supports USB-C quick charging, giving me about three hours of use with just a one-minute top-off.
Logitech also makes a travel version of this best-selling mouse, the MX Anywhere 3, that I use when I take my laptop on the road.
Price: $99.99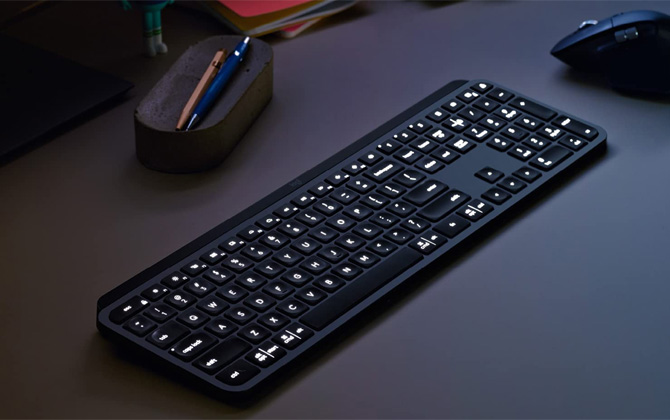 Full-Size Keyboard: Logitech MX Keys
If typing on a computer is a major part of your daily workday, you need a keyboard that feels effortless. I've tried a lot of keyboards, and the full-size Logitech MX Keys wireless keyboard is my favorite.
Like the MX Master 3 mouse, it can pair with up to 3 different devices via Bluetooth or the Unifying Receiver, so I can connect to and switch between my phone and tablet if I'm multi-tasking. It has dedicated keys for each device, making switching between your laptop and smartphone effortless.
What sets the MX Keys apart are the easily reconfigurable function keys. You can remap any of the keys using the Logitech Options software, so you always have access to what you use the most, whether that's taking a screenshot, using a calculator, or using media keys.
The keyboard has a low profile, responsive typing, and backlit keys for nighttime use. It uses USB-C for quick charging, and the battery lasts me a few months before I need to charge it up if I'm not using the backlighting constantly.
Price: $99.99



If you don't have a lot of space on your desk for a full-size keyboard, or you need a smaller, travel-size keyboard, you'll want to check out Logitech's new MX Keys Mini.
It offers the same customizable control and ability to pair multiple devices in a 60% smaller design, leaving off the 10-key control cluster and adding some keys with double and even triple functions. With its sleek look and customizable controls, it's a worthwhile investment for those who travel.
Price: $99.99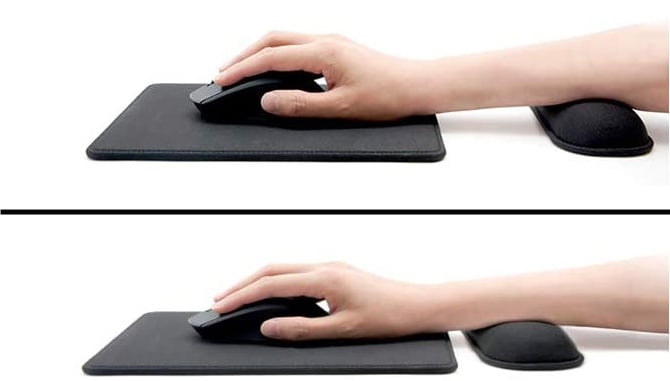 Mouse pad with wrist rest: SenseAGE Enlarge Mouse Pad & Mouse Wrist Rest
Many people use a mouse pad and wrist rest, not just to help the mouse glide smoothly but for extra wrist support, especially when working long hours at the computer. It's also an ergonomic way to help reduce the symptoms of carpal tunnel, something I suffer from.
The SenseAGE Enlarge Mouse Pad & Mouse Wrist Rest set provides the extra cushioning I need under my wrist. It comes in two pieces so that you can space the mouse pad and wrist rest at your comfort level. That way, you can make sure the wrist rest supports your hand where needed, unlike a one-piece mouse pad which doesn't give you flexibility in spacing.
The mouse pad has an anti-slip rubber base to keep it from sliding on the desk, and the wrist rest is soft and cushiony, measuring a little over an inch narrower than the 7.1-inch-wide mouse pad. They're covered in a soft fabric and come in dark grey, light grey, and black.
Price: $20.99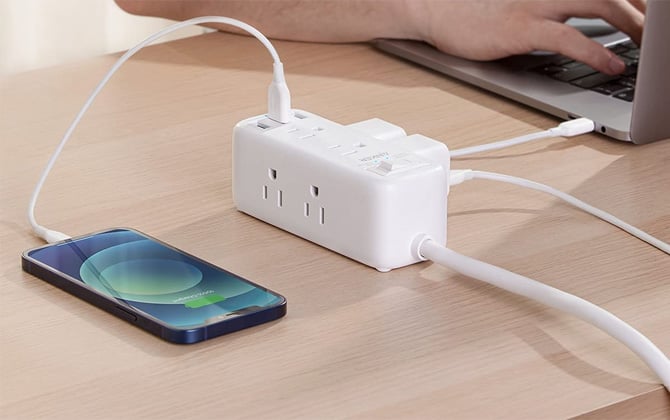 Power strip with surge protection: Anker PowerExtend USB Surge Protector
Between my laptop dock, desk light, printer, router, landline, chargers, and many other electronic items on my desk, I'm constantly running out of places to plug things in. I like the Anker PowerExtend USB Surge Protector with 6 AC outlets and 3 USB ports because of its small size that accommodates big plugs.
One of my biggest issues with long and flat power strips is I often wind up losing an outlet or two with larger power bricks. The Anker PowerExtend places the outlets on three sides so it's easier to access and make use of all the outlets. It has a 6-foot cord with a flat plug that makes it easy to fit behind furniture and other tight spaces. And, if you want to place it on your desk, it only takes up about six inches of space, about the size of an eyeglass case.
There's also 900 Joules of built-in surge protection, which is adequate for a laptop and other small electronic devices.
Price: $29.99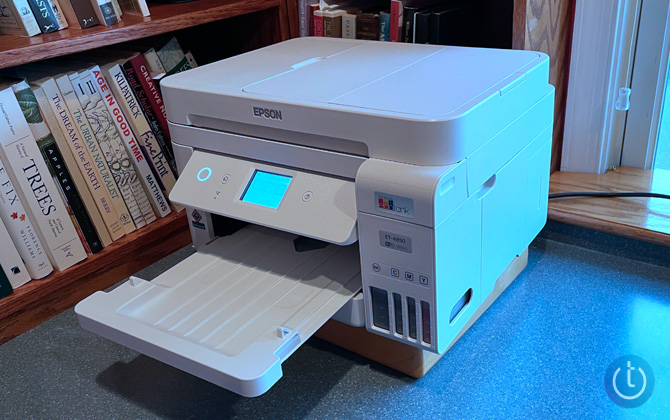 Supertank all-in-one printer: Epson EcoTank ET-4850
I've used Epson supertank printers for my personal use since they were introduced in 2015. I've seen first-hand how long a tank of ink can last – about two years in my testing – which is why I always recommend them to friends and family.
Supertank printers cost more money upfront, but I've found the Epson prints – photos and regular copies – to be high-quality and the printers save money over time on the ink, making them a worthwhile investment. Replacement ink bottles are easy to use (you can see my cat below supervising) and equivalent to about 90 individual ink cartridges and cost a fraction of the price. Even better, those used cartridges don't wind up in a landfill.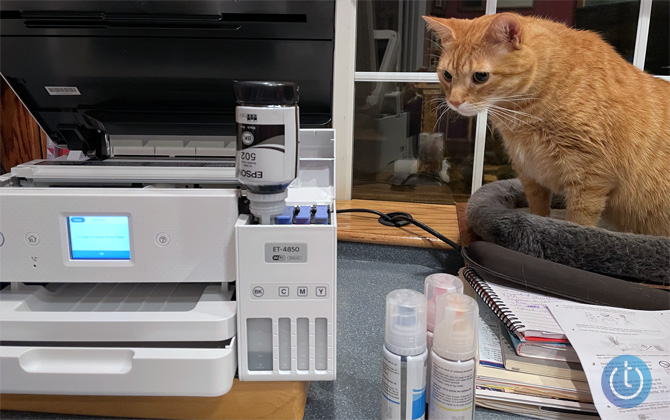 In the Epson EcoTank line, I recommend the Epson EcoTank 4850, which has an automatic document feeder for the built-in scanner – saving a lot of time when making copies and scanning documents. Plus, it has all of the features you'd expect in a work-from-home printer, including borderless photo printing, mobile device printing, two-sided printing, a 250-page paper holder, black-and-white printing at 15.5 pages per second, and an Ethernet port.
Price: $499.99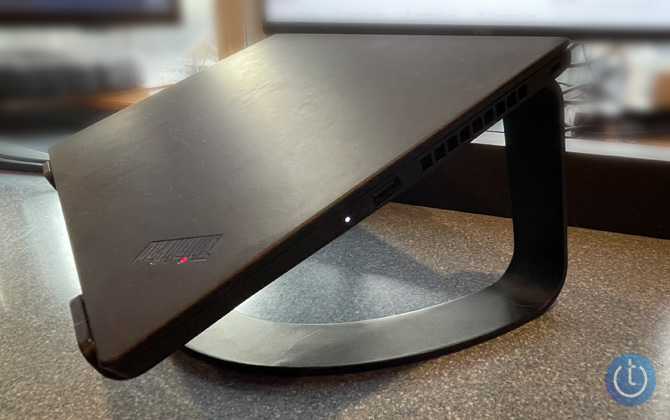 Laptop stand: Twelve South Curve
You can save some desk space – and your neck and shoulder muscles – with a laptop stand. There are different types available: adjustable, fixed height, or even ones that rotate. The Twelve South Curve works for my desk set-up because it raises my laptop screen to the proper eye height when I'm not using an external monitor and keeps me from hunching over my laptop and waking up with a sore neck the next day. It also gives me room to slide my wireless keyboard underneath when I'm not using it, giving me more space on my desk for other tasks.
The Curve is made from one piece of aluminum, so it's very strong. Although it's technically designed for a MacBook, it works for any laptop at least 10.2-inches wide. It also has rubber padding on the arms and bottom to keep your laptop from sliding.
One more reason to use a laptop stand – it lets more airflow underneath your laptop, keeping it cooler. When a system is properly cooled, it can run at its maximum performance without heating the battery, which can cause battery life to degrade more quickly over time.
Price: $59.99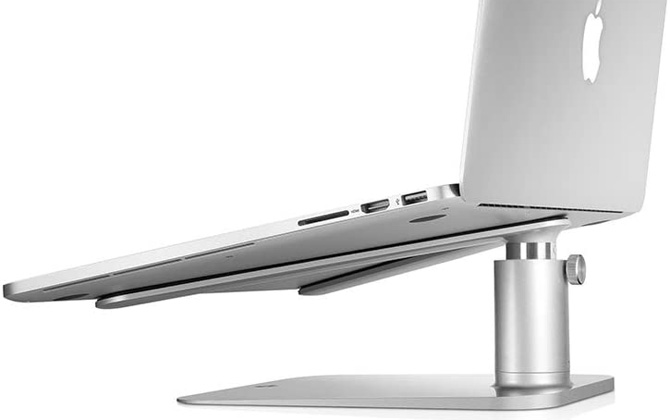 I prefer the fixed-height model because I rarely need to adjust my screen, and it keeps the webcam at a fixed height. However, if you want the option of raising and lowering the laptop, the Twelve South HiRise is a great option. It has a spring-loaded system that raises the stand from an inch to up to six inches high.
Price: $79.99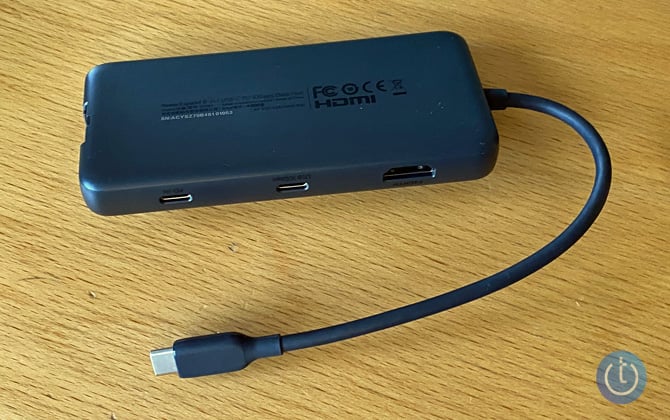 Docking Station: Anker 555 USB-C Hub
If you move your laptop from room to room or take it to and from the office, a docking station is essential. It eliminates the need to constantly plug and unplug cables from your laptop each time you move it. Instead, you just plug into the docking station, and you're instantly connected to your peripheral devices.
A basic docking station will let you connect your keyboard, mouse, and monitor. Step-up models can include a headphone jack, USB-C with passthrough for powering your laptop, an ethernet port, additional USB ports for connecting accessories like webcams and printers, and more. Depending on your laptop's port configuration, you may be able to connect devices to a docking station that you might not otherwise be able to connect to your laptop.
Techlicious Editor in Chief Suzanne Kantra uses the Anker 555 USB-C Hub in her home office and recommends it for most users. It has an HDMI port, an ethernet port, a USB-C 3.1 port, 2 USB-A 3.1 ports, an SD Card reader. It also has a USB-C Power Delivery input port, supporting up to 85 watts of passthrough charging with a 100-watt charger. She loves the slim design that takes up almost no space on her desk.
Price: $55.99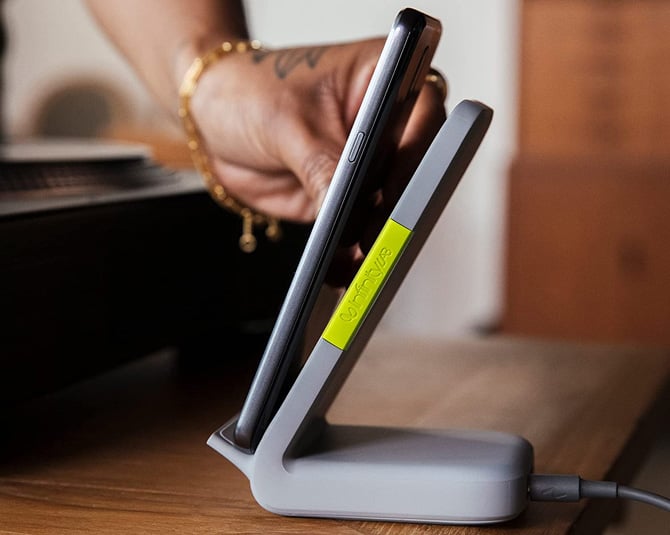 Wireless charging stand: InfinityLab InstantStation
A recent study by Reviews.org found that people on average check their phones every 5.5 minutes or more than 262 times per day. As someone who constantly uses their phone, I'm not surprised to see my battery level drop by the end of the workday.
I recommend (and use) the InfinityLab InstantStation Wireless Stand wireless charging stand, which props my phone up so I can glance at the screen to see messages or make a call while it's charging. There's a 15-watt wireless charger built into the stand (the maximum speed that iPhones support, some Android phones support up to 18 watts) as well as one USB-C port for 30 watts PD charging and a USB-A port for 15 watts of charging, meaning you can charge up to three devices at the same time.
Price: $69.95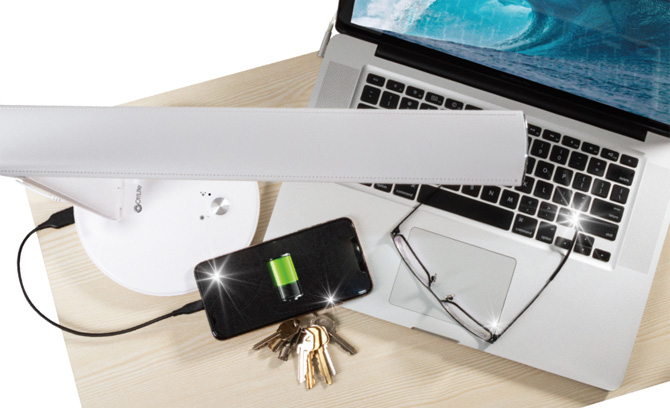 Desk lamp: OttLite Emerge Lamp
According to the National Institutes of Health, digital eye strain impacts 50 percent or more of all computer users. And according to the Mayo Clinic, one of the ways you can combat digital eye strain is to turn off some or all overhead lights and use an adjustable desk lamp to avoid glare.
I've used a variety of desk lamps over the years and love my OttLite desk lamp because of its easy-to-use tap controls and adjustable brightness. It offers a high-contrast cool light that reduces eye strain by lowering the blue light emitted while getting as close to natural daylight as possible. And for nighttime use, there is a warm setting.
The latest in the OttLite line is the Emerge Lamp, which adds a patented technology called SpectraClean that uses a narrow band of visible light that has been clinically proven to kill potentially harmful bacteria, mold, and fungus on your phone and desktop area. However, it's safe for people, animals, and plants, so you can turn the feature on while you're working.
The arm of the light adjusts from 11 to 26 inches and folds down when you're not using it. It also has a Type-A USB port with 10-watt charging on the back of the base so you can charge your phone without taking up more space on a crowded power strip.
Price: $99.99


[Image credit: woman at desk with two monitors and laptop via BigStockPhoto, Andrea Smith/Techlicious, Logitech, Infinity Lab, Anker, OttLite, SenseAGE, Twelve South]
Andrea Smith is an award-winning technology broadcast journalist, reporter, and producer. Andrea was the Technology Producer and an on-air Technology contributor at ABC News for over two decades before becoming the Lifestyle Channel Editor at Mashable, where she explored the ways in which real people, not just geeks, began using technology in their everyday lives.
Discussion