The Best Active Noise-Cancelling Headphones
Techlicious editors independently review products. To help support our mission, we may earn affiliate commissions from links contained on this page.
Many types of headphones can provide passive noise cancelling by blocking outside noise or covering it with good audio. For the times when that's not enough -- on an airplane, in a crowded office, around a noisy air conditioner -- active noise cancelling is better. Headphones with this technology require battery power to work and extra circuitry, so they're often on the expensive side compared to models with the same audio quality.
For frequent travelers and people who need to immerse themselves in music (or silence), they are worth the investment. Keep in mind that even the best noise-reducing headphones dampen only around 75 percent of travel din.
What to look for
Multiple "modes" that adjust the type of noise cancellation based on the surrounding environment
Models that can still be used when the battery runs out
Designs that offer both passive and active cancellation.
For more noise cancelling headphone picks and in-depth advice on what to look for, read our Noise-Cancelling Headphones Buying Guide.
Prices valid as of May 15, 2013.
✔Editor's Choice: Monster Inspiration Active Noise Canceling Over-Ear Headphones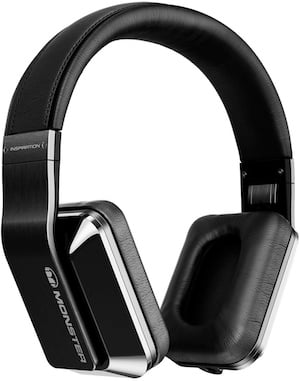 There are two versions of this high-end headphone, one that uses passive noise cancelling and this pair that adds active technology to the mix for better blocking. Active blocking is more effective and, at least with these headphones, won't mess with the audio quality. And the audio this slick pair delivers is quite impressive. Even when the battery dies, the passive noise cancelling is better than having none at all. All of this makes the Inspirations worth the high price tag.
Style: Over Ear
Controls: In-line one button, mic; compatible with any smartphone. In-line three button, mic; compatible with iPhone.
Noise cancelling: Active. Passive isolation when battery dies.
Wired: Detachable cord, comes with three cables: one button control, three button control, no control.
Loudness: Not provided
Price: $300 on monstercable.com, $229 on Amazon
Entry Level: Audio Technica ATH-ANC23 QuietPoint Active Noise-Cancelling In-Ear Headphones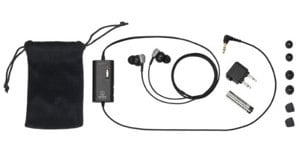 Audio-Technica proves that you don't need to pay a lot of money to get decent-sounding headphones in this category. They might not be that useful on a plane since the active noise cancelling is more suited to medium background noise and not constant drone. This is great for people who want everyday headphones.
Style: In Ear
Controls: Noise cancelling on/off, volume
Noise cancelling: Active, up to 20 dB. Passive isolation when battery dies.
Eartips: One foam set, two standard round silicon
Wired: Non-detachable cord
Loudness: 105 dB
Price: $50 on Amazon
Mid-range: Phiaton PS 210 BTNC Bluetooth 3.0 Active Noise Cancelling Stereo Earphones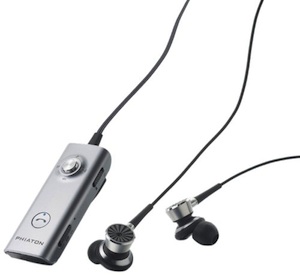 You get two types of headphone in one with this model from Phiaton: noise cancelling and Bluetooth. While the combo may seem odd, it's actually a great melding of technologies. The control module handles everything from activating the noise blocking capabilities to phone and Siri buttons to playback control. Audio quality doesn't suffer even when noise cancelling is active, but if you prefer to just plug the pair directly into a phone the design of the earbuds will block out a surprising amount of noise on their own.
Style: In Ear
Controls: Noise cancelling on/off, playback controls including skip track and volume, answer/end call, compatible with Bluetooth 3.0 phones.
Noise cancelling: Active. Passive isolation when battery dies.
Eartips: Four sizes, standard round silicon
Wireless: Bluetooth 3.0 with wired cable option
Loudness: 110dB
Price: $129 on Amazon
Need more help deciding which pair of headphones is right for you? Check out our story on how to buy headphones.
Discussion