The Best Affordable Photo Books
Techlicious editors independently review products. To help support our mission, we may earn affiliate commissions from links contained on this page.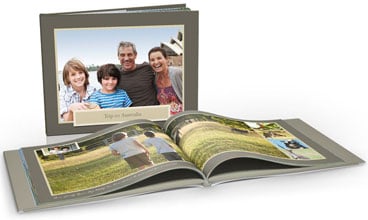 I hate to admit it, but I rarely print photos anymore. Yet when I have a memorable get-together with friends or family, sometimes I surprise everyone afterwards with a little photo book of the highlights. They take just a few minutes to make online, and with prices starting under $3, they are affordable gifts.
Today's photo books come in all sizes, qualities, and prices for every budget and occasion. And they're a lot easier to make than you'd think.
Most photo book sites can auto-fill your photo book with one click, based on when you took your photos. And some go beyond that. For example, Apple's iPhoto uses facial recognition to center pictures on faces when fitting photos into templates, star ratings to feature favorite photos more prominently, and meta-data (date info and more saved in your photo files) to group related photos together on the same spread.
You're not stuck with files that you've uploaded to the site you're using to create your photo book either. Many now let you pull photos in from Facebook, as well as from your PC.
You can also choose to edit your books online or offline. If you're just looking to auto-fill your books or do a few edits, online works well. Downloadable applications are great for working on very long or complex books, especially if you don't have a fast Internet connection.
Two other things to keep in mind when choosing a photo book site. First, if you plan to use the book as a keepsake album, pay more for acid-free archival books. Also consider online archivability – some sites just keep your online book for 30 days, while others will store it indefinitely, even letting you share it with others online so they can make their own customized version.
Also, double-check the shipping options and costs before you start, and factor them in to your total project. Many sites have optional pick up at an affiliate retail store to avoid shipping costs.
Here are some of our favorite sites for affordable photo books.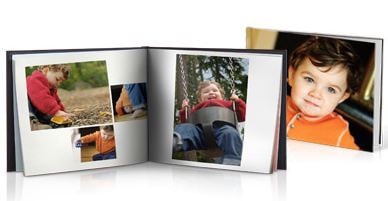 Walgreens and Snapfish
No kidding, Walgreens offers some of the smallest and most affordable paperback photo books, with 2" x 3" minibooks at $5.99 for 25 full-page photos. These have fixed length and don't allow captions. Step up to the 4" x 6" bound brag books at $6.99 for 25 pages (up to 15 photos/page), expandable up to 150 pages, with customizable layouts and captions by page. Walgreens' print partner, Snapfish, features the same robust user interface and similar book formats, and many more ways to repurpose your photos. Use Walgreens when you want to avoid shipping costs with in-store pickup, and even get same-day pickup on one hardcover format.

MixBook
Mixbook is a relative newcomer that offers robust customization in books starting at 4" x 6" for $6.99. Unique to Mixbook are its sharing and collaboration tools. Invited friends can collaborate on the work in progress, adding photos and pages to the book. Finished books can be shared by embedding the Mixbook player code on a website or blog.

Blurb
Blurb is all about books, and it shows. Here you can make (and sell!) customized books of any shape, size, paper type, and layout. Its entry level is a $4.95 paperback 5" x 8" booklet with 20 pages. Use the online tool, or download the bookmaking software. Blurb excels when text and photos combine in complex layouts, as in a memoir, and when special shapes and sizes are needed.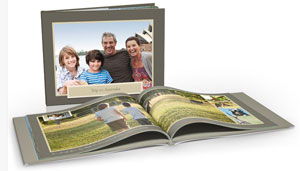 iPhoto
Mac users have a simple but functional solution in the pre-installed iPhoto application. The smallest book format is 3½" x 2⁵⁄₈" soft cover with 20 pages, sold in 3-packs for $11.97. (Similar-sized booklets in multi-packs are available to non-Mac users from www.lulu.com and www.viovio.com.) Additional pages can be added. Also unique to Apple is a spiral-bound option in larger sizes that allows the 2-sided printed pages to lay flat when open. Few formats and layouts are available from iPhoto, but the software runs on the local PC, which means no worries with Internet lag, and checkout is easy using an AppleID.
Discussion