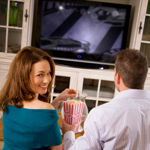 There's no excuse to put off movie night anymore. These days, there are rentals from your cable, satellite or FiOS provider, DVDs and Blue-ray discs available through the mail—and now, a variety of online rental services.
Contrary to what you might believe, online rentals don't require hooking your computer up to your TV. There are a number of set-top boxes dedicated to this, and the equipment you already have may be capable of video rentals. TiVo and other DVRs, video game consoles, Blu-ray disc players and even some TVs themselves allow you to rent movies if they can connect to the Internet.
If you're renting, the video is sent down bit by bit, or streamed, so you can't save a copy. If you buy, the movies or TV shows are stored permanently on your device. In most cases, the rental prices are cheaper than what you'd find at a rental store and there are no late or restocking fees, but rentals usually expire 24 hours after you start viewing the movie.
Once you've hooked up the device you're going to use to your TV and set up your account information, renting videos is a snap. Most services offer an on-screen menu of titles with "box" shots, descriptions, and ratings. You just use your remote to pick a movie and wait for it to start. Depending on the service, and the strength of your broadband connection, most movies begin in just a couple of minutes.
So, you may be wondering, "If it's that simple, then why do we still have discs?"
Well, first off, not everyone has broadband access in their living room. These services generally work best with a wired connection, as Wi-fi can be too unreliable for the large amounts of data involved in high quality video moving to your rental device.
Secondly, the online selection may not be as big as your video store and sometimes new releases aren't available as early as they are on disc.
Finally, the picture quality, while good, isn't as good as the actual disc versions. Standard-definition streamed movies don't look as good as DVDs, and high-definition streams don't nearly rival their Blu-ray counterparts. However, if convenience is what you're looking for, then these products and services are sure to please.
Online Video Services

Amazon Video
on Demand
iTunes
BlockBuster
OnDemand
Roxio
CinemaNow
Netflix
Watch Instantly
Library
40,000+
50,000+
40,000+
Not as large
as stores
14,000+
Standard Definition
Movie Rental
$2.99
$2.99
$1.99
$1.99
2 hours with $4.99 DVD subscription
unlimited with $8.99 DVD subscription
Standard Definition
TV Show Rental
$1.99
N/A
N/A
N/A
2 hours with $4.99 DVD subscription
unlimited with $8.99 DVD subscription
High Definition
Movie Rental
$3.99
$3.99
N/A
N/A
unlimited with $9.99 DVD subscription
High Definition
TV Show Rental
$2.99
N/A
N/A
N/A
unlimited with $9.99 DVD subscription
Standard Definition
Movie Purchase
$9.99
$9.99
N/A
$7.95
N/A
Standard Definition
TV Show Purchase
$1.99
$1.99
N/A
$1.99
N/A
High Definition
Movie Purchase
N/A
$19.99
N/A
N/A
N/A
High Definition
TV Show Purchase
$2.99
$2.99
N/A
N/A
N/A