Flip's New SlideHD Doubles as a 3" Movie Theater
Techlicious editors independently review products. To help support our mission, we may earn affiliate commissions from links contained on this page.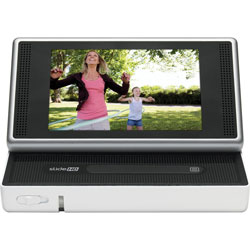 Flip just launched a new camcorder, the SlideHD, with a 3-inch flip-up touchscreen that is designed to make it easy for you to share movies with a group. It's a very helpful feature to have and one that will almost certainly encourage you to share your videos more often.
With most pocket-sized camcorders, including other Flip models, everyone needs to gather around a tiny screen while someone tries to hold it steady. The SlideHD largely solves this problem. While a 3-inch screen isn't huge, it is big enough for showing off a quick video to friends or family. And because the SlideHD's widescreen can be flipped up while the camcorder rests on a table. it makes it easy for everyone to gather around to watch. The built-in speaks are also a step-up from most pocket-sized camcorders, but we're not talking hi-Fidelity here.
The SlideHD uses a touchscreen, rather than physical buttons, to control recording and playback. If you're familiar with Flip camcorders, you'll recognize the easy-to-use controls on the SlideHD for shooting video. In my tests, the touchscreen worked fine for recording.
Using the touchscreen for playback was a bit more frustrating. To change playback volume or pause the video requires you to press and hold the touchscreen for a few seconds until the buttons pop-up on the screen. Hold for too short a time and the camcorder jumps back to the list of videos. A separate physical touch-bar below the screen is used for scrolling through your videos. For those of us used to the flexibility of multi-touch displays on our cell phones, the SlideHD's controls are a let-down.
Like most other pocket-sized camcorders the SlideHD does not have an optical zoom, but does include a 2X digital zoom. Also lacking is image stabilization, an important feature included in other cameras in this class.
The SlideHD will let you capture up to 4 hours of 720p HD video. And the 16GB of memory lets you store up to 12 hours of compressed HD video or photos to bring along for sharing.
The SlideHD retails $280. If you order through TheFlip.com, you can personalize your Flip with the design of your choice at no extra charge—a nice touch.
Flip SlideHD ($280): Check the price at Amazon.com
.
Discussion