Get a Personal Trainer for $10 a Week
Techlicious editors independently review products. To help support our mission, we may earn affiliate commissions from links contained on this page.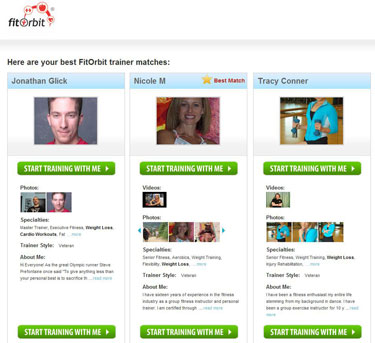 Nothing beats working out with a personal trainer who knows your fitness goals and can tailor your workout and diet to achieve them. With sessions costing $60 on average, though, the costs can really add up. Unless, that is, you pair up with your personal trainer online at FitOrbit, which will run you at little as $10 per week.
FitOrbit matches you with a live personal trainer and delivers custom workouts and meal plans through the FitOrbit site and iPhone app. You pay $30 per week, $80 per month, $195 for three months or $260 for six months.
The first step is finding a trainer. So when you sign up, you tell FitOrbit your fitness goal (lose weight, gain muscle, maintain weight while firming and toning), your fitness interests (cardio workouts, core training, postnatal fitness, executive fitness, toning, among others), your current fitness level, where you want to be (more physically active, complete makeover, better choices) and any target areas. You can also specify gender and trainer type (drill sergeant, cheerleader, veteran, buddy, motivational speaker).
FitOrbit takes the information you provide to find the best three matches in its trainer database. For each there's a picture, a video message and a profile that outlines their credentials and approach to training. (If none of the suggested trainers seem right, you can browse through the entire database.)
I went with FitOrbit's first choice, Nicole M., a 16-year veteran with certification through the American Council on Exercise, National Academy of Sports Medicine and American College of Sports Medicine.
Before I got my first set of meals and workouts, I let Nicole know about my health, the workout equipment I have and my food preferences and restrictions. Since she's a live person, the process takes a few days the first time.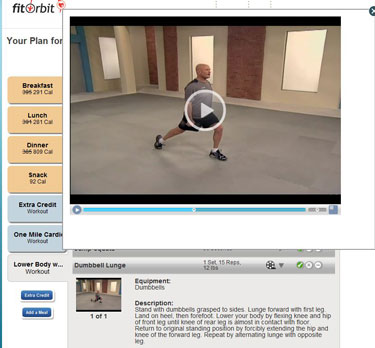 When I saw the first week of workout from Nicole, I was disappointed. I'd told her about how I like to run 3-4 miles per workout and that cardio was important to me. My first workout had a set of lower body exercises that I was supposed to do two or three times and a mile of "running" at 10-15 minutes. I even sent her a note voicing my concerns. She responded promptly, telling me to wait and see. She was right. After just two circuits I could barely move my legs, much less run three miles—I barely made it a mile.
Since that first interaction, there's been an adjustment period. I've been providing her with feedback on the workouts and heart rate data from my Adidas miCoach Pacer, so she'll know how hard I'm working. She leaves comments on my progress and responds to my questions.
As I make my way through my workouts, I do miss having a trainer with me to explain and demonstrate an unfamiliar exercise, check my form and provide real time encouragement. Though the FitOrbit app does have detailed instructions, and often video, for each of the 350 exercises trainers use in their workouts.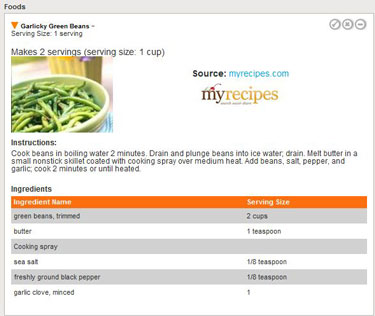 I treat the meal plan as a calorie guide, rather than as an actual menu planner. That's largely because I'm not willing to impose my diet on my family, but also because the choices aren't inspired. For instance, tomorrow's breakfast calls for a whole wheat bagel with jam and margarine. Lunch consists of a turkey sandwich and apple. Dinner will be low-fat macaroni and cheese with garlicky green beans and a tomato chopped salad. There are recipes for each dish provided by myrecipes.com. You even get a week's shopping list that covers all of your meals, so I can see how it would be valuable—just not for me.
Every day you need to log your food and exercise so your trainer can keep an eye on how you're doing. I derive a great deal of satisfaction when I check off my exercise as complete. And while I haven't been following the meals, I have been logging what I'm eating. I don't eat enough for breakfast, I eat about the right amount at lunch and too much at dinner. I'm working on that.
The FitOrbit system isn't perfect. I'm still not totally on the same page as my trainer concerning the amount of time I have available to exercise. But it does work. In fact I've signed up for three more months to help me get ready for swimsuit season.
Discussion
New Articles on Techlicious