Review of The MoBeam Numi Loyalty Card Manager
Techlicious editors independently review products. To help support our mission, we may earn affiliate commissions from links contained on this page.
Loyalty cards can be beneficial with their discounts and rewards, but only if you have the cards on you—and can find them—at the time you need them. MoBeam helps solve this problem with a simple key fob device called the numi key.
At just 2"" x 1.5" and half an inch thick, the numi can attach to your keychain or easily fit in your purse. It supports over 65 retailers and can store up to 50 loyalty and membership numbers at a time. The simple directional controls allow you to quickly thumb through your list of loyalty numbers, which are stored alphabetically.
The nümi key supports grocery stores and pharmacies like A&P, Safeway, CVS, and BevMo, as well as big box retailers like Best Buy and Kmart. You can manually add stores that aren't in the software's drop-down menu of retailers as long the card has a barcode, and the retailer's scanner is compatible—flatbed scanners like those found at a grocery store and laser scanners that project a sharp red line. Loyalty cards that simply have a magnetic strip with the membership number on the card, such as Barnes & Noble, P.F. Changs, and Jos. A. Bank, won't work.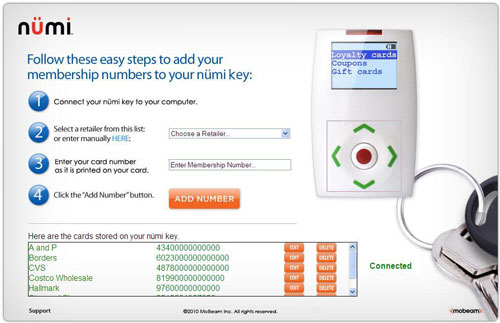 Some retailers like Sephora and Ulta both appeared in the drop down menu, but the numbers weren't accepted when I attempted to input them into the numi key....which I'm assuming tells me that I've been a frequent beauty store shopper for far too long.
The numi key is activated through your web browser, and easy to use at the store. The times I've used it, it worked perfectly and was the first time those check-out clerks had seen the device. The numi has a built-in battery that recharges through a cord that plugs into any USB port and, as part of the smart design, a power indicator on the top right corner of the digital display let's you know when you'll likely need to recharge.
While you can currently store loyalty card numbers, it is designed to also include barcoded numbers for coupons, gift cards or tickets. At that point I could see potential limitations with the 50 number storage limit, as you could easily use up the allotted slots on the device.
All in all, the numi key works as promised, is easy to use with simple directional controls to scroll through your list of loyalty numbers and reduces wallet clutter and frantic last-minute searching at the check-out counter. And at $19.95, if you forget your loyalty cards frequently, the numi will pay for itself in no time.
It's found a home in my handbag.
Discussion