Review of the Motorola Droid Razr Maxx (Verizon)
Techlicious editors independently review products. To help support our mission, we may earn affiliate commissions from links contained on this page.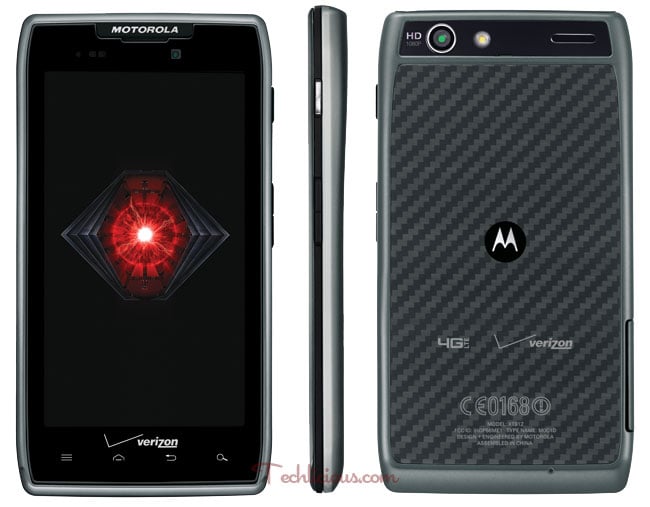 Motorola Droid Razr Maxx review summary
When I reviewed the Motorola Droid Razr in November, I found there was a lot to like about the phone. Unfortunately, terrible battery life was a huge drawback, and the phone was uncomfortable to hold, as well.
The new Motorola Droid Razr Maxx makes up for both those shortcomings. It's 3300mAh battery is 85% larger than the 1780mAh battery on the original Razr, resulting in far better battery life (lasting nearly twice as long). And the thicker battery actually makes the phone easier to hold.
The only downside to the Droid Razr Maxx is it's slightly heavier (5.1 ounces versus 4.41 ounces) and $50 more than the original Droid Razr. Beyond that, the phones offer the exact same features and specs, so much of what you'll read below is taken from my Droid Razr review.
How it feels in the hand

The Motorola Droid Razr Maxx is still light for its size, even at 5.1 ounces. And while the thickness of the Razr Maxx has been increased to .35" from just .28" in the Razr, I found the thicker profile gave me a better grip and was actually more comfortable to hold.
My issues with the Razr's button quality are still here in the Razr Maxx. While the overall feel of the phone is solid, the buttons feel downright cheap, especially the wiggly, sharp-edged power button.
Display & Sound
The Motorola Droid Razr Maxx has the same 4.3-inch Super AMOLED Advanced qHD display (960 x 540). There's plenty of brightness and excellent contrast, with the wide viewing angles you would expect from an AMOLED display. And it's made from Gorilla Glass, which makes it virtually scratch-proof.
The built-in speaker on the Droid Razr Maxx was loud and clear. Standard calling volume is good as well.
Web browsing & mobile hotspot
Nothing new here. The Motorola Droid Razr Maxx uses Verizon's 4G LTE network for blazingly fast download and upload speeds. In New York City, I regularly get download speeds of 13-17 Mbps (with a peak of 22 Mbps), and upload speeds from 5 - 7 Mbps. That's about 10-15x faster than I get using Verizon's 3G network (see: The Fastest 4G? It's No Contest for an idea of how much you get with a 4G versus a 3G phone).
Combining that 4G speed, with the Razr Maxx's powerful 1.2 GHz dual-core processor and beautiful display made for an excellent browsing experience.
The Motorola Droid Razr Maxx can act as a mobile hotspot for up to 8 devices.
Camera & video recording
The Razr Maxx has the same 8MP rear-facing camera as the Razr, which I found disappointing. It takes a long time for the camera to focus, even is bright light, which means lots of out-of-focus shots in low-light situations. Noise in low-light shots was also quite apparent. And in better light, colors were washed out, though they had a nice level of detail.
Video quality was not much better. The 1080p HD video was also washed out and the camera had trouble finding the correct subject to focus on. At least the video was stutter-free, but not without jiggliness in the image.
Keyboard & Navigation
The Motorola Droid Razr Maxx is running Android 2.3 Gingerbread and MOTOBLUR. The processor keeps everything flowing smoothly and navigation is well designed. Both multi-touch and Swype keyboards come pre-installed.
One new feature that many users will find quite appealing is the ability to create "Smart Actions", rules that let you do control a range of functions from power saving to ringer volume to app launching, based on your location or time of day. The rules are composed of "Triggers", such as arriving home, and "Actions", such as turning off 4G and turning on Wi-Fi. Creating the rules is as simple as identifying your Trigger(s) and clicking on the actions you want to occur.
Storage
The Motorola Droid Razr Maxx has 16GB of onboard memory and includes a 16GB microSD card (expandable to 32GB).
Battery life
Battery life on the Droid Razr Maxx was far better than on the original Razr. With the original, the phone was dead by evening, if I was using it frequently. The new Droid Razr Maxx lasted nearly 36 hours. With light use, it went for more than two days. That is exceptional among large-screen smartphones.
Laptop Dock
Like other advanced Motorola phones, the Droid Razr Maxx can use the Motorola accessory Laptop Dock, which can turn the phone into a mobile computer.
Pricing and availability
The Motorola Droid Razr Maxx is available from Verizon
for $299.99 with a new, two-year customer agreement. That $50 more than the Droid Razr 32GB and $100 more than the Droid Razr 16GB. Or, you can purchase the Droid Razr Maxx from AmazonWireless for $199.99.
Should you buy it?
Like the Razr, the Droid Razr Maxx is a feature-packed phone with a fast processor, beautiful display and 4G LTE speeds (a must on Verizon) that innovates in some very useful ways. The water-repellent nanocoating inside helps protect it from life's little unpleasantries, and the Smart Actions will be a godsend for those who need to change setting between work and home, day and night, or weekday and weekends.
Unlike the Razr, the Maxx has a battery that not only performs, it excels. And the thicker girth actually makes it a more comfortable phone to hold, even if you have small hands.
Between the original Razr and the new Razr Maxx, there's no question that the Razr Maxx is the way to go. If only the camera were better, it would have made my highly recommended list.
Rating: Recommended
Detailed Specs
Talk and Standby Time: Up to 21.5 hours talk time, up to 15.8 days standby
Band/Modes: CDMA Dual band/LTE
OS: Android 2.3.5 Gingerbread
Weight: 5.1 oz
Dimensions: 2.71 x 5.15 x 0.35 inches
Battery: 3300 mAh
Display: 4.3" Super AMOLED Advanced LCD (960 x 540)
Video: 1080p
Camera: Rear-facing 8.0 megapixel, Auto Focus, LED flash
Front-facing Camera: 1.3 megapixel
Mobile hotspot: Yes, up to eight devices
Processor: 1.2GHz Dual Core
Memory: 1GB RAM, 16GB onboard storage and 16GB microSD card (expandable to 32GB)
Discussion