Shifu: A Personal Assistant Gets Your To-Dos Done
Techlicious editors independently review products. To help support our mission, we may earn affiliate commissions from links contained on this page.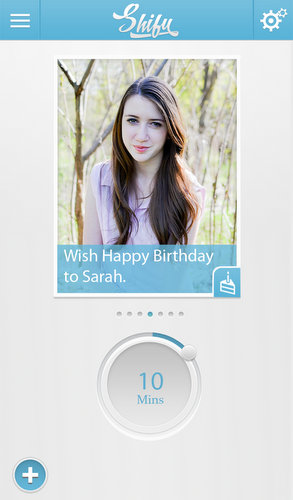 There are likely a couple of problems with your current to-do list.
Whether it's paper or electronic, you need to remember to peruse your list and cross things off or delete them. Forget to look at it and you can miss something important.
Or perhaps you use Google Calendar or some other digital tool that you can set to send you reminders about tasks that are time sensitive. But what if you get a reminder to call your aunt and wish her a happy birthday at 9:00 a.m. when you happen to be busy and you can't do it right away? Then, before you know it the whole day has slipped by and you never made the call.
Shifu is different. It's a context-aware Android app that takes advantage of the fact that your smartphone knows your location, if you're connected to WiFi and who your friends and contacts are.
To use Shifu you tell the app what you want to do and in what circumstance.
For example, you could set it up to remind you to:
Call Tony to wish him happy birthday whenever I have 10 minutes free. Once you set up this command Shifu will put a pop-up about it on your wallpaper (if you have the app set up to do so) or send you periodic notifications about it until you shut off the reminder.
The next time I talk to Julie, remind me to ask her for her salad recipe. When the app sees you're receiving or making a call to Julie, it will put a pop-up reminder about the recipe right on the call screen. Then after your call with Julie is over Shifu asks if you want to be done with the reminder, keep it going or send her a message via text, Google Voice or Facebook Messenger.
Remind me to ask the bank about their new funds policy the next time I'm there. After setting a pin on a map for the approximate location of the bank the next time you're in the vicinity you'll receive a notification on your phone about the reminder.
Remind me to download "Despicable Me" the next time I'm connected to WiFi. You have to designate which access point according to a list of all the ones you've previously used.
Connecting your Facebook account to Shifu is unfortunately mandatory for logging in. However, it does mean that Shifu will automatically remind you about your Facebook friends' birthdays, which is nice especially if you're not a heavy Facebook user.
Another nice feature: if someone calls you but you don't pick up, Shifu will ask you later if you want to call the person back. I found this particularly helpful, since I often forget to return social calls in a timely manner.
Shifu was recently released in public beta, meaning the developer is still working out kinks in the app and it will likely get better as revisions to it come down the pipeline. For me, it was a bit glitchy and I had to delete and reinstall both Shifu and Facebook a couple of times to make sure I was running the most recent versions of each. Even so, it's a helpful way to not forget things.
If you are an iOS user, check out the reminder app If This, Then That. It's not location-aware like Shifu, but it does allow you set up helpful reminders that interact with other apps you use on your phone like Facebook.
Price: free on Google Play.
Discussion