The Best iPhone 5 Battery Case
Techlicious editors independently review products. To help support our mission, we may earn affiliate commissions from links contained on this page.
Ample power in a sleek case that affords full access to all buttons and ports makes the MiLi Power Spring 5 the best iPhone 5 battery case.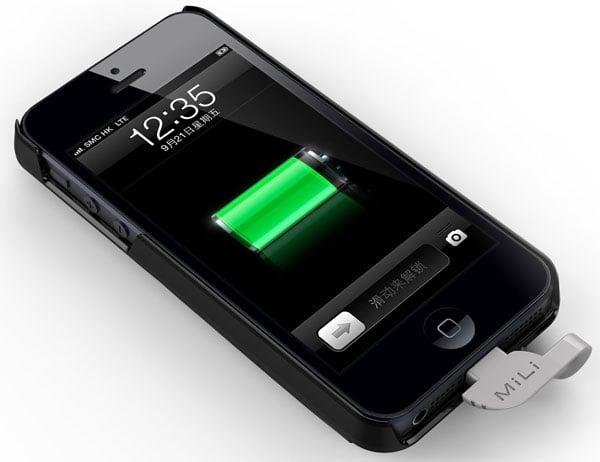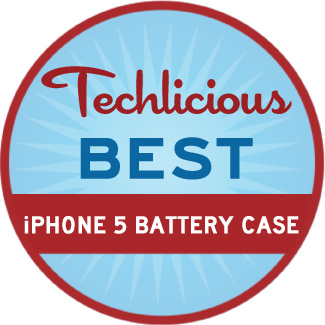 At the end of a normal day, your iPhone 5/5s will likely be short on battery life. To keep your iPhone juiced throughout your busy day and evening without plugging it into an AC power outlet, a battery case is a must. But all battery cases are not created equal—far from it. I've seen dozens of these cases my pick for the best is the MiLi Power Spring 5.
The most important battery case specs
You might think the most important considerations when choosing an iPhone battery case are how much extra power is supplied and how quickly it recharges your iPhone. And then, you'd consider the case's aesthetics and of course its price.
I somewhat disagree. In practical terms, I believe the most important iPhone battery case considerations are easy accessibility to the headphone jack and the bulkiness of the case.
When looking at cases highly reviewed in other publications, nearly all had cases that are long and thin yet thick at the bottom, extending your iPhone's length by at least half an inch. This extra half-inch elongates your iPhone so it peeks out of the top of your pocket instead of remaining undetectably swallowed; something I find to be a major drawback.
Worse, the thick battery base on these long cases covers the headphone jack. In order to plug in a pair of headphones, you need feed a 4-inch-long male-female headphone cord extender through a tunnel in the bottom of the case. Most extended battery packs such as the Mophie Juice Packs include this 4-inch-long headphone extender cord.
The MiLi Power Spring 5 proves this whole unergonomic arrangement is unnecessary. It provides ample power in a sleek case that affords full access to all buttons and ports.
Why the MiLi is the best battery case
A battery pack's extra girth keeps many people from encasing their iPhones with a thick battery to begin with. But the piano-gloss, barely-there MiLi is the thinnest iPhone battery case I've run across; it is nearly as unobtrusive and budget-friendly as a case that's merely decorative, removing any financial or aesthetic reasons for making sure your iPhone always has plenty of juice.
And the MilI case adds virtually no height, so both the top and bottom of the iPhone where the headphone and Lightning jacks are located remain exposed. When you securely snap on the MiLi, only the iPhone's corners are covered. The side volume buttons and mute switch, along with the top on/off switch, remain uncovered for easy access.
To recharge your iPhone on the go, use the MiLi's integrated Lightning jack, conveniently attached to the base of the case via a rubberized cable. At home, simply recharge your iPhone via a normal Lightning connection.
With 2200 mAh capacity (more recharging power than most competitors), the MiLi will completely recharge your iPhone and still retain around 10 percent of its charging ability. Many cases with less capacity won't completely refill a drained device.
Unfortunately, you can't simultaneously recharge both the iPhone and the MiLi case with a single micro-USB connection like you can with fully enclosed Mophie-like battery packs. If you fully discharge your MiLi, you'll have to charge it and the iPhone via separate connections.
The battery case competition
The MiLi, made by a British company, isn't as widely available as its competitors. The closest, more common, alternative is the similarly designed myCharge Freedom 2000 ($79.99 on Amazon).
Like the MiLi, the myCharge leaves the bottom of the iPhone exposed for easy headphone jack access and emergency iPhone recharging via the attached Lightning jack.
But MiLi's larger capacity (2200 mAh vs. 2000 mAh), smaller size and tighter ergonomics are all slight improvements over the myCharge, which doesn't fit as snugly as the MiLi, isn't as pretty and may not completely recharge your empty iPhone. And it doesn't hurt that the MiLi is more than $30 cheaper, too.
What about the popular Mophie Juice Packs? Mophie's highest-capacity case, the Juice Pack Plus ($114.95 on Amazon), is thick and long and packs only 2100 mAh (100 less than MiLi) while costing a whopping $66 more. It does let you charge your phone and case simultaneously, however, unlike the MiLi.
If the Mophie's simultaneous dual recharging capability is more to your taste, however, a cheaper, more powerful and more flexible alternative is the 2500 mAh Tylt Energi Sliding Power Case ($76.07 on Amazon). It's actually two cases in one. First you clip on a slim and colorful (red, blue or pea green) Tylt iPhone cover. When you need more juice, simply slide the actual fatter Tylt battery case over this thinner protective cover. However, the Tylt case suffers from the same excess length issue as the Mophie and covers the bottom ports, to boot.
Overall, the MiLi case is ergonomically, aesthetically, functionally and economically superior to all its iPhone battery case competitors.
What do other reviews say?
Nick Guy at iLounge lauds: "It's hard to deny Power Spring 5's impressive combination of performance and price. No other proper battery case—in fact, no other battery solution made to work specifically with the iPhone 5—packs that kind of a punch."
Reggie from Technoodling agrees: "[t]he MiLi Power Spring 5 is is a must-have for every iPhone 5-wielding road warrior…"
And in its "Excellent" MacReview.com review, the review's author would "surely recommend this case."
MiLi Power Spring 5


Two cases in one: Tylt Energi Sliding Power Case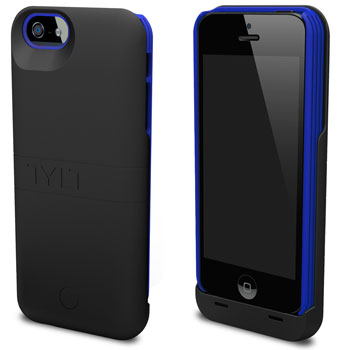 If you don't always need a charging case or you want to be able to charge your case and phone at the same time, the Tylt Energi Sliding Power Case is a great option. Actually, it's two cases in one. There's a super slim and colorful bare-bone phone cover for those times you don't need extra backup power and the battery case cover. When you need extra power, simply slide the battery case onto the inner case's threads for a secure fit. Plus you get a 2500mAh battery, which delivers a full charge for your iPhone 5.
The complete package is a little bulkier than the Mili and some L-shaped headphone cords won't fit, but you get more flexibility. And there is a 3.5mm headphone adaptor to ensure your headphones will work, no matter how bulky the connector.
Tylt Energi Sliding Power Case


Discussion