Verizon's Motorola Droid is Capable of Taking on the iPhone
Techlicious editors independently review products. To help support our mission, we may earn affiliate commissions from links contained on this page.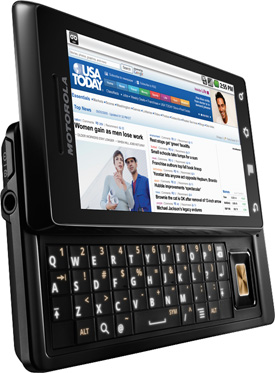 There's been a lot of hype around the Motorola Droid from Verizon, which went on sale today. It's the first device for the U.S. market built on the open Android 2.0 platform. It has a higher resolution capacitive touchscreen display than the iPhone (854 x 480 vs. 480 x 320). And, it takes 5MP versus the iPhone's 3MP stills. So I was excited to get my hands on it last week.
Look and Feel
When I first saw the Droid I was a little disappointed—another long black candy bar phone. Then I turned it on. The bright, crisp 3.7-inch display gave me the wow I was looking for: the extra resolution really makes a difference. And with a capacitive touchscreen, the Droid has the same fluidity as the iPhone. Further inspection reveals some nice copper accents, a rubberized back for a non-slip grip and a heft that says metal and quality construction. The top slides up to reveal a backlit keyboard (yeah!) and a 5-way directional pad, which sort of functions like a mouse (you press and hold to access cut and paste, for instance).
Out of the box
I almost never read manuals, but I was quite impressed by the "Getting Started" guide that came with the Droid. It covered every question that came up regarding set up and using the product.
I use an Exchange server, so once I plugged in my info, my email, contact and calendar automatically synced. For web-based email, it's as simple as plugging in your email address and password. And if you use Gmail, your account's calendar and contact info will pull in automatically as well.
Music and videos must be loaded manually, by connecting to your computer with the included USB cable. If you have your files in one folder, it's a snap. But if you use iTunes, they'll be in many folders (segmented by artist and album), which becomes tedious.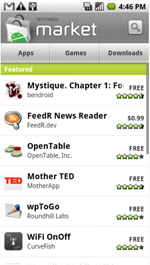 For Apps, you'll visit the Market on your handset (you can't browse on a computer and sync apps later). Find the app you want and it's a one-click install for free apps, which then appear automatically on your device. For paid apps, you need to establish a Gmail account and associate a credit card with it. The Market has more than 10,000 apps, though it's still playing catch-up to the 100,000 available for iPhone (whether having 100,000 apps makes it easier or harder to find good ones is an open question).
What's New with Android 2.0
With Android 2.0 there's more native support for communications programs. You can have multiple email accounts funneled into one view, marked by a colored tab,and there's support for corporate Exchange servers. There's a native Facebook application that integrates into your address book. And you can search within text messages.
Web browsing is now faster, rivaling the standard set by the iPhone. You can double tap anywhere to zoom and then zoom in incrementally with additional taps on a toggle bar—not as elegant as the pinch gesture used by the iPhone.
Using the Phone
In my limited testing, call quality was good and Web browsing and other data tasks were generally speedy. I was especially impressed by the video quality in YouTube's high-quality mode, which requires high-speed data.
You will be limited to using the Droid in the U.S. and other countries with compatible CDMA networks. This is not a world phone.
Emailing and Texting
For email, you can select push, which will download any new messages automatically. Just remember that Verizon's network supports either data or voice—not both at the same time.
Text messages are nicely organized by recipient, so you can track conversations with individual people.
Taking Photos and video
The 5MP camera has autofocus, which is a huge plus. The image quality is fine in brightly lit rooms and outside, but image capture is slow in low light—not surprisingly. The DVD-quality video (720 x 480 pixels) was good for a smart phone. It adjusted quickly to changes in light and was fairly sharp.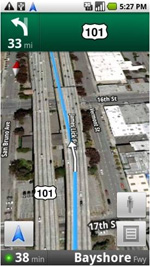 Maps and Navigation
Maps and its built-in navigation capabilities get a boost. LIke with other devices, you can get directions by car, public transit or walking and take your typical street map and layer on traffic, search results or switch to a satellite street view. With its built-in GPS, the Droid has true turn by turn voice-prompted navigation. When paired with a car dock, the device will automatically change to a typical navigation system interface, with large icons and voice-command easily accessible.
Summary
The Motorola Droid is the most exciting phone Verizon has right now. And, while I don't think iPhone owners will be rushing to trade their phones in for a Droid, it stands up well in a side by side comparison, both in terms of specs and design.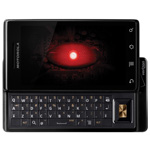 Motorola Droid ($199)
Talk Time: 6.4 hours (talk), 11.25 (days)
Display: 3.7-inch capacitive touchscreen (854 x 480 pixel resolution)
OS: Android 2.0
Camera: 5MP with autofocus, LED flash, image stabilization and 720 x 480 video
Size: 2.4 x 4.6 x 0.5 inches
Weight: 6 oz.
Buy Now at verizonwireless.com
Discussion