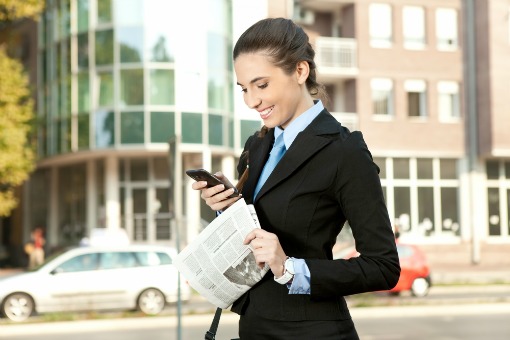 Time: it's a wonderful thing that nobody has these days. Too many meetings and appointments and happy hours and Instagram photos to get everything done. But stress no more! With a few downloads, you can possess the apps that'll make you more productive by saving minutes and hours you would otherwise waste away. Ready to check them out?
Fetch
Calling itself a "personal buying assistant," Fetch makes shopping so much faster. Tell the app what you want to buy by uploading a picture, writing a message, or speaking to it, and then real people research the best prices and applicable coupon codes. Plus, they place the order for you using the billing and shopping info from your account. Easy, right?
Price: Free at iTunes
Waze
If you hate traffic (aka if you are a normal human), download Waze now. The app not only tracks traffic, but uses real-time traffic conditions as reported by users able to see the most current road conditions, construction delays, and accidents. It doesn't get much more accurate than this, and that's all you can hope for when you need to get somewhere without any hassle.
Price: Free at iTunes, Google Play and the Windows Phone Store
Doodle
Planning a get-together with friends or meetings with co-workers can be such a pain. How many emails do you send back and forth trying to figure out a day and time that works for everyone? With Doodle, you choose a few date options, send out a poll to the group, and quickly see what works with everyone's schedules. Your work and social life just got upgraded.
Price: $3 at iTunes and Google Play
Cabin
Great for families or friends, Cabin is a quick, effortless way to communicate and plan with groups. Aside from messaging and photo sharing, you can assign tasks (like pick up dinner) or get reminders to check something off your own list. There's also location tracking to see where people are if you're expecting them, so you can cut out all the back and forth texting.
Price: Free at iTunes and Google Play
Evernote
If you only use one app to kick up your productivity levels, make it Evernote. The app is a streamlined place to take notes, store articles, record memos, snap pictures, organize receipts, and so much more. The best part is it makes it supereasy to search this data, so you can find all your essentials in a jiffy. Oh, and it runs off cloud storage, which means you can access all this precious info from nearly any device.
Price: Free at iTunes, Google Play and Windows Phone Store
FastCustomer
Ugh to waiting on a customer service call. If you've ever spent part of your day listening to an automated voice or pressing "0" to talk to someone, then you'll appreciate this app. Just enter which company and which department you'd like to talk to, and your phone will ring once a real, live agent is able to talk to you over the line. It's so simple, it's genius.
Price: Free at iTunes and Google Play
Which apps do you use to save time?
Related stories from POPSUGAR:
[busy woman with phone via Shutterstock]