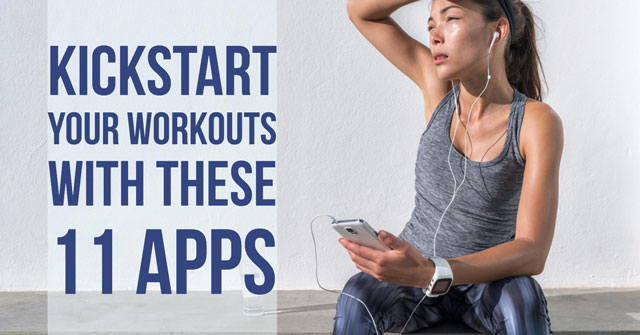 Whether you're just beginning your fitness journey or simply want some help tracking your workouts, a fitness app makes a handy partner. I recently returned to the gym to use the treadmill and lift weights. Because I never use paper and pencil, I needed a way to remember which exercises to do and weights to use. When I explored the apps stores, I found page after page of fitness apps for every type of workout. After downloading and trying out dozens of highly rated apps, these stood out for their features and reliability.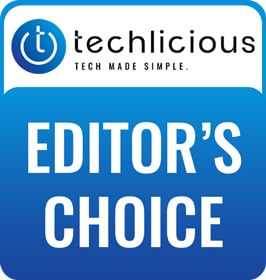 Today's apps cover every level of fitness and workout experience. Most fitness apps include free beginner workouts to get you started. I'd recommend using an app for a couple of weeks for free or only committing to a month's worth of premium features before buying a yearly plan. See if the app motivates you enough to stick with it. Premium or pro versions usually add more exercises and let you customize workouts and compare workouts to see how well you're progressing.
Some apps work with an Apple Watch or an Android Wear smartwatch, so you can leave your phone in a pocket or arm sleeve yet still see your stats while you exercise. Many apps take advantage of the heart rate feature of smartwatches. A few use motion recognition to identify the exercise you are performing.
All the Apple-based apps benefit from syncing with the Apple Health app. This keeps track of personal health info including your weight, calories eaten (based on nutritional apps), steps taken or calories burned using other workout apps and so forth.
Some fitness apps record your workout stats — heart rate, running, steps, route, reps and weight — during the activity. Others instruct you which exercises to do for which muscle groups and suggest exercise programs to help you reach your fitness goals.
Some apps are straightforward and serious with no frills. Other focus on social support and let you earn badges and level up similar to video games. There's even an app that includes snarky commentary that makes you laugh to get your mind off the pain of the workout. Here are my top picks:
Best Popular Running & Cycling Apps
The best running apps let you track your heart rate during the run. Many workouts only record an overall average heart rate. With detailed heart rate stats, you can see your progress or compare how well you did on a particular uphill or other segment of your run. See if you tired out early or had a slow start.
Three popular running and cycling apps stand out.
Runtastic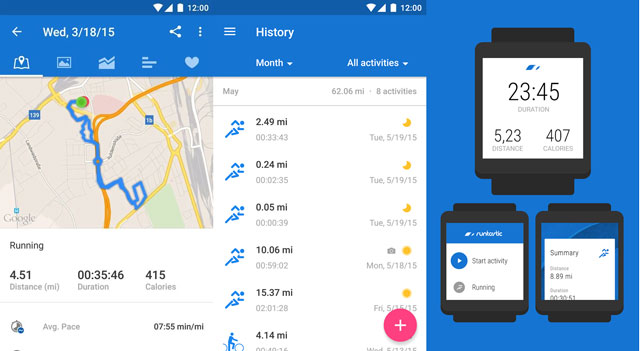 Runtastic shows your heart rate or pace all along the way, so you can see how you did on that climb and compare it next time. One of my favorite features pops up if you post on Facebook when you begin a run. When Facebook friends like the status, you'll hear a cheer via the Runtastic app.
Story running is another fun way to get your mind off your aching feet and burning thighs. Follow the mysterious instructions of the Eagle while running for your life before the eyes of bloodthirsty spectators in the Tetradome Run 1 (99 cents).
Price: Free from iTunes, Google Play or Windows; premium plans from $9.99
Watch support: Apple Watch, Android Wear
Runkeeper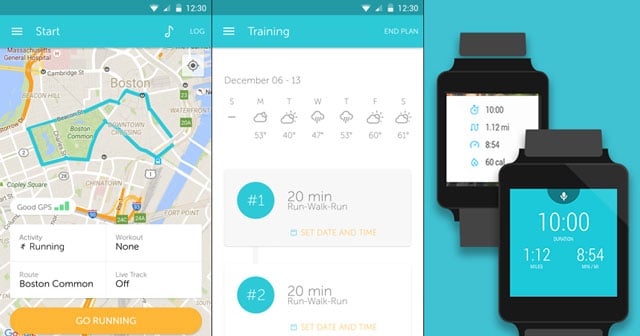 At its simplest, Runkeeper tracks your runs and walks and asks when you would like to be reminded to work out again. Or customize your plan by creating a custom workout plan with the premium edition.
When you start using Runkeeper, you'll answer questions to create a set of workouts each week that are hard enough to give you a good workout but easy enough to keep you motivated. Set the days you want to run or walk, and Runkeeper will send you reminders. Workouts for the following week are adjusted according to how much you worked out this week.
You'll need the premium edition to compare workout stats like heart rate or speed for deeper insights. Runkeeper can be paired with Fitocracy for a complete fitness regimen.
Price: Free at iTunes or Google Play; premium plans from $9.99
Watch support: Apple Watch, Android Wear
Strava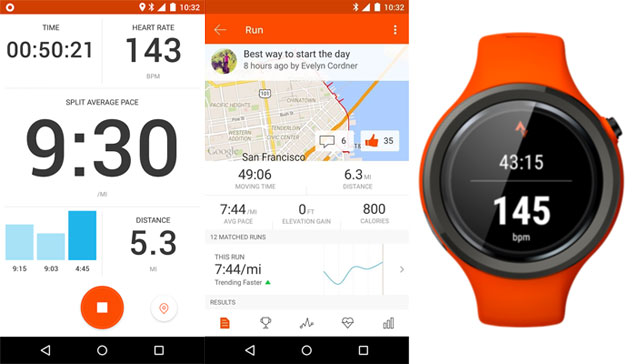 If you're serious about training for an event or want to work toward a specific goal, Strava has the tools you'll need. Most of its best features require a premium subscription. The premium plan lets you share your location during your run ("beacon") with up to three safety contacts.
The premium plan lets you customize a training plan based on premade plans developed by McMillan Running and Carmichael Training Systems. This system evaluates your prior week's effort and accomplishments to adjust the next week's training plan. Compare stats from each run or ride, and favorite segments of your route to see if you're doing better on that hill climb than you were in past workouts. Strava creates a Suffer Score based on how hard and how long you worked out.
Price: Free at iTunes or Google Play; premium plans from $7.99
Watch support: Apple Watch, Android Wear
Best Weight-Lifting Apps
Tracker (Android)/Gymatic (iOS)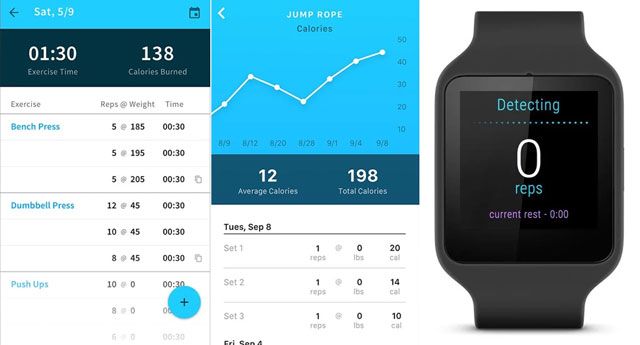 If you already have a weight-lifting or strength workout set up, TrackMyFitness's Gymatic (iOS)/Tracker (Android) is hands down the best way to track your reps, weights and progress. The app uses motion sensors in your smartwatch to recognize the exercise you are performing. In free mode, it starts by counting reps and suggests which exercise it might be. Choose from common exercises, or use the scribble feature on the Apple watch to name it.
Gymatic/Tracker is the most reliable app I tested. It usually manages to record each repetition (rep), and a recent update lets you turn the watch dial to choose the amount of weight you're lifting. After each set, swipe down to see how many sets you've completed.
Gymatic/Tracker easily counts upper body work by movements of your arm, but you will need to trick it to count reps for your lower body. I created a hand motion to perform when I'm using lower body machines for leg extensions, leg presses, abductors and such. Gymatic/Tracker learns those signals. For leg extensions, I gently move my hand up and down my leg with each rep. When working my abductors, I lightly rest my hand on the pads that move in and out with my leg squeezes. Choose your own gestures, making sure to use the same hand movement and move with each rep.
The premium version of Gymatic/Tracker offers advanced stats including velocity, power, form consistency, range consistency, tempo and rep speed. These stats are a benefit for both beginners and advanced weight lifters. When consistency and velocity drop, your body is reaching its max effort, and you might want to back off the weight in the next set.
Price: Gymatic free at iTunes or Tracker free at Google Play; premium versions $9.99, additional exercise mods available from $2.99
Watch support: Apple Watch, Android Wear
Gymaholic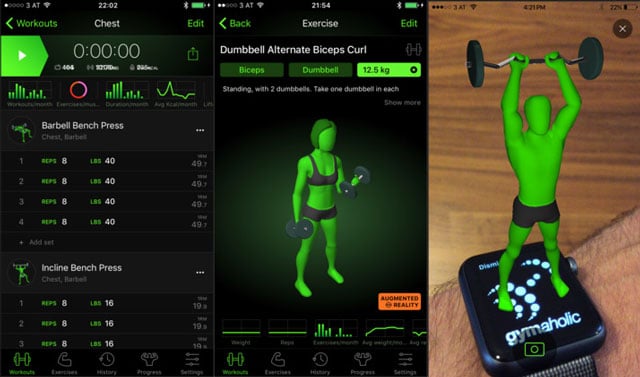 Gymaholic's little green people show you the right form for each exercise in your workout. The little green man (or woman) appears in your phone camera screen when you tap the augmented reality icon in the app and line up the Gymaholic logo on your phone and your smartwatch. The feature works best when you set your smartwatch to stay awake for 70 seconds on tap. The little person performs the exercise to give you a 3-D view (side, front and partial rear) of the proper body position for the exercise. Print out the augmented reality icon and project the man to it instead of the smartwatch, since it's a bit awkward to use on the watch.
Gymaholic includes a large number of exercises and allows you to set the rest time between sets and exercises. It's slated to add motion detection soon.
Price: Free at iTunes; pro versions from $4.99; additional workouts from $2.99
Watch support: Apple Watch
Best Exercise Demonstrations and Explanations
Workout by Fitness 22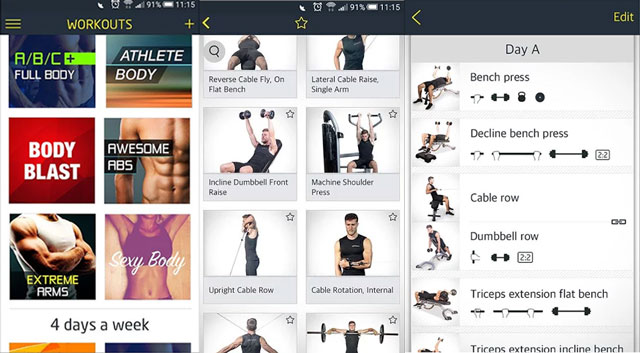 If you're trying to build up your chest muscles, strengthen back muscles, or buff up your biceps, Workout by Fitness 22 makes it easy to put together a routine to help you reach your goals. The app comes with two twice-weekly workouts. Copy the workouts, then add or subtract more exercises from the app to create a customized workout.
To find exercises for a particular muscle group, tap a spot on the buff young man's body in the exercise tab. The list of exercises includes GIFs (still photos taken at start and finish positions) or videos of how to perform each one. Swiping up displays a list of variations including different grips, grip widths, weight types and repetition speeds.
A premium subscription unlocks all the workouts, including plans like Weight Loss, Skinny to Muscular, Fat Off Muscle On, Sexy Body or workouts for specific muscle groups.
Price: Free at iTunes or Google Play; premium upgrades from $9.99
Watch support: none
Best Free Adaptive Workouts
Nike+ Training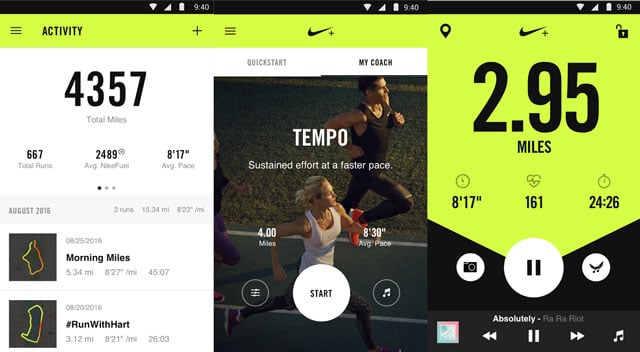 The Nike+ Training app includes 142 workouts and a number of plans with different workouts to achieve your fitness goals. Each exercise in the workout is narrated with tips and instructions for proper form. When you choose the start-up plan, the app asks what equipment you have available (none, the basics or full gym), how many times you want to work out per week and your current activity level. Choose a start date, and it creates a plan that includes workout days and recovery days.
The plan adapts to your level of fitness and improvement over time. At the end of the workout, rate your effort on a scale with descriptions like Very Light (like walking slowly), Considerable Heavier Breathing Heart Rate Up, or Max Effort Hardest I Can Possibly Work. Benchmark workouts measure your improvement and progress from week to week, and the app adjusts the number of reps and alter the exercises to give you the best workout to reach your goals.
If you don't want to follow the suggested workout plan, it's easy to find one that's right for you. Browse by focus (strength, endurance, mobility) or type (athlete workouts, no-equipment, short workouts). Alternatively, search for workouts by fitness level, duration of workout, equipment, intensity or time-based versus rep-based.
The NTC (Nike Training Club) includes a number of celebrity athlete workouts including Ellie Goulding, FC Barcelona, Roger Federer and Aston Eaton. The Feed blog offers ideas about new exercises to try and cool Nike workout gear and clothes. Purchases are easy with QR codes that can be scanned at a Nike store.
This app is not available on the Apple Watch. Only the Nike+ Run Club offers an accompanying app. Runners might want to add the Nike+ Running Club app.
Price: Free from iTunes or Google Play
Watch support: Apple Watch
Best Virtual Fitness Trainer and Social Support
Fitocracy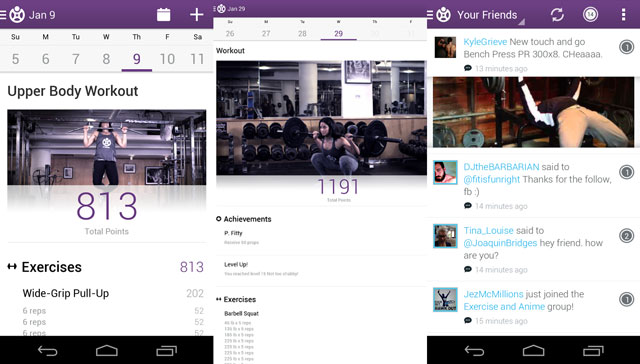 Fitocracy is best for those who don't want to follow a fitness path on their own. You are automatically added to a group of iPhone or Android users when you sign in to Fitocracy. Members can interact on the Fitocracy feed to challenge or motivate each other. Find friends who are also using Fitocracy, or join like-minded users for activities such as long-distance running or weight loss. A social feed shows you what's happening in the groups you follow.
Workouts are available under the Track tab. All plans include a list of a dozen workouts with what muscle groups are targeted and what equipment you'll need. To create a workout with your choice of exercises, go to the Custom tab.
Fitocracy's simple premium plan, called Fitocracy Hero, includes a report of weekly insights to your Fitocracy inbox, titles and milestones, an unlimited number of routines (the standard app has an eight-routine limit), private messaging with other heroes and the ability to challenge others one on one.
Fitocracy uniquely offers real personal trainers from whom you can interact and get help. A filter helps suggest which plan is right for you, or tap to email a trainer to ask advice on which plan to choose. The plans are more expensive than other apps (16 weeks for $45 or $55 per month), but they include nutritional advice and a personal trainer.
The ultimate coaching option offers a one-on-one personal trainer. This includes biweekly Skype sessions, answers to your questions and a nutrition plan created just for you. At $95 per month, that sounds like a lot for an app, but it may be comparable to a real-world trainer.
Price: Free on iTunes or Google Play; coaching available starting at $1/day
Watch support: none
Best Fitness App Dashboard & Exercise Variations
Argus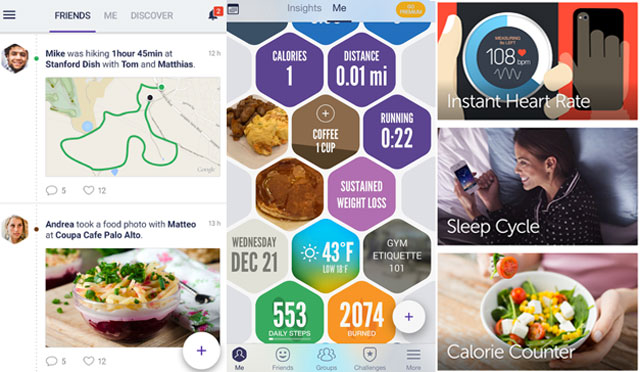 Argus works with companion apps Fitness Buddy and Fitness Yoga. While you can choose any exercise in the Fitness Buddy app, it's the premium purchase of $29.99 per year that makes the app work to full capacity. With the premium app, you can see heart rate trends and perform a stand-up test to gauge your heart strength. The app includes audio instructions while you perform the exercises. Custom plans and dynamic workouts let you choose exactly what's right for you.
Fitness Buddy includes basic exercises with a number of variations such as hands over or under grip, one-leg lifts and so forth. A GIF shows how to do each exercise.
The Argus app dashboard is one of the best ways to track your health and fitness. A series of hexagons display aspects of your day including calories burned, steps taken, exercises performed and even the weather. The dashboard can also show information from Apple Health.
In the Argus dashboard, operations like adding your water intake or counting your cups of coffee are as easy as tapping on the corresponding hexagons. Track calories within the Argus app by scanning the food's bar code or searching for the name of the food in the Argus nutritional database. Take a photo of your meal to remind you what you ate in case you want to add up the calories later and tag it for proteins, veggies, grains and so forth.
Add your heart rate by covering the phone's camera. The app chooses your heart rate zone based on age. It can connect to a Bluetooth heart rate monitor paired with your phone.
Price: Free at iTunes or Google Play; premium features from $4.99
Watch support: Apple Watch
Best Fitness App That Gives Back
Charity Miles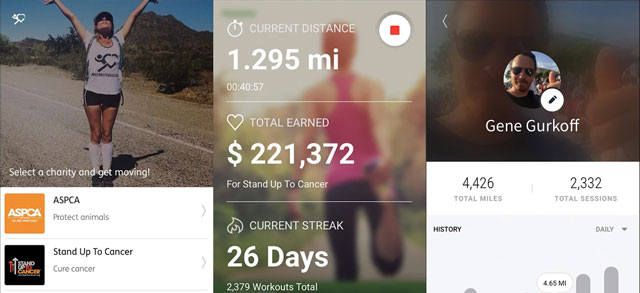 Charity Miles donates money for charity with every step you take. Choose your favorite charity, then start tracking your steps. The app partners you with sponsor companies — Kenneth Cole and Johnson and Johnson appeared for me — that donate money to your chosen charity based on the number of steps you take. Every step you take can make a difference.
The app may stop when running in the background, and you might have to restart it a few times during the day to count all of your steps.
Price: Free from iTunes or Google Play
Watch support: none
Best Funny Workout
Carrot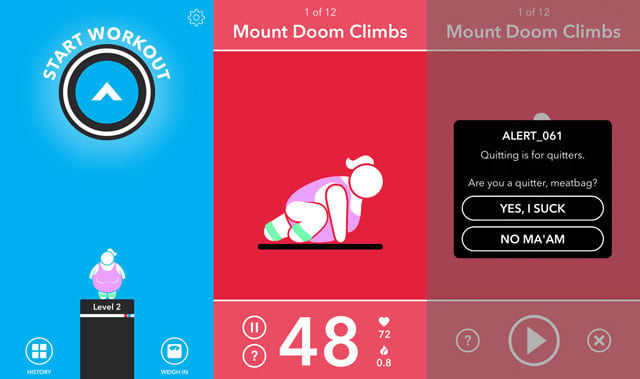 Carrot, "your judgmental fitness overlord," is not your typical fitness app. Carrot's narrator is aware that it is a device and that we are human. It has been given a task: "to transform your flabby carcass into a Grade A specimen of the human race." Carrot will do whatever it takes to reach her goal. Since your goal is probably also to get in shape, you might be willing to put up with her methods. She will threaten and ridicule and bribe you with points that add features to the app.
Carrot is an amusing and creative fitness app with a snarky trainer reminiscent of old-school comedian Don Rickles. The Seven Minutes in Hell Workout is a strong beginner's workout that includes many basic exercises. It begins by telling you you'll need a chair to step on, a wall to lean against and a bucket in case you need to vomit (which we find dubious, since this is a seven-minute beginners' workout).
Exercises go by different names than you may be used to. Wall sits are called the Invisible Iron Throne. Pushups are Kowtows to Cthulhu, the monstrous entity in H.P. Lovecraft's short story. Carrot narrates as you do the exercises, humorously explaining how to do the exercise while telling you a preposterous tale. It's pretty effective at getting your mind off your burning thighs.
After your first workout, Carrot continues to narrate each exercise by drawing from over three hours of dialogue. You'll continue to be shocked and entertained. For added fun, zap your home screen avatar and turn it into a skeleton by tapping on the chubby little person. If you set Carrot to track your weight, the screen will turn green when you lose weight and red when you gain. Be prepared for the insults Carrot dishes out if you gain weight.
Completing exercises and working out regularly lets you level up as you would in a video game. Leveling up unlocks more features like the ability to randomize the exercises or change exercise and rest durations.
While I found Carrot to be a lot of fun, it's not for everyone. No matter what your weight is, Carrot calls you a flabby human and insults you. If you quit a workout before completing it, she tells you that you suck. The buzzers at the start and end of each exercise annoyed my dogs and family. Still, anything that can make me laugh while I'm working out is worth the price of the app.
Price: $3.99 at iTunes; exercise booster pack, $1.99
Watch support: Apple Watch
[Image credits: Working out with phone via BigsStockPhoto, Runtastic, Runkeeper, Strava, Carrot, TrackMyFitness, Gymaholic, Fitness 22, Nike, Fitocracy, Argus, Charity Miles,