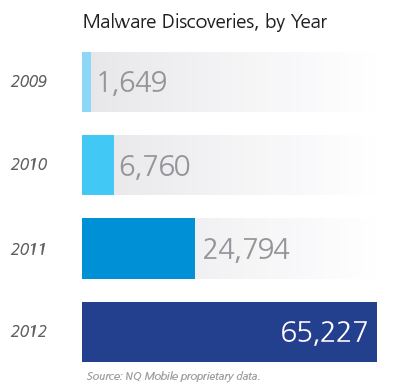 Do you have an anti-virus app on your Android phone yet? If not, a new study conducted by security firm NQ Mobile suggests you're playing with fire: The number of malware threats to your Android phone has increased 163% over the past year alone.
The study, which looked at over 5.3 million apps available in 406 different online stores, identified 65,227 different pieces of potentially dangerous malware last year. A quick look at the trend suggests that malware is growing at an exponential rate – there were only 1,649 such malware discoveries in 2009.
In total, 32.8 million Android phones were infected with malware in 2012 – more than triple the number of the year before. The majority of these infections involve spyware or adware, while about a quarter are designed to steal and profit off of your personal data. A smaller minority is designed to make your phone permanently unusable, something we'd all no doubt like to avoid.
Earlier this year, NQ discovered a new type of Android threat: Malware that can spread from your phone to your computer via a USB cord. That particular attack only affected a small handful of Android users. Still, security experts warn that hackers will continue to find these new and inventive ways to steal data, even from the most cautious among us.
Android malware is a rapidly increasing threat, but there are some simple measures you can take to buff up your phone's security. Be sure to look at the Techlicious guide to mobile security, where we break down some of your best (free!) choices for smartphone anti-virus protection.