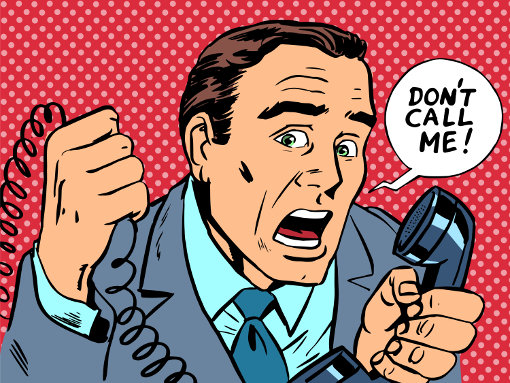 One of the simplest ways to manage unwanted calls and telemarketing spam is to route incoming calls to voicemail. Callers will have to leave a message, and many telemarketers won't bother. But some callers will — aggressive spammers, the ex who hasn't gotten over you, your nosy grandmother who wants to know why you haven't tied the knot, the acquaintance who wants to spend more time together than you're interested in — and they'll keep on leaving messages.
There's a way out of this box. The trick is not allowing unwanted calls to go to voicemail — to nip the call in the bud.
Blocking Calls on iPhones
On iPhones running iOS 8 or higher, go the Recent Calls tab in the Phone app, tap the "i" icon at the right of the number that you want to block. If the number is in your Contacts list, open that particular contact's page in the Contacts app. From the contact page for the caller or contact, scroll to the bottom of the page and tap Block This Caller.
Blocking Calls on Android Phones
Android phones don't have built-in call blocking, but rather a rejection feature that sends people directly to voicemail (we explain how below). To block calls, you'll have to turn to a third party app.
There are many apps in the Google Play store that are labeled as call blockers, but most will send your calls to voicemail. The only app we tested that consistently dismissed calls without the caller being able to leave a voicemail was Extreme Call Blocker ($4.99 on Google Play). The app gives you two options to bar callers from leaving voicemail: "Hangup No VoiceMail" and "Allow Call No VM." With the first option, you won't hear the phone ring and you won't get a missed call notification. With the second option, you won't hear the phone ring, but you'll get a notification that there was a missed call. In either case, the caller will hear the phone ring and then a tone that indicates that the call has been ended.
[UPDATE 6/21/17: The voicemail blocking feature of Extreme Call Blocker is no longer working and it appears the developer has ceased supporting it. While it can still block spam callers from ringing your device, they will be able to leave a voicemail. As the app was based on the FCC spam list, and we don't know if that list is being updated in the app, it's hard to know how effective the automated blocking will continue to be. We suggest trying the free version of the app (also unsupported) if you want the call blocking, but do not purchase the paid version.]
Auto Rejecting Calls on Android Phones
If sending calls to voicemail good enough, call rejection is dead easy to use. You won't hear your phone ring, but the caller will be able to leave a message. On recent Samsung phones, for example, open the call log, long tap on the offending number and tap on "Add to Auto reject list" from the pop-up menu.
Your particular phone model may use a different name and menu location for this feature. HTC, for example, calls it "Block contact," and LG uses "Call reject." Others may have "Add to blocked caller list" on the menu.
Make sure that the call blocking feature is activated on your phone. On most Samsung phones, open the Contacts app, then open the Settings menu using the Menu button and tap Call > Call Rejection > Auto reject mode. From here, you can disable the feature, block all incoming calls or auto-reject numbers on your blacklist. You can also add more blocked numbers here.
Blocking via Google Voice
Google Voice provides another way to block pesky spam calls. To use Google Voice, you need to sign up for the service. Once you've set up your Google Voice account, you can start blocking calls in three ways: by sending calls to voice mail, by treating the call as spam (letting the caller leave voice mail but tagged as spam) or by call blocking (in which case the caller will hear a "Number not in service" message and will not be able to leave voice mail). Google Voice's help page has details on how to block calls.
Carrier-level blocking
It's also possible to block certain phone numbers through your carrier, although the option may come at a cost.
Of course, the best way to prevent telemarketers from flooding you with spam calls is to learn how they get your cell phone number — and then don't let them have it. Prevention is better than cure, after all.
[Image credit: do not call me male phone stress via Shutterstock, GreyThinker]