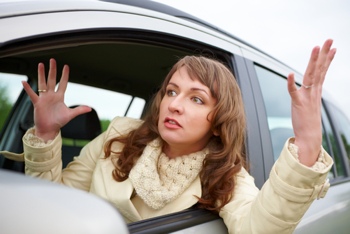 Expect to spend more time stuck in traffic this year.
According to new data from traffic information system INRIX, traffic congestion in the United States increased 6% from 2012 to 2013. Traffic in our nation's largest cities, meanwhile, is worsening at an even higher pace.
Los Angeles continues to be the worst city in the nation for traffic, with drivers spending an average 64 hours per year sitting in traffic (+8.5%). Honolulu drivers wasted 60 hours (+18%) and San Francisco drivers wasted 56 (+13%). Austin, New York City, Bridgeport, San Jose, Seattle, Boston and Washington, D.C. round out the 10 worst U.S. cities for traffic last year.
It's not all bad news though – in fact, you could say that more traffic is a good thing. That's because the traffic statistic seems to be correlated with economic growth. The cities surveyed with the strongest job and population growth and an increase in gross domestic product (GDP) were the ones with the biggest jump in traffic, INRIX reports.
Of course, no matter how bad traffic gets in your hometown, there are plenty of tools available to help you beat the crowds. Personally, I like Google Maps (free via Apple App Store; Google Play) – it's a tried-and-true app that automatically redirects you should a better route become available. Crowdsourced traffic app Waze (free via Apple App Store; Google Play) is another favorite. And, of course, INRIX makes its own free traffic app as well (Apple App Store; Google Play).
You can learn more about the INRIX study at the company's website.
[Woman stuck in traffic via Shutterstock]