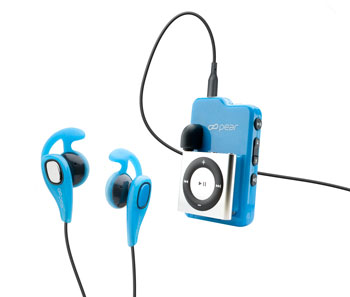 In the last few years, virtual coaching devices have come a long way. The first product to really deliver a personalized experience was the Adidas MiCoach Pacer: you pick your workout program and it keeps you on track by monitoring your heart rate and letting you know when you stray. The Pear Square One ($249 on PearSports.com) goes one step further, providing training tips and motivation to keep you within the right training zone.
In the box, you'll get a wireless chest-strap heart rate monitor, water-resistant earphones, a foot pod (to calculate distance and cadence) and the Square One. The Square One is designed to work with an iPod Shuffle—a limitation, for those that use music players or smartphones.
When you start using the Pear Square One, you'll complete a workout that determines your heart rate zone. From there, you choose a plan—from walk to run programs to treadmill programs to full marathons—and you're ready to go.
During your workouts, the integrated coaching technology provides audio guidance based on pace and heart rate. Like a real coach, you'll also get tips on running form, what to eat after completing your workout, reminders to drink water and encouragement in the hard parts of the workout. You can also tap a button on the earphones to hear your stats—heart rate, distance, pace, calories burned, among others.
When you get back, you can view your stats and track your progress online through the Pear Portal after syncing your Square One with your computer.
For now, there are several free running plans to choose from. But Pear is looking to extend the personal touch by offering personal coaching plans for a fee.
It looks like Pear has everything in place for a great training tool. I'm looking forward to taking it out for a run.