Most people don't have the need (or the cash) for Adobe's $700 professional-grade Photoshop CS5 image editing software, but fortunately the company's $99.99 Photoshop Elements delivers a rich set of features at a fraction of the price. Today, there's a new edition out, Photoshop Elements 10, which adds some improvements to the already powerful package.
Some of the most useful enhancements appear not in the image editor but the photo organizer section of the software. In previous editions, you could quickly search for an individual face throughout your photo library. This has been extended to allow searching for any similar subject – a pet, a sunset, a particular building or scene, for example. The software is smart enough to recognize a match even if the angle or size of your search target isn't the same from photo to photo. And if you want to fine-tune the results, you can adjust the search to focus more on the shape or the color of the object in question.
Another useful addition is duplicate detection. It's easy to litter your hard drive with multiple copies of the same image, tucked away in different folders. Elements will now ferret out these redundant photos, making cleanup and reorganization simple.
Among the new image enhancement tools, the depth of field adjustment is the most useful. So many photos suffer from cluttered backgrounds that distract from the subject of the picture. While sophisticated photographers can manage this problem by adjusting the aperture while shooting, it requires manual settings, and is difficult to achieve with point-and-shoot cameras. The new depth of field effect lets you solve the problem in your digital darkroom, selecting the part of the photo that should remain sharp and blurring the rest of the image. The process is presented as a step-by-step guided edit, so it doesn't take a lot of skill to produce impressive results.
A new text capability will be especially welcome for scrapbookers and other photo project enthusiasts. Instead of simply adding a straight-line of text to a picture, Elements 10 lets you input text to follow a path, whether that's a standard shape (ellipse, rectangle and so forth) or a freeform curve you create yourself.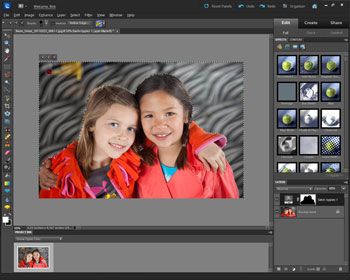 The smart brush tool, already a favorite among Photoshop Elements users eager to remove flaws from a photo with automated ease, has been extended to include a variety of special effects that can be applied to sections of an image. Some are undeniably odd (how often are you likely to add a ripple pattern to an image?), but others are frequent photo enhancements made simple. For example, if the sky in your photo looks a bit lackluster, you can use the smart brush to select it with a few clicks, then choose the Blue Skies effect to deliver a richer, more dramatic hue.
There are many more enhancements here, with new visual effects, project templates and editing options. Unlike some previous updates, Photoshop Elements 10 doesn't deliver dramatic new capabilities. But taken as a whole, the improved organizational tools and image enhancement options make it a worthwhile upgrade.
Also announced today, Premiere Elements 10 adds a few new tools to the consumer video editing software, and shares the updated organizer capabilities with Photoshop Elements 10. Color adjustment tools are the most noteworthy additional feature, with the option to tweak the hue and saturation of the overall scene, or specific elements within the video. An important new export option has also been added; you can now save your high-def video projects to a Blu-ray compatible DVD disc for convenient playback on an HDTV set.
Premiere Elements 10 is available on its own for $99.99, or in a bundle with Premiere Elements 10 for $149.99. Owners of a previous version of either program can upgrade to the latest version for $79.99, and owners of the previous bundled edition can update for $119.99.