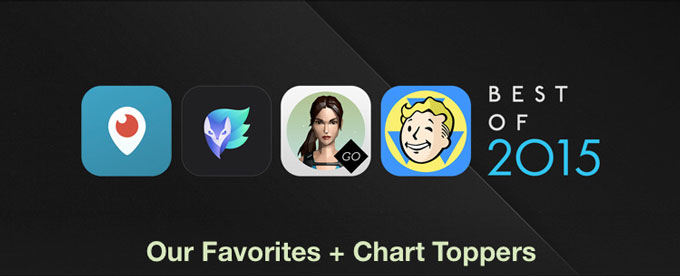 2015 was a great year for Apple mobile fans — not only did we see the release of the Apple Watch, but also the iPhone 6s and the iPad Pro. And with those new devices came new iOS apps. Today, Apple released its lists of the Top Apps and Top Games of 2015. It was a big year for photo editing, productivity and mobile takes on classic games. Here's Apple's curated list of what it considers to be the top 10 apps and the top 10 games of 2015 for iPhone. If you're an iPad owner, be sure to check out what Apple deems are the top apps for tablets.
Top Apps
1. Periscope (Free in the App Store)
This Twitter app made live streaming everything from protests to what you ate for breakfast way easier.
2. Enlight ($3.99 in the App Store)
Enlight turned amateur Instagram stars into professionals with its preset filters and easy-to-use editing tools.
3. Robinhood (Free in the App Store)
Breaking into the stock market is pretty frightening for newbies, and this Apple Design Award winner makes it simpler with its iOS and Watch apps.
4. Workflow ($3.99 in the App Store)
Workflow gives you quick control of your life with over 200 automated actions. It's kind of insane that you can make pdfs from Safari or get directions to the nearest café just by tapping a button.
5. Instagram (Free in the App Store)
Instagram has been around for what feels like forever, but Apple listed the selfie popularizer because of its new 3D Touch features.
6. HBO NOW (Free in the App Store)
You don't have to have a cable subscription to binge watch The Sopranos and Curb Your Enthusiasm with HBO NOW. While it's $14.99/month, right now, you can get a month-long free trial.
7. Hopper (Free in the App Store)
Hopper does for mobile what Travelocity and Expedia did for desktop: it searches the internet for the best airfare prices and even lets you know when prices are most likely to fall.
8. Darkroom (Free in the App Store)
Some persnickety iPhone photographers want more control over their filters, and Darkroom provides it. Turn your exposure and level preferences into your own filters to use again.
9. Lark (Free in the App Store)
Lark takes futuristic artificial intelligence and applies it to your health. Now, a robot will ask you what you had for breakfast, instead of just your mom.
10. The Everything Machine ($2.99 in the App Store)
The Everything Machine is a fun way to create machines with iPhone and iPad hardware. While this game is supposed to be for kids ages nine to eleven, it's okay if you download it, too.
Games
1. Lara Croft Go ($4.99 in the App Store)
Anyone who lived through the 90s knows how ubiquitous the Tomb Raider franchise was, and this puzzle game brings Lara Croft to mobile.
2. Fallout Shelter (Free in the App Store)
Fallout Shelter is another classic game translated to a mobile sidescroller set in a post-apocalyptic world.
3. Mr Jump (Free in the App Store)
Mr Jump could be considered the next installment of Flappy Bird. Its design is minimalistic, but the levels are maddening.
4. Dark Echo ($1.99 in the App Store)
Called "The Most Innovative Game of the Year" by Apple, Dark Echo makes you find your way in pitch black rooms using only sound. It's creepy.
5. Warhammer 40,000: Freeblade (Free in the App Store)
Apple put this sci-fi game high on their list because of how it uses the iPhone 6s's 3D Touch feature with its controls.
6. Hearthstone: Heroes of Warcraft (Free in the App Store)
Similar to card games like Magic: The Gathering and Yu-Gi-Oh, Hearthstone turns the characters of World of Warcraft into cards that inflict damage on real or computer opponents.
7. Vainglory (Free in the App Store)
This beautiful, online multiplayer pits you against competitors around the world on a 3-v-3 battlefield.
8. Dungeon Boss (Free in the App Store)
The boss is the pinnacle of every video game, and in this app, you conquer dungeon bosses and become your own dungeon boss.
9. Puzzle Craft 2 (Free in the App Store)
Puzzle Craft 2 combines a Sim City feel with Alexander the Great sensibilities and catching chickens.
10. PAC-MAN 256 (Free in the App Store)
This is basically Pac-Man on Steroids. And you don't even have to hit the arcade.
[Image credit: Apple]