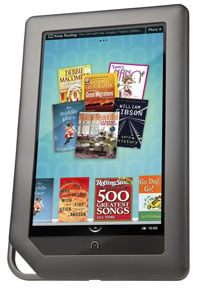 Barnes & Noble announced a new color eReader called the NOOK color that will be available in stores on November 19th. The Nook color is really more tablet computer than eReader—it uses a full-color, 7-inch LCD capacitive touchscreen and runs on Android 2.1. But unlike the iPad or the soon-to-be-launched Samsung Galaxy Tablet, the NOOK color is designed specifically for the reading experience.
Design
Compared with the 11.6 ounce original Nook, the NOOK color is a little on the chunky side for an eReader at 15.8 ounces. But it is considerably lighter than the iPad at 24 ounces. Size-wise, the NOOK color is a svelte 8.1 inches (height) by 5 inches (width) by 0.48 inches (depth).
The case itself has a soft-touch back and an angled lower corner that Barnes & Noble says is meant to "invoke a turned page". I'm not sure it invoked it for me, but that little loop is bound to come in handy for something.
Display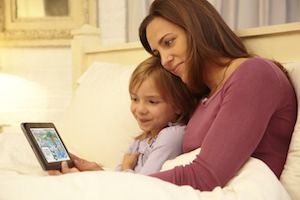 The NOOK color's 7-inch capacitive touchscreen provides 1024x600 resolution and more than 16 million colors. It also offers a wide viewing angle, which will come in handy when reading to the kids from books you pick out in the NOOK kids Experience (see below). The display rotate from portrait to landscape mode as you rotate the device.
One thing that concerns me about using an LCD screen in an eReader is the glare, especially when outdoors. However Barnes & Noble says the NOOK color uses a special lamination in the glass that is specially designed to reduce glare.
Another drawback of using an LCD versus eInk is battery life. The NOOK color will only provide up to 8 hours of reading—far less than the 10 days you get from the original NOOK or Kindle.
Content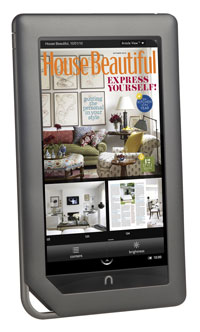 The NOOK color provides access to the Barnes & Noble bookstore (not surprisingly) and its vast array of over 2 million titles. New with the NOOK color is NOOK newsstand, which will deliver daily, weekly and monthly periodicals—The Wall Street Journal, The New York Times and USA TODAY to Rolling Stone, Esquire, US Weekly, National Geographic, Martha Stewart Living, Cosmopolitan and Elle—optimized for the device in rich color. Browsing through the magazines on the NOOK color is very, well, magazine-like. And I mean that in a good way.
Also new is the NOOK kids Experience, which offers 130 digital picture books (expected to double by year's end) and nearly 12,000 chapter books for children. The digital picture selection will let your child interact with words and pictures and even have some read aloud to them. More integrated entertainment features are said to be coming soon.
New Features
The NOOK color has many social networking features built-in that I believe will truly add to the experience. Owners can lend books to friends through Facebook and email (with imported contacts from Gmail), or recommend a title, share reading status or a quote via Facebook, Twitter and email, as well.
You can pull your personal files into the NOOK color (PDF, ePub, JPG, PNG, GIF and BMP files) and use your photos for the wallpaper. Quickoffice® software that lets you view Microsoft Office Word, Excel and PowerPoint documents.
Being an Android device, you also get a number of other apps that show the NOOK color is more than your standard eReader. The NOOK color comes bundled with crossword puzzles, Sudoku, chess and more to come. Listen to music with Pandora or your own tracks with the NOOK color's built-in music player. Watch movies on the media player (MP4 only). And visit your favorite sites (assuming they're not Flash-based), check email, etc. using the NOOK color's Web browser.
But the NOOK color does not connect with the Google Android Market. Instead, Barnes & Noble is creating its own app developer program. It will be interesting to see if Barnes & Noble adjusts this strategy when Google comes out with its Android table operating system.
Other Tech Stuff
The NOOK color comes with 8GB of onboard memory and can be expanded with an additional 32GB using its microSD slot.
The NOOK color is only available in a Wi-Fi (b/g/n). A 3G model has not been announced.
Price & Availability
NOOK color is available for pre-order for $249 from barnesandnoble.com and is expected to begin shipping on or about November 19. It will also be available at Best Buy, Walmart and Books-A-Million in late November.
We weren't able to film the NOOK color for this article, but the video from Barnes & Noble provides a reasonable overview.