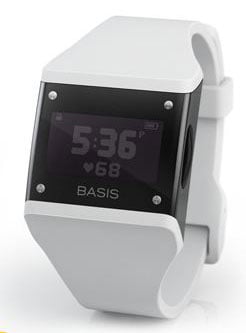 Reading one body characteristic isn't going to provide a very useful picture of the state of your health, and catching data from a single moment in time further limits most test results. That's why Basis has created a multiple-sensor system, housed in a lightweight digital watch you can wear all day long.
The Basis device includes a 3D accelerometer to keep track of your activity levels, plus temperature and galvanic skin response sensors and a heart rate monitor. There's no need to wear an uncomfortable chest strap with this system.
All the readings are stored on the watch until you connect it to your computer – the battery will last about seven days on a charge. To download the readings and recharge the watch, a clip-on casing snaps onto the watch and connects to a USB port. A Bluetooth connection will be added after the initial model ships.
The data can then be uploaded to a secure site where you can review your heart rate, sleep patterns, calories burned and more. The company promises to deliver smartphone apps as well, so you'll be able to monitor your progress on the go.
While no ship date has been announced, the Basis watch will sell for $199. For more information, check out mybasis.com.