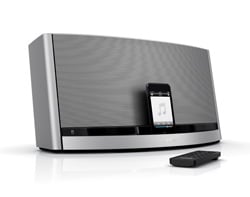 Whether you're familiar with the Bose SoundDock or new to this all-in-one iPod sound system, you'll want to check out the new Bose SoundDock 10 Digital Music System.
As we expect of Bose, the sound quality is excellent. Bose says that's because the system includes its brand spanking new proprietary waveguide technology all folded tidily into the SoundDock's guts. This new, smaller waveguide pairs with the built-in subwoofer to deliver great bass, and two strangely-named Twiddler transducers deliver the mids and highs, giving the product a remarkable range. In fact, you'll probably forget you're listening to music on an iPod dock most of the time.
Video output is included so you can play video from your portable source and listen to the audio on the system. The actual dock itself is interchangeable, making the system flexible enough to last for years. The first accessory dock will be a Bluetooth receiver for $150. And although it's made to work with all iPod and iPhone products, the SoundDock 10 can also connect to other portable audio products.
With its fairly sizable measurements of 9-inches high by 17 inches wide by 10 inches deep, it's more a smaller stereo, than a iPod dock. We think it's perfect for a small media room, bedroom or vacation home.
The SoundDock 10 ($599) joins the SoundDock Series II ($299) and SoundDock Portable ($399) at high end of this line of iPod docks, with a larger cabinet and bigger, fuller sound, thanks to its new Twiddlers, waveguide and subwoofer.