Your options for playing music from the Internet throughout your home just grew with the launch of a new and expanded product lineup from Bose.
Starting immediately, the Bose SoundTouch line of wireless speakers comprises a selection of 10 wireless speakers, home theater and stereo systems, up from a choice of just three wireless speakers last year. And coming next week, an updated SoundTouch controller app will bring additional features to these and older SoundTouch models, including compatibility with an even greater array of streaming audio services and their apps.
In October 2013, Bose launched the high–end SoundTouch 30, the mid–tier SoundTouch 20, and the SoundTouch Portable. Each was better than competitive wireless speakers because it could be connected directly to a home network via Wi–Fi, whereas the competition could be networked only with the help of an intervening "hub" device. But the Bose offerings were also less capable than competitors in one key regard: Users could stream audio to only one SoundTouch wireless speaker at a time, while competitors allowed streaming to multiple wireless speakers at once.
Now, those first SoundTouch wireless speakers are supplanted by the second–generation SoundTouch 30 Series II, SoundTouch 20 Series II and SoundTouch Portable Series II.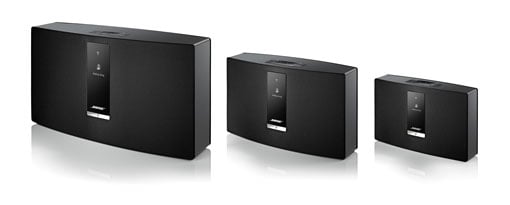 Additionally, wireless speaker networking capability under the SoundTouch moniker has also been added to a selection of other new Bose audio systems: the Lifestyle Series III home entertainment systems; a revised CineMate line of "home theater in a box" systems; and the SoundTouch Stereo JC Series II Wi–Fi music system.
Moreover, the new SoundTouch controller app, which is to be released on October 10, will eliminate the single–device streaming limitation. It will let users play an audio stream through all the SoundTouch devices in a home at once. And
Other changes in the updated app include a new search functionality that finds artists and songs in the user's music library; a bass control feature; and a simpler way to configure SoundTouch devices wirelessly from the smartphone or tablet on which it's installed.
Plus, the new SoundTouch controller app will integrate with three more streaming audio services than currently: Deezer (more than 35 million songs on–demand, and auto–account creation from within the SoundTouch app); Spotify Connect (tying the Spotify app to the SoundTouch app); and iHeartRadio (offering live broadcast radio stations and user–created stations). These are in addition to integration with Pandora and Apple's iTunes Radio in the current SoundTouch controller app.
The new app and all of its features will also work with first–generation SoundTouch devices.
Of course, the app is free, but the hardware it controls is not.
The SoundTouch 30 Series II is priced at $699, and both the SoundTouch 20 Series II and SoundTouch Portable Series II at $399. Pricing for the Lifestyle home entertainment systems starts at $2,599. Pricing for CineMate home theater systems starts at $1,099, but a $99 adapter is required to add SoundTouch functionality. The SoundTouch Stereo JC Series II is priced at $1,199. All are sold at bose.com.