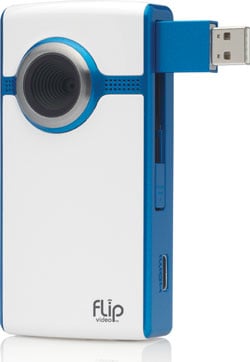 Cisco announced today that it will close down its Flip pocketcam business. Flip has become synonymous with pocket-sized, easy-to-use camcorders. But with cell phones increasingly coming loaded with HD video capabilities, the need for a standalone pocketcam is being deminished.
While I'm sad to see Flip go, it's mostly for nostalgic reasons. The Flip camcorders, while simply to use, have been falling behind other manufacturers in terms of features and performance. And I've been perfectly happy with my smartphone's video capabilities for those quick captures of the kids.
In its press release, Cisco says they are going to refocus on home networking—wireless routers and adapters— as its main retail product line. Good news for consumers, as the Cisco Valet series and Linksys wireless routers are among the easiest to use on the market.