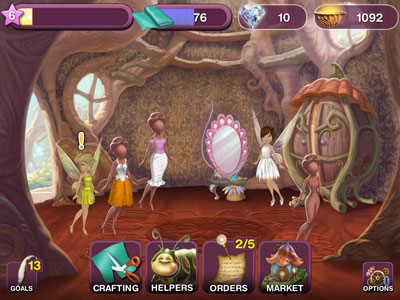 It may be Fashion Week here in New York City, but you don't have to watch models strut their stuff down the runway to get the best in fashion…Fairy fashion that is!
The hot fashions aren't just in the Big Apple, you'll find them in Pixie Hollow where you can run your own adorable boutique and even design your own outfits. If you love fashion or just love Disney, then you'll want to check out a new mobile app from Disney called Fairies Fashion Boutique.
You can start by stylizing your own Fairy that lives in the game, and then customize your own boutique to earn, appropriately enough, Pixie Dust and of course style points. You can create a Fairy from scratch or import one from Disney Fairies Pixie Hollow.
From there you can have fun and be creative by designing your own Fairy clothes and accessories in colors like "snow white," "bamboo green" and "terracotta brown." In fact there's more than 100 colors and over 500 patterns that you can choose from. You'll need Pixie Diamonds, Pixie Dust and materials to buy patterns and speed up production of clothing, which you can in turn sell for Pixie Dust. You'll get Style Points too which will help you to unlock new levels, which gives you more patterns and dye colors.
Disney Fairies Fashion boutique is free to download for iOS devices that have a front facing camera. However, to accelerate game play you need to make in-app purchases of Diamonds, Pixie Dust and materials which cost real money.
This is a cute app that becomes more fun as you unlock more in the game, including playing five fashion-themed mini games.
Disney Fairies Fashion Boutique is available now in iTunes.
.