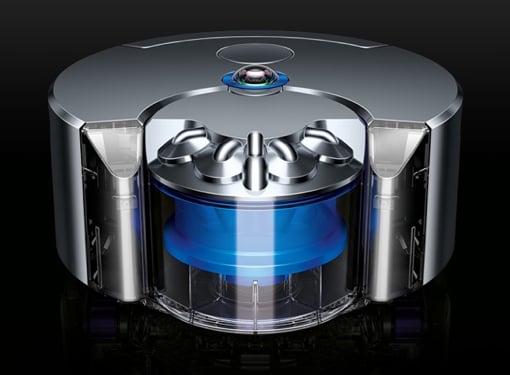 Few names are more respected in the vacuum business than Dyson – in just a few short decades, its quirky machines have become the gold standard of cleaning. Now, the company is looking to expand its dominance in the industry with the new Dyson 360 Eye, an automated robotic vacuum designed to compete with the popular iRobot Roomba.
The 360 Eye uses infrared sensors and a 360-degree camera to map out individual rooms of your house, so the vacuum always knows where it is and where it still needs to go. Don't worry about transitions getting in the way – the 360 Eye has tank treads to get it up and over small obstacles.
You can set the schedule for the Dyson 360 Eye using an app on your iOS or Android device. The vacuum takes about 1.5 hours to charge, and is smart enough to always save enough juice for the trip back to its charging station.
The best part about the funky looking 360 Eye, though, is how well it cleans. The device uses two sets of bristles: one set of nylon fibers to dig dirt out of carpet, and one set of carbon fiber filaments brushes dirt up off of hardwood and tile. Dyson's famous cyclone tech pulls the smallest bits of dust right from the air as it cleans.
The Dyson 360 Eye is won't be out until later in 2015, so if you want this futuristic robot maid, you'll need to wait. You should probably use that time to save up a little bit of dough – no price has been announced for the 360 Eye, but Dyson vacuums never come cheap.
You can learn more about the 360 Eye at dyson360eye.com and by watching the short video below.