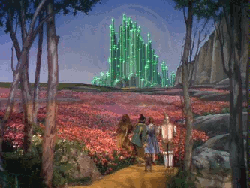 The Wizard of Oz is a family classic, one we've watched too many times to count. But if you haven't had a chance to show your kids this musical journey through the Emerald City, Netflix wants to help. On 3 October, 2009, the popular online DVD rental service is going to screen the movie online (it's the film's 70th anniversary this year) for free.
To be able to watch this event, just click on www.netflix.com/wizardofoz. You don't need to be a Netflix member to watch it. However, if you are a subscriber to an unlimited plan, which start at $8.99 per month, you 'll be able to see the movie in high definition. Netflix unlimited plans let you have up to 3 DVDs out at a time with unlimited exchanges, as well as stream movies to your computer or devices like Netflix ready Blu-ray disc players, new Internet TVs, the Roku digital video player; Microsoft's Xbox 360 game console and TiVo digital video recorders.
But be aware that not all the movies in the Netflix catalog are available to watch online. We recently checked the family section for flicks for the kids and were not well rewarded when it came to newly released movies. You may want to do a quick browse of what is available under the "Watch Instantly" tab on the site before you commit.
In addition to the free streaming, Netflix is also hosting a free live concert and movie screening in NYC's Central Park on September 29, 2009. The concert will include Jennifer Hudson (who will invariably be belting out some Judy Garland tunes) and country music singer Julianne Hough. The festivities start at 7:30 pm at the park's Rumsey Playground and the movie will be shown on a giant, inflatable screen.