Next month, when Microsoft launches its next-generation phone operating system, Windows Phone 8, the signature phone will be HTC's 8X. The colorful 4.3-inch model, along with 4-inch HTC 8S and Nokia's recently-announced Lumia 920, makes the type of bold design statement that Windows Phone should have made when it launched two years ago.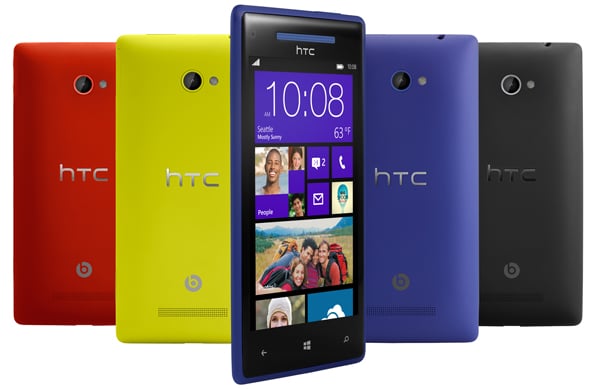 On looks alone, the 8X is a winner. The gently curved unibody design comes in four eye-popping colors, which are mirrored by the color scheme in the Windows Phone operating system, and the 1280x720 super LCD 2 display looked ultra-crisp at 342 ppi (versus the iPhone 5's 326 ppi display) and is protected by Gorilla Glass.The 8X also feels great in my hand, with its rounded bottom and soft-touch finish.
Spec-wise, the 8X competes with Samsung Galaxy S3 and iPhone 5, with its 1.5GHz dual-core processor, access to 4G LTE networks and dual-band Wi-Fi. In fact, the 8X and Galaxy S3 use the same Qualcomm S4 processor.
The 8MP camera, with its f/2.0 28mm lens, is the same one HTC put in its One X, One S and EVO 4G LTE which in our testing delivered excellent quality. In fact, it's as good as, if not better, than the Galaxy S3 and should hold its own with the iPhone 5 too. The 8X also gets an impressive 2.1MP front-facing camera that has a wide-angle lens, records at 1080p and accesses the same dedicated imaging chip.
The 8X will come with built-in amplifiers and Beats Audio for bigger and better sound. And, it will have NFC (Near Field Communication) for sharing phone to phone and mobile payments, among other applications—something iPhone 5 doesn't have.
What the 8X lacks is an SD slot to expand memory beyond the built-in 16GB, a removable battery and Bluetooth 4, the low-power variant that's cropping up in a variety of peripherals.
In all, the 8X gives a promising and competitive start to Windows Phone 8. It will be available in November on AT&T, T-Mobile and Verizon.