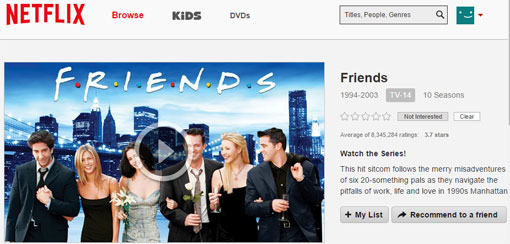 Now that the holiday season is coming to a close, those of us in colder climates are preparing to hunker down with our TVs and a blanket to catch up on great television and movies. Indeed, on January 1, 2015, all your favorite streaming video services will be getting the rights to a wealth of new movies and television series. Not everything is worth watching, so we've taken the time to hand pick a few favorites that represent the best of streaming's 2015 freshman class.
Netflix
One of the biggest gets for Netflix in 2015 is the complete TV series Friends. All ten seasons of the Thursday night NBC hit comedy will be available to enjoy, allowing you to catch up with Ross's monkey Marcel, relive Monica and Chandler's wedding, and once again see a coffee shop performance of Phoebe's song Smelly Cat. Of course, there are plenty of new movies set to premiere on New Years Day, too. Kids will love watching Disney's 101 Dalmatians (1996), while those of us with more mature tastes can enjoy the classic The War of the Worlds (1953), Jim Carrey's comedy Bruce Almighty (2003), legendary Tom Hanks drama Cast Away (2000) and Tina Fey's cult comedy hit Mean Girls (2004). The Hollywood Reporter suggests recent movies are coming to Netflix a little later in the month, including the late Paul Walker's action-packed Brick Mansions (2014) and Tom Clancy's Jack Ryan: Shadow Recruit (2014).
Hulu
Hulu, meanwhile, will be acquiring the rights to a wealth of Discovery Channel shows to start the New Year, including the popular MythBusters, Deadliest Catch and The Little Couple. The site has also announced a deal with the Disney-ABC Television Group to bring Resurrection, Mistresses and Devious Maids to the service in 2015, though it's not clear whether these will be immediately available in January. New animated series for kids, including Marvel's Spider-Man, X-Men and Iron Man: Armored Adventures, are also on the way. Finally, keep an eye out for shows from the FX Network, coming to Hulu sometime later in 2015. (Note that viewing these programs on your TV or a mobile device will require a $7.99 monthly subscription to Hulu Plus.)
Amazon Instant Video
Plenty of great new movies are coming to Amazon Prime Instant Video. On January 1, the service will get the rights to a ton of great movies from the 1980s, including the Beverly Hills Cop trilogy starring Eddie Murphy, Gene Hackman's basketball classic Hoosiers, Cher's romantic hit comedy Moonstruck and my personal favorite, Kevin Bacon's iconic dance hit Footloose. If you're more interested in timeless cinema, you can catch Audrey Hepburn's Breakfast at Tiffany's and the gritty Marlon Brando crime drama On The Waterfront.
[Image credit: Netflix]