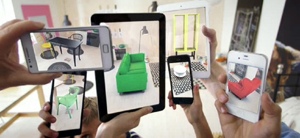 I'll admit it: I'm an Ikea fanboy. When I visit the store, I bring with me detailed dimensions of my home space so I can figure out what large piece of furniture will fit where. Inevitably, I wind up taking even more measurements at the store so I can double check them back at home. A lot of work goes into buying that $100 bed frame!
The latest version of Ikea's smartphone app simplifies the whole process in the most high-tech way possible: augmented reality. The concept is this: Instead of trying to imagine how a new piece of furniture looks in your home, you can look through your smartphone screen to see how it would look.
To use the augmented reality feature, you'll need a hard copy of the Ikea catalog. When you find a large furniture item you'd like to envision in your space, you first scan the page using your phone's camera and this app. Then, you put the catalog on the floor exactly where you're considering putting that new chair, bed or bookcase. A scaled 3D image of the object will appear on your phone's screen in the catalog's place, giving you a virtual look at how your home would look after the purchase.
Personally, I've never been 100% sold on the idea of augmented reality – most proposed applications seem like a novelty. I may now have to reconsider. Kudos to Ikea for using augmented reality in a way that actually solves a real problem.
The newly updated Ikea app is available for both Android (via Google Play) and Apple (via iTunes) devices.