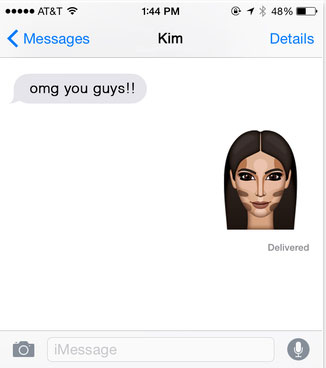 Have you ever wished you had an emoji that truly captured the depth of your current emotions, but couldn't find one? Maybe you're inconsolable that Kylie Jenner's Lip Kit is sold out again. Kim Kardashian gets it, and is here to help with her new app, Kimoji ($1.99 on Apple App Store).
Kim herself admits that she has one of the worst crying faces in the world, and the Kim ugly crying meme made famous by her reality show, Keeping Up With the Kardashians, is parodied in one of the best of the Kimojis offered. There are some that are notably NSFW, including the ones of her infamous derrière, but they're a must for anyone who considers herself to be one of Kim's Dolls. There are also a lot of fun general emojis, like a fish taco, a t-rex and stacks of money, that add on to iOS's growing number of emojis. Even non-Kim fans will be satisfied with this app's new emoji.
Kimoji isn't Kardashian-West's first foray into the app world; Kim Kardashian: Hollywood lets users create themselves as celebrities in a Sims-esque role playing game. Although it came out last year, it still has 30 million active users. She and each of her four sisters also have lifestyle apps that come with subscription-based behind-the-scenes content, including style tips and the sisters' personal news, for $2.99/month.
Installation of the Kimoji keyboard can be a little tricky. After installing the, go to Settings>General>Keyboard>Keyboards>Add New Keyboard, then select Kimoji. After it's installed as one of the keyboards, select Kimoji and turn on "Allow Full Access" to use the emojis.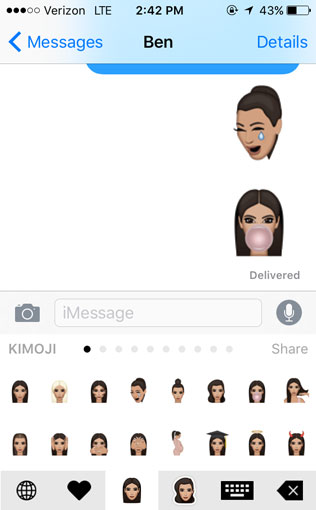 Using the Kimoji keyboard is also a little different than using native emojis. First, click on the globe at the bottom of the keyboard like you would normally to bring up the emoji keyboard. Then, select ABC at the bottom of the emoji keyboard to bring up the Kimoji keyboard.
Select a Kimoji, then follow the instructions to paste it into the text body. Even if your friend doesn't have the Kimoji app, he or she will still be able to see them.
There's also a set of larger versions of the Kimojis to send, called Stickers, and an alphanumeric keyboard. Unfortunately, there's no autocorrect or spellcheck in this keyboard, so I'd recommend just using the regular keyboard if you're adding text.
The Kimoji only work in certain native iOS apps, too, so don't expect your term paper to have the Kim With Green Hair Kimoji anytime soon.
While rumors of the app breaking the App Store were just that, Kimoji is the top paid app on the App Store right now. You can break the internet by downloading it here, and check out some of Techlicious' picks of other downloadable keyboards, too.