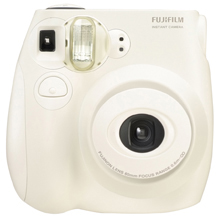 Do you miss your old Polaroid instant camera? I admit, even with all the digital cameras at my disposal, I still miss taking a photo and then watching the print develop in front of my eyes. My kid's birthday party, a night out with the girls, gatherings with friends—it was nice to be able to take a photo that you could actually touch and feel, rather than passing around your camera to show the shot on its LCD. And, unlike a digital camera, you can actually give your friends prints to take home with them. Definitely cool.
But Polaroid gave up on its instant cameras and there hasn't been anything to fill the void for quite a while—until now. Fujifilm has picked up where Polaroid left off. Last fall Fujifilm introduced the Instax 200 Instant Film Camera System, a fairly bulky model for the pro market. Now there's an instant camera for the rest of us, the Instax Mini 7S.
The film is rated at ISO 800, which means it should work well in most indoor and outdoor environments without a flash for more natural exposures, and there's an automatic built-in flash for low light shooting.
The glossy instant prints are about the size of a credit card, with an image area of 1.8- by 2.4-inches--no borderless prints here. The camera itself won't break the bank, you can find it for $85. But you'll want to go easy on the prints: A 20-exposure pack of Instax Mini Instant Film goes for $15.