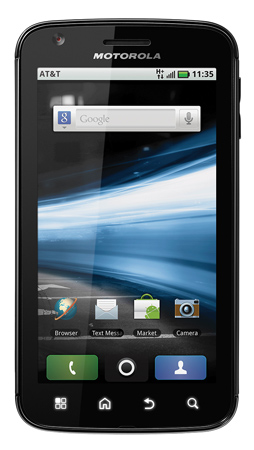 The Motorola ATRIX 4G (AT&T) packs in a dual-core 1GHz processor from NVIDIA to give this smartphone almost computer-like capabilities. The Atrix 4G runs a full Mozilla Firefox 3.6 browser, not one of those stripped-down browsers we normally find on phones, and it can even be docked into a laptop-like chassis with a full QWERTY keyboard and 11.6-inch display used just like a laptop.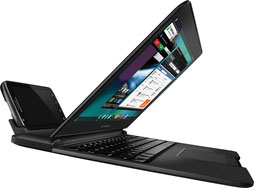 The Motorola Laptop Dock has an incredibly thin design with an 11.6-inch screen, full keyboard, stereo speakers, and it's own battery that delivers up to eight hours of battery life. You simply dock your ATRIX 4G into the back of the Laptop Dock and you're up and going. The laptop dock is 2.4 pounds, which puts it in the range of a MacBook Air or small netbook—not bad for traveling.
There is also a dedicated multimedia dock available with three USB ports and an HDMI port, so you can hook up a keyboard, mouse, speakers and monitor for working at your desk/office. Or you can connect the Atrix 4G to your television and use it's "Entertainment Center" feature to show photos, music and videos. Though most copy-protected content still can't be shown.
The ATRIX 4G runs Android 2.2, 16GB of internal storage and a 32GB microSD card slot, front and rear-facing cameras, a 4-inch screen with a resolution of 540 x 960 pixels, and a powerful 1930 mAh battery to run it. What that all boils down to is this is one heck of a phone. I can't wait to get my hands on it for testing!
The Motorola ATRIX 4G will be available to AT&T customers in Q1 2011. Pricing has not yet been announced.