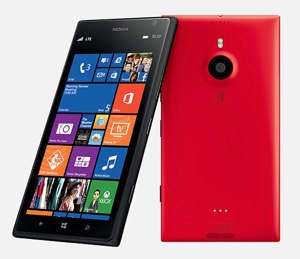 Nokia has never been shy about making larger than average smartphones, so it's no big surprise that when the handset maker jumped into the big-screen phone craze it would sail right past 5, 5.5, and 5.7 inches to go all the way to 6 inches for the newly-announced Nokia Lumia 1520.
Thankfully, this new phone doesn't share the relative bulkiness of some other Lumias and keeps things pretty svelte given the overall size. The bigger display means more tiles, more room for apps and the potential for an improved experience.
How big is too big?
The Lumia 1520 is only 0.34 inches thick and 3.4 inches wide. People with smaller hands aren't going to find it comfortable, though it does compare favorably to the 6-inch Samsung Galaxy Mega. That phone surprised me with how manageable it seemed even with such a huge display. Big phones aren't going to appeal to everyone no matter what. Nokia at least kept the dimensions manageable so the 1520 doesn't look like a behemoth next to it's competitors.
The larger size is accompanied by more pixel density. Due to the full HD 1080p resolution there's now more room for Windows Phone tiles--the Home screen here is chock full of them. This is much better than just making all the tiles bigger. There's now a third column for tiles and you can make some Live Tiles bigger so they show more information. This is something a few big-screen Android phones have done as well and in these cases it's much appreciated. There's no point to having more screen real estate if the OS and apps don't take advantage.
Office on the go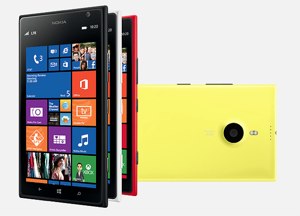 Nokia touts that the Lumia 1520 will be a productivity powerhouse, thanks to a speedy processor, 2GB of RAM, and the inclusion of Microsoft Office. That extra space might make using Office on a phone an even better experience--it makes a difference on the Android side, for sure. Even if app developers don't do anything extra for Windows Phones with big screens, owners will still get the benefit of more text on the screen and less scrolling and page turning.
To stylus or not to stylus
Pen input and note-taking are never far from the conversation whenever a big screen phone shows up, thanks to the Galaxy Note's very existence. Styluses abound in the tablet world, but not so much on smartphones. Companies usually opt to include note-taking apps and leave the stylus-finding up to the consumer. Nokia is doing just that.
Woven in amongst the hardware talk was an announcement that Papyrus and In-Note, apps popular on Android, are coming to Windows Phone. On Android, Papyrus works well with both active pens and capacitive styli that mimic a finger touch and I'm hoping that the latter will be true for the Windows Phone experience.
Camera and case
The 1520 is classic Nokia. The plastic, candy-colored casing and ceramic buttons--hallmarks of the Lumia line--along with the general shape ensure you won't mistake it for any other phone at a distance. You'll also get what promises to be a stunning camera on the back. The 20.7 megapixels on this phone aren't as impressive as the 41 on the Lumia 1020, but what is, really?
The 1520 should be able to take great shots that don't need zooming and the resulting pictures will benefit from some of the same software enhancements found on the mega-megapixel Lumia 1020. Most other large-screen phones aren't as focused on the camera as the Lumia 1520, so this is an area where Nokia stands out. Even Samsung doesn't talk much about the Galaxy Note 3's 13-megapixel shooter.
Specs and screen test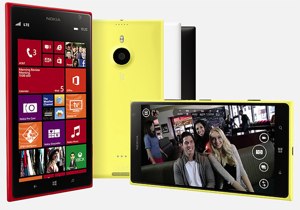 It's interesting to note that the Nokia 1520's specs are similar to what you'll find in high-end Android smartphones. Usually the claim is that Windows Phones don't require the speediest processors. A screen this big at this resolution requires a lot of power to run, though. Thus the 2.2GHz quad-core Qualcomm Snapdragon 800 processor and 2GB RAM are probably necessary, if only due to the hardware, You also get 32GB of storage and a microSD card slot that accepts cards up to 64GB.
The 6-inch, 1080p display is protected by Gorilla Glass 2 and uses ClearBlack technology and includes a High Brightness Mode. And the screen has high-sensitivity, so no having to take off your gloves to use it in the winter.
What about Windows Phone fans?
It could be that Nokia is going big for the sake of bigness and jumping on a bandwagon started by Android phones. Big is in and if you're a fan of phablets, then the Lumia 1520 is worth a look. Still, there's something missing here: a reason why Windows Phone fans should jump, too.
When Samsung introduced the first Galaxy Note, the company gave Android fans a reason to care other than just the size of the screen. The pen added value and Samsung's tweaks to Android and pre-loaded apps took advantage of the extra room. There's not enough of that kind of thing from the Lumia 1520 on the hardware or software side. I'm not saying it needs a pen, but you have to give me more than an extra column for tiles and a couple of note-taking apps to get me excited. How will the rest of the Windows Phone interface deal with the extra room? How will apps adapt? And what's the killer feature that makes me go 'I NEED THAT'? Those questions will remain unanswered until we have some time hands on with the Lumia. 1520.