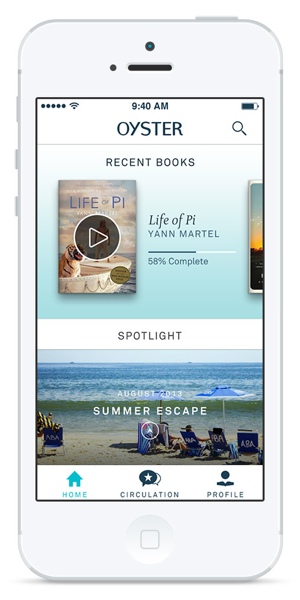 My old high school English teacher used to sneer at television and movies. Both are entertaining, of course, but neither quite challenges the imagination quite like a good book. And unlike movies, books have been around for hundreds of years, giving us a look into our own collective past.
Of course, online there are plenty of sites that offer unlimited streaming of movies and TV shows, but similar services for books are few and far between. That's why I'm excited about Oyster, a new service that bills itself as a Netflix for books.
The numbers behinds Oyster are compelling. For $9.95 a month – less than what you'd pay for the average e-book – you get access to Oyster's library of over 100,000 titles. The app offers your choice of typography and a social element to help you discover new books and like-minded readers.
Oyster does a good job at maintaining a diverse selection of books. You get classics like Brave New World and Lord of the Rings, of course, but you also get plenty of modern and non-fiction books as well. Wheat Belly, Fast Food Nation, Al Gore's Earth in the Balance, Water for Elephants, Life of Pi are all waiting to be read at your convenience.
For now, the service is compatible with iPhone and iPod Touch users only, though we imagine support for Android (read: Kindle) will be forthcoming in due time. To learn more or to request an invite to Oyster, check out the company's website.
Editor's Note: After having tried the service for a few days, here are my impressions. You won't find the latest New York Times sellers or even many of the authors, but the service's small library offers plenty of titles from well-known scribes, including authors of young adult fiction. I was happy to see books from the Lemony Snicket, Ramona and Curious George series, among those authored by Michael Crichton, J.R.R. Tolkein and Debbie Macomber.
The Oyster app is still a work in progress. The library is easy to navigate, broken down into genres, though relatively few given the library size, and each title has a listing of related books to help you explore. The text on the virtual page is clean and there are a number of font styles and backgrounds to choose from, including night reading mode (white text on black). Font size and brightness can be adjusted just for the app as well. Oddly, there are no bookmarks. So if you're readying a book and want to go back to check a fact or scene, there's no easy way to find your place again. Syncing your progress on a book across devices worked well, though, so hopefully the bookmarking feature will show up soon.
All in, Oyster is well worth a try for those that find themselves buying more than an ebook a month. --Suzanne Kantra