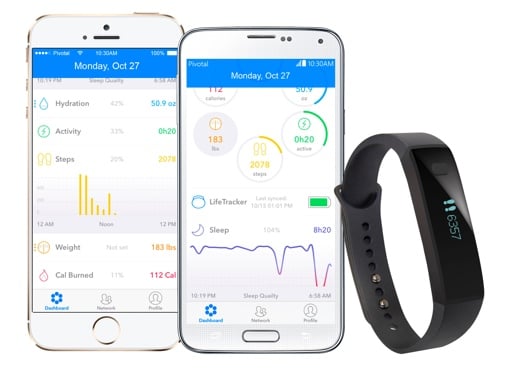 Fitness trackers used to be expensive. A year or two ago, you'd need to pay $100 for a solid tracker. These days, though, it's easier than ever to find a great activity monitor for under $50. And if you're looking for a bigger bargain still, it may be hard to do better than the brand new Pivotal's Life Tracker 1 wristband. It's a simple entry-level tracker with a very appealing price: just $12.
The Pivotal Life Tracker 1 is a three-axis accelerometer device with an OLED screen attached. That means it's capable of measuring your steps taken, distance, calories burned, active time and sleep stages, sending the data wirelessly to the Pivotal app on your phone. The wristband's screen is basic, but it's a nice way to quickly check progress toward your daily goal without needing to fiddle with your phone. The Life Tracker 1 won't be able to account for complex exercises like the more expensive Jawbone UP3 band can, but it'll work just fine if the bulk of your activity is walking, jogging or running.
As you'd expect, there are a lot of limitations here, too. You can't use the included app to track your nutrition, though there are plenty of better apps (like UP by Jawbone) that will let you do that on your own. While the band is waterproof, you can't really wear it swimming or even when doing the dishes. Also note that this is actually a $12 per year subscription service. The good news is that every time you re-subscribe, you do get sent a brand new tracker so the rechargeable battery and tracking tech stays fresh. It strikes me as a wasteful way to do business, but the price is right.
The $12 Pivotal Life Tracker 1 is compatible with modern Apple iOS devices (iPhone 4S or later) and most phones running Android 4.3 or later. It is guaranteed to ship prior to the holidays if you place an order prior to December 10. For more information about the guarantee, device or the accompanying app, visit pivotalliving.com.