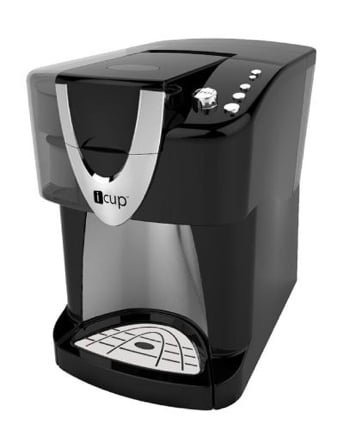 We're huge fans of single-serve coffee makers here at Techlicious. I love the ease of my Keurig and being able to offer a wide array of flavors to guests. Suzanne loves how single-serve coffee fits in an incredibly busy morning. Most importantly, though, we both love the taste (and caffeine content) of a fresh, on-demand cup.
That's why my ears perked up when I heard about Remington Design's new iCup "Lifestyle Series" lineup of single-serve coffee makers. Unveiled just this week, the new Keurig-compatible line promises even better tasting joe thanks to an advance in technology the company calls SteamBrew.
Unlike a regular drip Keurig brewer, SteamBrew fills K-Cups with rotational steam to stir the coffee grounds at an optimal temperature. This, according to the company, "creates a brewing environment that extracts rich, smooth flavors without the bitter-acidic aftertaste often associated with drip and single-serve coffee brewers."
There's another very important feature on these iCup brewers: future-proofing. Keurig recently announced that the next generation of Keurig cups would feature digital rights management (DRM) protection to keep unlicensed K-Cups from working in new machines. Remington promises that its Lifestyle Series line will accept "the new 2.0 interactive K-Cups," as well as the big name and generic K-Cups currently available on the shelves of your local supermarket.
Remington will release 6 different models in the Lifestyle Series with an array of available options by the third quarter of 2014. Pricing has yet to be announced, though Remington CEO Bruce Burrows promises "a cost that is substantially less than the competition."
For more on the iCup Remington Lifestyle Series line, visit the company's website at icoffee.com.