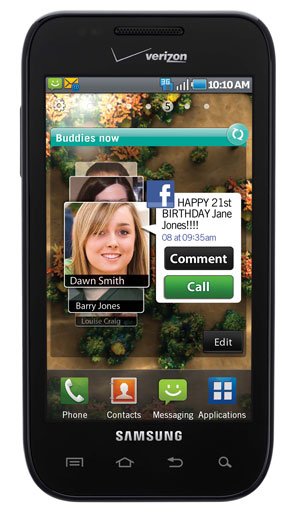 The Samsung Fascinate, the latest Galaxy S phone, is now available on Verizon. Similar to the Samsung Captivate (AT&T) and the Samsung Vibrant (T-Mobile), the Fascinate is a slim, light Android phone with a beautiful 4-inch display.
But the Samsung Fascinate does offer some great features which the Vibrant and Captivate do not. Notably, the ability to act as a Wi-Fi hotspot for up to five devices and an LED flash to help with photos in low-light conditions. That hotspot will require Verizon's optional Mobile Broadband plan, though, which costs an additional $20 per month and has a 2GB data cap. Go over the cap and you will be charged 5 cents per MB.
The downside of the Fascinate versus the other Samsung Galaxy S phones is a deal Verizon struck with Microsoft to make Bing the default search engine for the device and browser, rather than Google. Now, this wouldn't be so bad if you could choose to replace Bing with Google, but you can't—Verizon has it locked down.
I also think it is unfortunate that Verizon replaced Google Navigation with Verizon Navigator. In case you're wondering why that's a bad thing, here's all you need to know—Google's excellent map and navigation services are free, Verizon Navigator requires a $9.99 a month service plan. You can download Google Navigation through the Android Marketplace, though we have not been able to confirm whether that will replace Verizon Navigator across all GPS functions on the phone. In any case, it certainly would not be obvious to the average purchaser of the phone to do this, and I assume this is what Verizon is counting on.
The Fascinate also offers less on-board memory than the Vibrant 2 GB versus 16 GB. Whether this is a fair trade-off for the hotspot and LED Flash will depend on the user.
Beyond these differences, the Fascinate is largely identical to the Vibrant, which we wrote a full review on back in July. If it weren't for the Bing and Verizon Navigator issues, I would rank the Fascinate as the best of the Galaxy S devices, and a top choice for Verizon customers.
The Fascinate is available at Verizon Wireless for $199 with a two-year agreement.