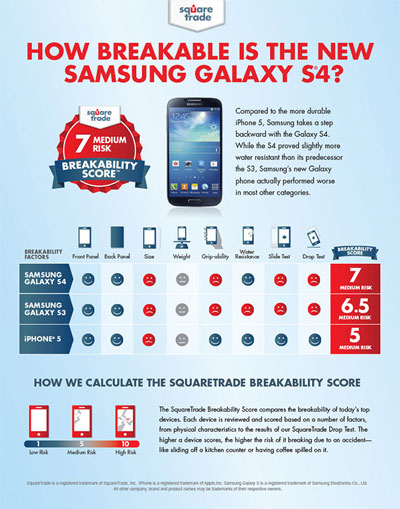 In her review of the new Samsung Galaxy S 4, Techlicious's own Suzanne Kantra panned the phone's "plasticky feel." But does that mean the S4 is actually flimsier than the competition?
Yes, actually. Yes it does.
That's according to phone insurer SquareTrade, who ran the Galaxy S 4, the older Galaxy S III, and the Apple iPhone 5 through a series of torture tests. On a scale of 1 to 10, where 10 represents the highest risk for damage, the S4 scored a 7 thanks to problems with its size, its performance when dropped, and, the grip-ability of its plasticky back. Samsung's Galaxy S III scored a 6.5 in the same test. The iPhone, in comparison, scored a 5.
Of course, it's those of us who buy the phones who will wind up paying for the S4's cheaper construction. SquareTrade estimates that 1 in 8 Samsung Galaxy S 4 owners will break their phone within 6 months of buying it, forcing unlucky owners to buy an expensive replacement off-contract. A total of $3.7 billion will be wasted this year on broken Samsung phones, according to the company.
The fact that Samsung phones are more breakable than the Apple competition actually doesn't come as much of a surprise. Techlicious's Josh Kirschner broke the similar Galaxy S III during his time reviewing the phone. "Though I've dropped many phones in my testing, this was actually the first one I've ever broken. I suspect that the ultra-thin plastic bezel around the screen may provide less protection than thicker bezels or bezels made from stronger materials, like the aluminum case on the iPhone 5."
Don't let this report dissuade you from buying an S 4 if you're in the market for one – it's a great phone. But, you'd be well advised to protect your investment with a sturdy, drop-resistant case – spending $40 now could save you $600 down the road. You should also consider buying phone insurance if you consider yourself clumsy. Be sure to check out Techlicious's guide to phone insurance to help choose the right plan for you.