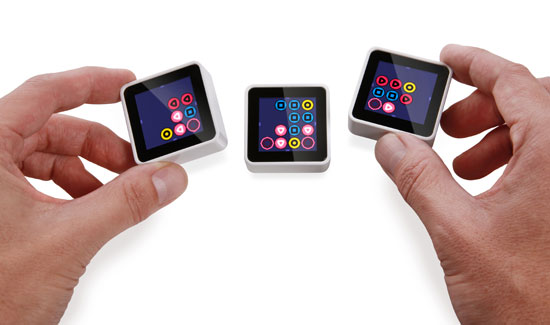 Combining the animated action of video games with the physical interaction of traditional toys, two MIT graduates have created Sifteo Cubes, an innovative educational play system. Each cube has a 1.5-inch LCD screen and a set of internal sensors that know when the cube has been pressed (like a button), tilted, flipped over, shaken or moved next to another cube. The cubes communicate wirelessly with a Windows or Mac computer, which uploads software and provides sound effects during gameplay.
The cubes' programmable smarts enable a variety of game types, with single- and multi-player variations. There are scrambled letter, word order and math challenges, but that's just for starters. The puzzle games can be real head-scratchers, as kids try to strategically line up matching color blocks to eliminate them, complete shapes or help an animated character makes its way through a maze. The simplest games are suitable for 4- to 6-year-olds, the more complex titles will challenge the reasoning skills of those 12 and up (including adults). There are currently 14 available games plus a Creativity Kit that lets you customize word and math exercises. Many games can be downloaded free of charge, while others cost up to $5.00.
The Sifteo Cubes system isn't for everyone. For starters, it's expensive. The starter kit, with three cubes and a battery charger, runs $149 on Amazon.com
. And three cubes isn't the perfect number for some types of games – scrambled letter puzzles, for example, don't really work well with only three-letter words. The software supports up to six cubes, but each additional cube costs $45 on Sifteo.com.
The cubes don't stand on their own – they require a computer, which connects wirelessly via an included USB dongle (fortunately, setup is seamlessly simple). That limits the portability of Sifteo games.
And while the initial game assortment is interesting, I'm eager to see additional titles. Fortunately, Sifteo is distributing an SDK (software development kit) to outside programmers. So if sales of the system are strong, additional games should be forthcoming.
Even with these stumbling blocks, though, Sifteo Cubes is a very exciting new concept. By bridging the gap between the virtual and physical worlds, it lets kids play a wide variety of games, many teaching important skills, with a single toy. Plus, there's something uniquely satisfying about grabbing a physical cube, moving it, shaking it, tipping and tilting and arranging it, until you've completed a challenge presented with exciting animation and audio feedback.