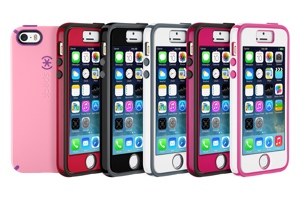 Apple's newest flagship phone, the iPhone 5S, is a beautiful piece of technological design. But, as we learned today, the iPhone 5S also pretty darn breakable.
Given that a replacement iPhone can cost you up to $649 off-contract, it makes sense to invest a couple dollars into a sturdy, protective iPhone case. To that end, casemaker Speck is introducing its new CandyShell + Faceplate line, the first to offer all-around protection for the iPhone 5S while still allowing total access to the touchscreen and new fingerprint sensor.
The case itself is a hard shell featuring shock-absorbing lining and corners, protecting your phone from the occasional drop. Its form-fitting faceplate protects and bonds to the screen, but can also be easily removed for cleaning. You also get a one-year warranty for the case should something go wrong with it.
Speck's new CandyShell + Faceplate comes in six different color combinations: black/slate, white/charcoal, pomodoro/black (shown), white/raspberry, carnation/revolution and raspberry/black. You'll find it for sale at most major retailers and online at speckproducts.com for a suggested $44.95.