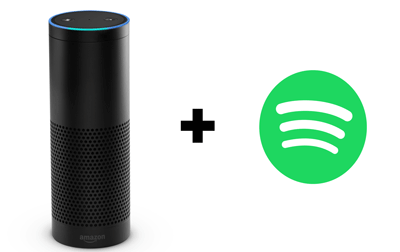 The Amazon Echo is the little black smart speaker that can answer questions, controls your lights and play music, among many other things. An now you can ask Alexa, the connected personal assistant that resides within the Echo, to play music from Spotify.
Using the Alexa app on your mobile device, all you have to do is sign in to your Spotify account to get the tunes rolling. You have to be a Spotify Premium subscriber (it's free to try for 30 days, after which it costs $9.99/month, or $4.99/month for students), but when you ask Alexa to play an artist, playlist, genre or something else, she'll just do it. The Echo's seven microphones, which use beam-forming technology to listen to requests throughout the entire room, hear when you tell it to play, pause or skip tracks, even when the music is playing. Just make sure to use your wake word (the default is "Alexa") so that your Echo knows you're ready to listen to something else.
Even better, the Echo works with Spotify Connect, which lets you control whatever device is playing your music using the Spotify app. The transfer is super quick and the music picks up right where it left off after the switch.
There are already a lot of ways to use the Echo's 360 degree, omni-directional speakers to play music; music services that are currently compatible with the device include Amazon Music, Prime Music, iHeartRadio, Pandora and Tunein. And if you don't use any of those particular services, the Echo still lets you play music from any Bluetooth-connected device, like a smartphone or computer.
Spotify's integration with the Amazon Echo is just one of the 95 new services that are available through the smart device since its launch, including Philips Hue, Samsung SmartThings and Yelp.
The Amazon Echo has enjoyed a lot of popularity, and while we don't have total sales numbers for the device, Amazon did say that over last year's Black Friday Weekend, the Echo was its best seller over $100. It's available from Amazon for $179.99, but you can win your own Amazon Echo with Techlicious—enter online here!
[Spotify and Echo via Amazon and Spotify]