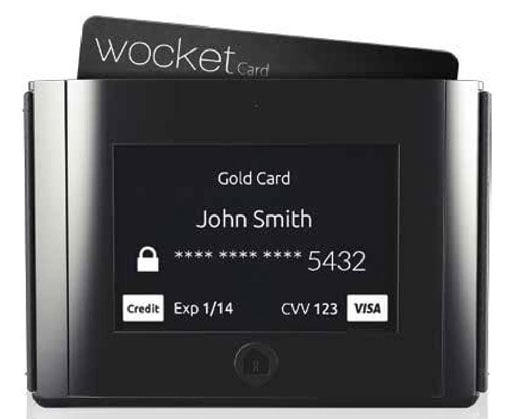 Here's a convenient, secure way to protect your credit cards: the Wocket, a physical electronic wallet from Nxt-ID that allows you to carry the equivalent of up to 10,000 cards in your pocket.
Setting up the Wocket is easy. Scan your cards into the Wocket with the card swiper built right in, or enter information manually for cards without a magnetic strip. The information is stored on a tamper-proof chip and becomes biometrically locked to you by passcode or voice. No data can be accessed without your permission.
To make a purchase with the Wocket, unlock the device with the touchscreen, and select the card you'd like to use from your list of stored cards. This temporarily programs the Wocket Card inside with the appropriate credentials. Remove the physical Wocket Card, and swipe it like you would any other card. The Wocket Card shows your name on the front, and on the back is a signature panel and a digital display showing the last four digits of the card and its security code.
Why do we think the Wocket is so cool? It's small. It's secure. It works without a phone or any other device — the ultimate in flexibility. The Wocket safely stores any number of credit, debit, loyalty, membership, and insurance cards.
The Wocket case includes pockets for carrying cash — and if it is ever lost or stolen, no one can access whatever you've tucked inside. Wocket is truly all you need to carry. At an affordable $149, it's expected to ship "very soon," according to the Nxt-ID. By then, other companies such as Coin may have come out with similar solutions. We'll keep you posted.
[Image credit: Wocket]